5 simple steps to link your Gmail and professional email address
It is vital to have a professional email for your business as it builds trust and confidence amongst your customers, suppliers and potential customers. When you move from being a freelancer and are ready to become a fully-fledged small or micro business, it's time to up your game online.
Why is it important?
Research shows that consumers need to be able to trust the website they are browsing or shopping from. In fact, in our Consumer Trust Research, 77% said they trust companies that have a professional email address such as peter@bestplumber.ie as opposed to peter@hotmail.com or an eircom.net address. And on that note, it's best to avoid faceless emails like info@ – they don't convey a sense that an actual person will read the email.
Most likely, you have graduated to a website and are using this as a platform to grow and develop your business online. There are huge benefits to using a professional email that matches your website name (also called domain name):
• It gives the right first impression that you are an established, trustworthy business and helps develop your brand consistency
• Every time you send out an email, you are promoting your business
• You can also manage different aspects of your business using different email addresses such as accounts@bestplumber.ie
If you are just starting out and are not ready to set up a website yet, it's worth registering your domain name now so that it can grow with your business. You can use it for your branded email today, to set those important first impressions, and for your website in the future. Your hosting provider or accredited Registrar (from whom you bought your domain) will advise you on the best email package to suit your needs. Inexpensive monthly email packages are available and most will set up your initial professional email for you.
It's easy
We sometimes hear that business owners are concerned that they will lose old contacts if they switch to a professional email. Or that it is difficult to change. Or they are too busy. The good news is that it couldn't be easier to link your personal email address (for example, Gmail) and your professional email address, on your smartphone, as outlined in the 5 step guide below.
5 step guide
On an iOS phone: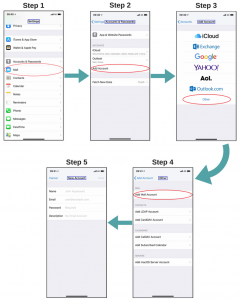 On an Android phone: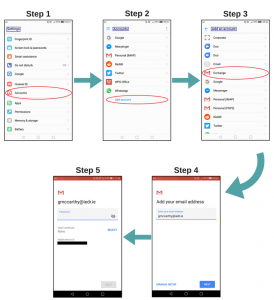 Once you have completed the steps above, you will be able to view your personal and professional email addresses on the one interface. When sending an email, you can choose which email address you would like to use.
Article was written in collaboration with one of our accredited Registrars, elive.
To register your .ie and set up your professional email address: visit our list of accredited Registrars.
Oonagh McCutcheon is our Corporate Communications Manager and National Director of our .IE Digital Town Programme.