What is the value of a website?
We know that the Irish share of the digital marketplace is worth almost €9 billion*. Irish consumers have embraced digital technology and made it part of their daily lives. This has led to a change in their expectations and the ability to browse, buy and transact online is now the accepted norm.
However, according to our last dot ie Digital Health Index, we also know that 1 in 5 Irish SMEs still has no online presence. We decided to conduct a survey to find out the value of a website to Irish businesses. We asked 500 Irish SMEs** if they have a website and, if yes, how important it is for generating revenue for their business.
What is a website worth to your business?
The results speak for themselves: Irish SMEs with a website take home an additional €24,000 in revenue every year by selling their products and services online.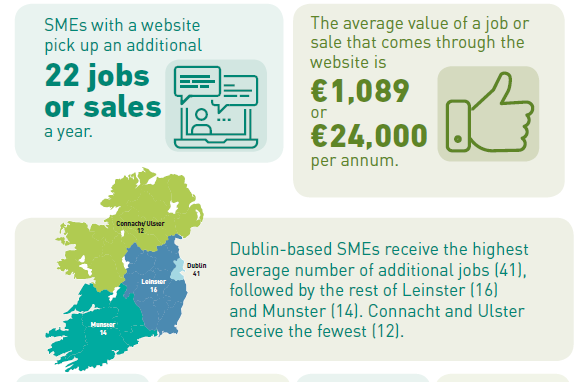 The research, conducted by Ignite Research in March, showed that this additional €24,000 consists of an additional 22 jobs or sales a year with the average value of these coming to €1,089.
Dublin-based SMEs receive the highest average number of additional jobs or sales (41), followed by the rest of Leinster (16) and Munster (14). This is not necessarily a surprise given the findings of the dot ie Domain Profile Report which showed that Leinster accounted for 67% of all new .ie domains registered in 2016.
How important is a website for bringing in new business or sales?
85% of SMEs with a website said it is important for generating new business or sales. Of this group, 2 in 5 said that they are generating additional work through their websites. With an average of 22 additional jobs or sales coming through each year, SMEs with websites can make an extra €24,000 a year compared to those without. By selling online, Irish SMEs have access to a virtually borderless marketplace, open 24/7, 365 days year. Even having a basic website is a vital part of doing business nowadays.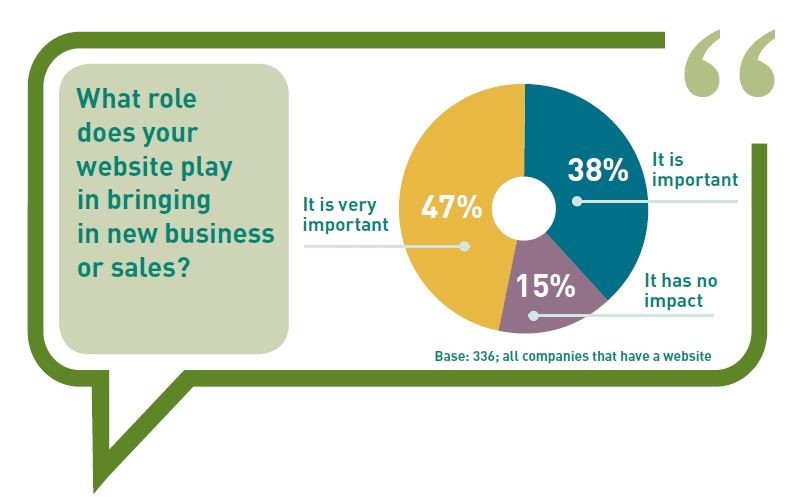 What do Irish consumers think?
We also asked 1,000 Irish consumers*** about their online behaviour and what they look for in a company's online presence. The results really backed up how valuable a website can be to an SME.
Did you know that 80% of Irish consumers go online when looking for information about a business? While 83% believe that, their local businesses should at least have a basic website and nearly 3 in 4 people (73%) are particularly frustrated by businesses that do not have a website at a minimum. To top things off, nearly 70 percent think a business seems 'outdated' if it is not online.
In terms of overall functionality, almost two-thirds of consumers, or 65%, want to be able to browse and research products from their local high street stores online, while 60% said that they would shop online with a competitor for the same product if their local business is not online. This shows both an appetite among consumers for enhanced digital engagement with local business, and an opportunity for businesses to earn additional revenue by being better digitally equipped.

So what should SMEs do online?
It is clear that the internet has shifted consumer expectations. Irish shoppers appreciate the convenience and accessibility of a website, particularly if it offers a list of products and the option to buy online. If you don't have a presence on the web, you're missing out on a huge number of potential customers and with 80% of Irish consumers searching for information online, you're effectively invisible to them
For SMEs, e-commerce is an important platform from which to sustain and grow their businesses. There are now website builders that allow SMEs with limited or no technical skills or experience to create websites and give their companies an online presence. With the increased availability of accessible and intuitive digital tools, it's never been easier for SMEs to make the transition online, and to online selling.
Click here to download a copy of the research results.
*Source: Retail Excellence Ireland Budget Submission 2017
**Research based on a survey of 500 Irish SMEs conducted by Ignite Research in March 2017. The number of jobs and values are based on the responses of 133 companies that receive jobs or sales through a professional business website. Value is calculated by working out the median figure SMEs with a website said that they receive per job/sale (on average) from their website and multiplying it by the number of extra jobs they are receiving as a result of having a website.
*** Consumer research based on a survey of 1,000 Irish consumers by Ignite Research in March 2017.