A digital led strategy for the regeneration of Ireland's towns and villages
We are delighted to host guest blogger Eoin Costello. Eoin is a passionate digital innovator helping to create digital-first business communities in our towns. His blog explores how he did this in his home town of Dún Laoghaire, an inspiration for many more towns across Ireland to emulate.
Opinion piece by Eoin Costello, Digital Champion for small businesses at DigitalHQ clg
The challenges facing Ireland's towns and villages are well documented and many of these challenges have been further exacerbated by the Covid-19 pandemic. However the pandemic has also highlighted the web of collaborative community strengths and resources in our towns which are often taken for granted. Equally .IE identified a new online trend that emerged during the pandemic, a desire by people to buy and back local whenever possible.
My parents' first shop opened in my home town of Dún Laoghaire. Working there during my college years gave me a direct and deeply personal affiliation with Ireland's small business owners. My parents both left safe jobs in teaching to join the ranks of the great tryers, embarking on an itinerary through many small businesses including aran handknits, an accountancy practice, a distribution company for hardware, school supplies, retail jewellers shops, the list goes on. Their tenacity knew no bounds and much of the time, in one way or another, they depended on the local community to keep the show on the road.
As we look to the future of small businesses, and the towns they support, we need to look at the economics of place post pandemic, to build communities around people. The facts are that on average local businesses pay 50% of the costs of the running of a county's operating expenses through business rates while nationally small businesses provide 80% of the jobs. It is our responsibility to do everything we can to support these businesses as they emerge from the pandemic.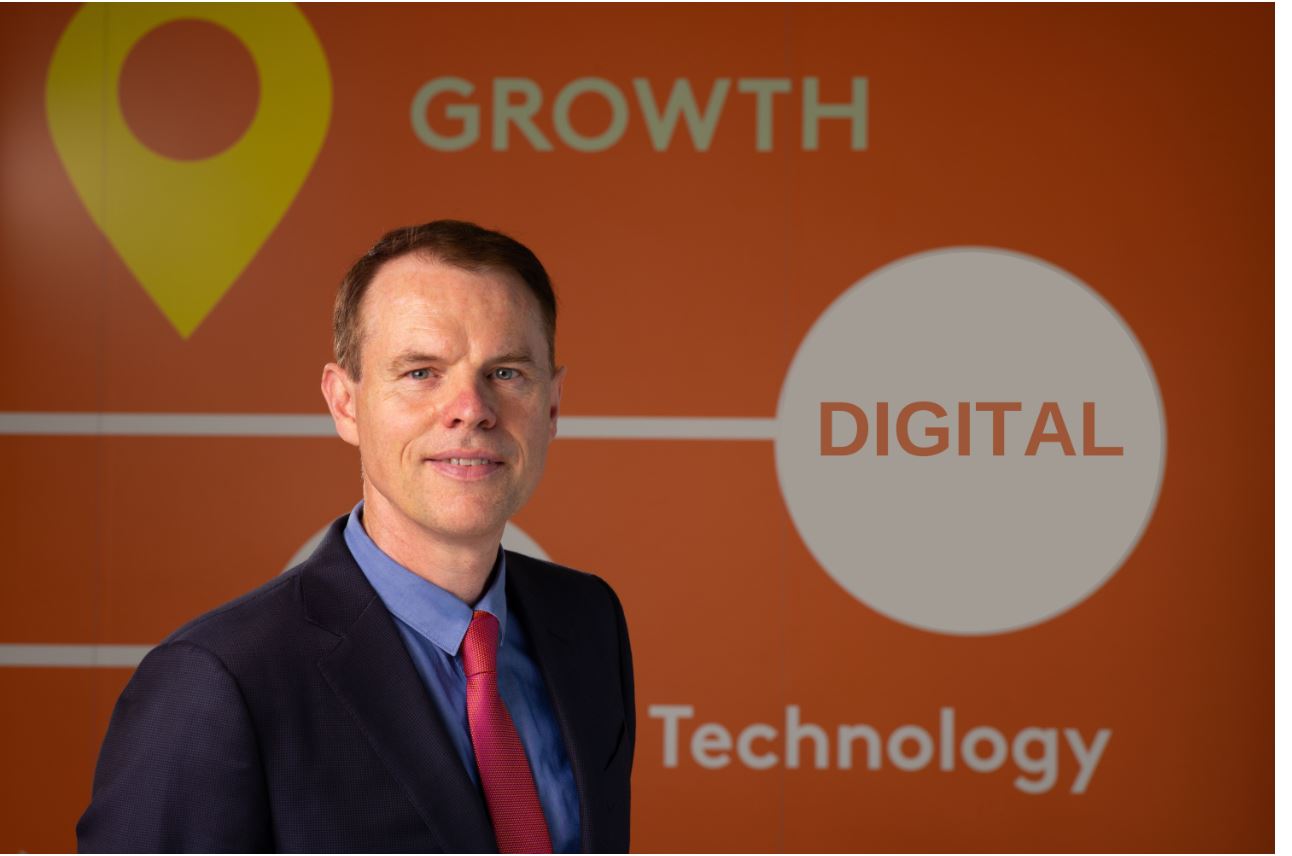 Thought leader Bruce Katz coined the phrase New Localism to describe a problem-solving practice for communities in the twenty-first century.  He believes that the real power of regeneration lies locally in communities where people live and work. New Localism is based on pragmatism rather than ideology, action rather than obstruction. He states that the prosperity of local communities is accelerated when they are linked to the growth sectors of the global economy in ways that are both inclusive and environmentally sustainable.
As Katz suggests the business community of twenty-first century towns must comprise both traditional businesses and innovation driven enterprises. To future proof small businesses with a local market focus (such as restaurants, dry cleaners, professional service providers) they need to sit next to a cohort of innovation driven enterprises (IDEs that have a global market focus with products and innovation at their core) to benefit from sustained footfall with a high capture rate.
As noted by our Honorary Patron Jennifer Carroll MacNeill TD the past year has completely changed the way we live and work. At DigitalHQ we feel now is the time to put the transformative power of digital to work in regenerating towns and villages across Ireland. We believe that the economic well being of our towns depends on how we enable our small business communities to leverage the full power of digital and how we reshape the fabric of the built environment at the heart of our towns to make them desirable locations for innovation driven enterprises.
A new economic model for towns takes shape in Dún Laoghaire Town
A number of years ago DigitalHQ set about seeing how we might put the concept of New Localism into action in Dun Laoghaire. We created an action plan for the digital transformation of our town and established the @DigitalDunLaoghaire steering group to oversee the work of that plan. We were grateful to Bank of Ireland who contributed office space to enable us to establish the Dún Laoghaire Enterprise Centre and to DLR County Council who supported our work building the town's website and social media footprint. We use the hub's income to help future proof the local small business population through collaborative digital promotion campaigns, digital skill development and business attraction.
Over the past 5 years we have gradually evolved a model which we would like to share with other communities that wish to take ownership of their economic destiny. This digital led strategy breaks down into three complementary and mutually reinforcing strands. Because retail is a follower of economic growth rather than a catalyst, we see the order in which a town might shape itself for the future as starting with the fabric of the town itself, then setting about attracting innovation driven enterprises. The strands are:
The town – the physical and economic fabric of a locality.
Innovation Driven Enterprises – shaping the town to provide an attractive environment for the talent these businesses need.
Sustaining existing traditional businesses – helping the local flower shop, the coffee shop and dry cleaners evolve to serve the needs of 21st century customers.
Figure 1 – The three elements of DigitalHQ's digital led strategy for town centre regeneration.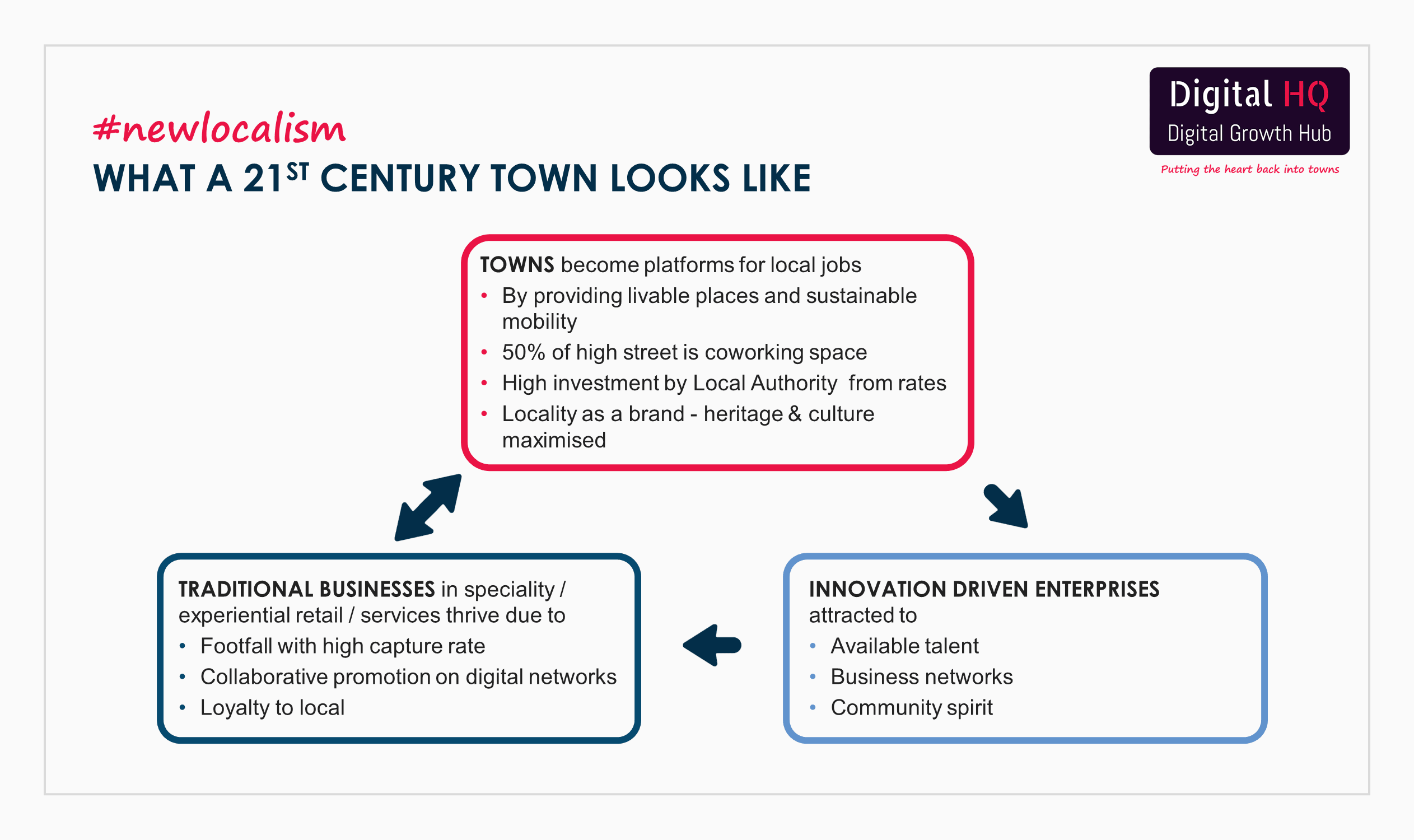 1. The town – towns will become platforms for local jobs
If we start with the fabric of the town itself economist Jim Power identified in his research that "To create a successful town, it is necessary to create an environment where people want to work, live and socialise." Towns have always acted as servants to the people of their region, in some ways their function reflecting Maslow's hierarchy of human needs.
Figure 2 – How towns might adapt in the twenty first century and what are the opportunities for local small businesses. Credit to Scott Galloway for How the multinationals address human needs.
I am not a social historian but one might argue that in medieval times towns acted as places of shelter, security and food in being the marketplace for livestock and crops. The post industrialisation town became a centre for administration (such as paying tax, lodging money in the bank), shopping but also a hub for friendship/community with the explosion in taverns and coffee houses.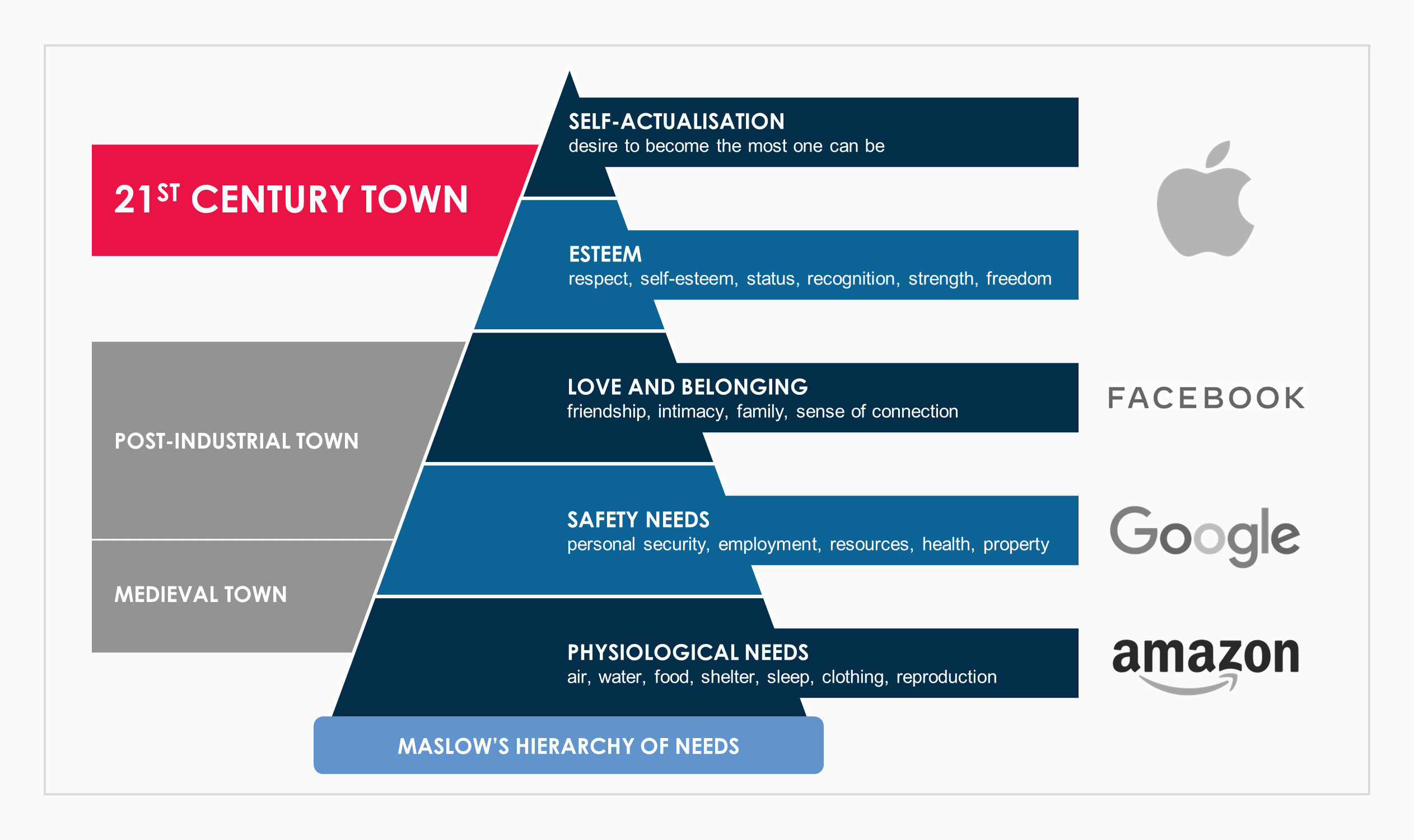 Many Irish towns have a built infrastructure that reflects the needs of their communities in the late 19th century. As inhabitants' needs move up Maslow's hierarchy towards self-actualisation, the towns that serve them must evolve accordingly. Self actualisation is different for everyone but can include belonging, self fulfilment, work life balance, heritage etc.
Accordingly we believe that by 2030 co-working spaces will be the second highest use of space on our main streets providing hubs of collaboration and community for knowledge workers. As I outlined in my TEDx talk on town centre regeneration achieving this is a matter of repurposing existing unoccupied space. Paul Keogh,  a former president of the Royal Institute of the Architects of Ireland, suggested that co-working spaces are a win-win solution, especially if it can be done by repurposing disused retail space in towns and cities thereby converting retail into vibrant hotspots of activity.
"I've seen some really great ones (co-working hubs) around the country, particularly where it's an old heritage building in the middle of the village or the middle of the town being brought back to life – maybe an old bank or an old post office and I think there are great opportunities there."
-Tanaiste Leo Varadkar speaking in the Dail, October 2020.
The success of hubs such as Ludgate Centre (a former bakery), Dogpatch Labs (a former retail shop), Portershed (a former CIE staff canteen and office) shows that former shops, Court Houses, CIE buildings, unoccupied space above financial institutions in towns across the country can be sensitively repurposed. Our Chair Chad Gilmer has shown this model works by taking a long term unoccupied retail space in Dún Laoghaire and converting it into a high quality co-working space which has brought 100 professional jobs to the main street of the town who all shop locally.
2. Innovation Driven Enterprises – post pandemic more tech companies will follow the talent to the regions
Our prediction that co-working will account for 50% of main street occupancy will only come to pass if towns can provide a suitable environment for digital and creative talent. This is essential to creating sustainable local jobs as knowledge-intensive IDEs create high quality jobs and produce a positive multiplier effect for the locality. Moretti identified that for each knowledge intensive job 5 additional jobs are created in the locality.
Research has found that the employees of these IDEs want to "work to make a life, not just a living". As our advisory panel member Arnault Morisson says in his book 'Innovation Districts' "before even considering taking jobs in certain regions millennials prioritise a lifestyle that reinforces their own identities as creative people". Connectedness and proximity to diverse and numerous amenities make urban-living the best way to participate in the experience economy that knowledge workers seek. Creatives and digital people seek business networks to share in and collaborative places to work in. They want the benefits of the sharing economy (e.g. Airbnb, GoCars, bicycles for hire by the hour etc), interactive shopping experiences (e.g. farmers' markets) and immersive cultural and sportive events (e.g. book readings, museums, photography classes in coffee shops), all manifestations of the experience economy.
Therefore as noted in Figure 1 to be attractive to digital and creative talent, towns need suitable co-working spaces, business networks that address the digital and creative sector and a community spirit that knowledge workers will want to be part of. Innovation driven enterprises will then follow the talent.
3. Sustaining existing traditional businesses – serving the needs of self-actualisation
In the past many small businesses in our towns drew their strength from either a local 'monopoly' of sorts (the local clothes repair shop, local betting shop etc) or providing professional access to the services of specialist knowledge (accountants, lawyers etc). At an accelerating rate web based operators are removing the traditional local advantage enjoyed by many small business sectors. Conor Pope recently commented on the imminent arrival of a fulfilment centre for Amazon in Ireland "There is a real danger we will see the non-grocery sector disappear altogether".
As noted in The Future of the Professions in the near future cloud based AI powered expert systems will bring about transformations to professional work that will resemble the impact of industrialisation on traditional craftsmanship.
One might call this the productisation of services. In the past we went to the local travel agent as they possessed expert knowledge about the best hotels/resorts and were gatekeepers to global flight booking systems. Ryanair removed the traditional travel agent from the process through offering its flights direct to the public via their website while the web exploded with information and insights about travel. The bottom line is that the professional services business community of our towns will shortly face a similar process of adjustment in response to technology in a manner similar to the way the retail community currently is.
Covid-19 gives traditional small businesses the stimulus to re-evaluate their current way of doing business. There may be lessons for them in Scott Galloway's excellent TED talk that outlines his interpretation of how the multinationals address our needs and became hugely profitable as a result. As the multinationals leverage the web, An Post and drones to become the 'local' convenient option, staying in the foothills of Maslow's hierarchy to go head to head with Amazon ( food, clothing etc) and Google ( personal security, resources, health etc) is not a recipe for a sustainable business model.  To respond McKinsey suggests that companies need to understand what customers will value post-Covid-19 and develop new use cases and tailored experiences based on those insights.
Fostering social life is reflected in the shift from consumption of material goods via traditional shops to the consumption of experiences which can be in traditional shops. Pre-Covid-19 many businesses in Dún Laoghaire were doing an excellent job on bringing people together to spend time as a community as well as making purchases.  Lulabelles flower shop provides pay as you go flower arrangement classes in store. JJ Darboven has grown their presence in the town from their traditional coffee brewing to full coffee roasting and even a barista training academy.
In the town of the 21st century websites based on the locality's brand have the potential to provide an integrated digital marketing platform for the area and its small business community. This platform can then act as a way to augment existing good digital practice amongst local small businesses and thereby leverage peer pressure/local example to bring other small businesses to leverage digital channels.
So what is DigitalHQ's model for regenerating towns?
Minister of State Damien English. Minister of State for Business, Employment and Retail:
"The work DigitalHQ are doing in Dún Laoghaire is absolutely aligned with what we want to do as a Government and a Department, I'm very supportive of what you're doing, it is a model that could be replicated around the country. You're ahead of the game!"
Reflecting the principles of New Localism we set about doing what we can with what we've got in Dun Laoghaire. This work focussed on bottom up, grassroots action coordinated by the @DigitalDunLaoghaire digital steering group comprising the key stakeholders concerned with the economic growth of the locality. The objectives of this steering group are outlined here.
Figure 3 – The composition of the @DigitalDunLaoghaire steering group includes the key stakeholders concerned with the economic growth of the town.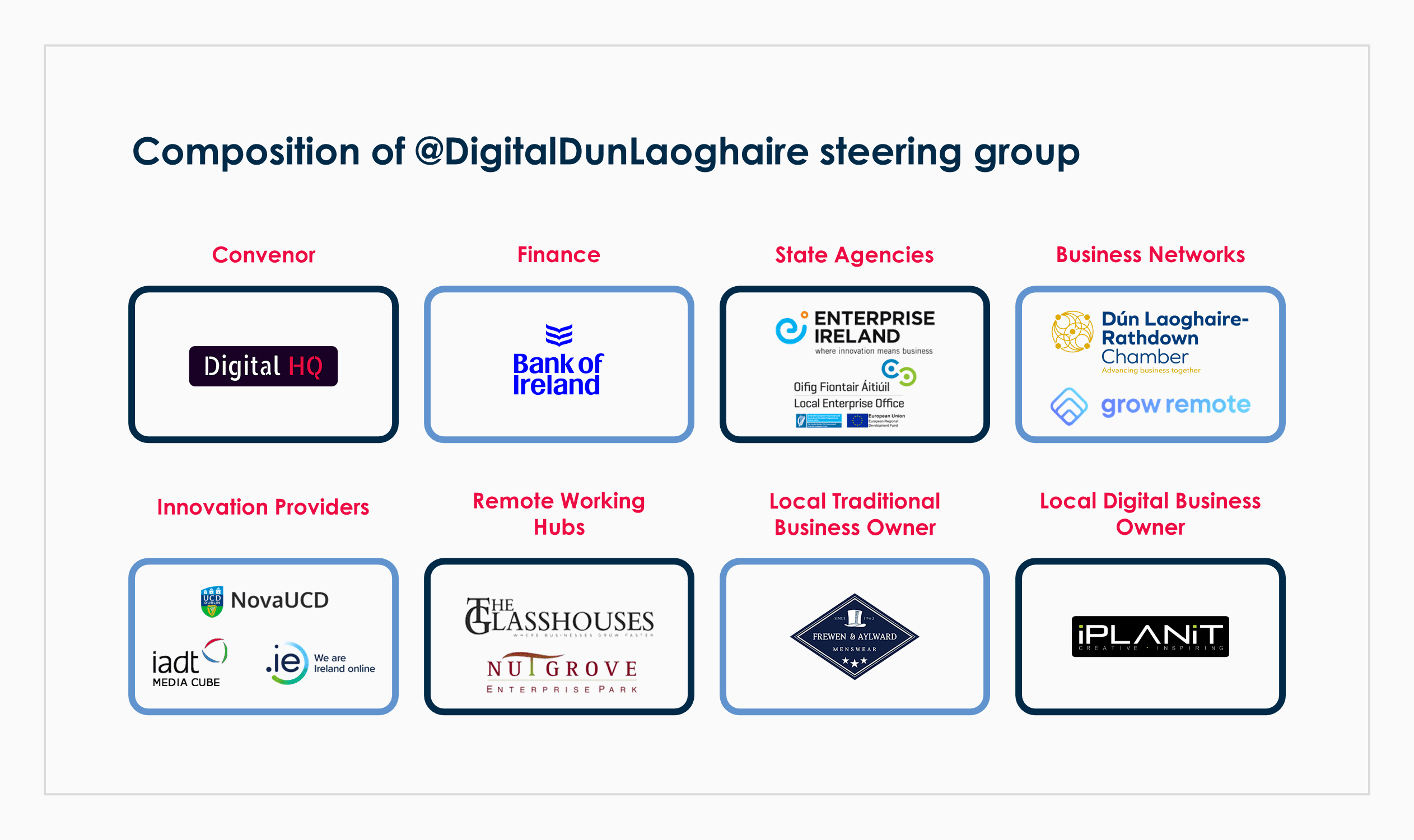 As outlined in Figure 4 below the main components of our work to date reflect our model which includes:
• Repurposing Space: Under the name 'Dún Laoghaire Enterprise Centre' 10 businesses are incubated in the enterprise centre operated by DigitalHQ above Bank of Ireland.
• Attracting and Networking IDEs: Under the name @DigitalDunLaoghaire since 2016 33 free events were delivered to over 1,300 attendees who heard over 97 expert speakers.
• Collaborative promotion of traditional businesses: Under the name 'Love Dún Laoghaire' almost 100 local businesses were supported through 10 digital promotion campaigns. These Buy Local campaigns focus on the online offerings of local small businesses at key events in the calendar such as Valentine's Day, Mother's Day, January Sales as well as sector specific promotions.
Figure 4 – The three components of DigitalHQ's model, repurposing space, creating networks and supporting traditional small businesses.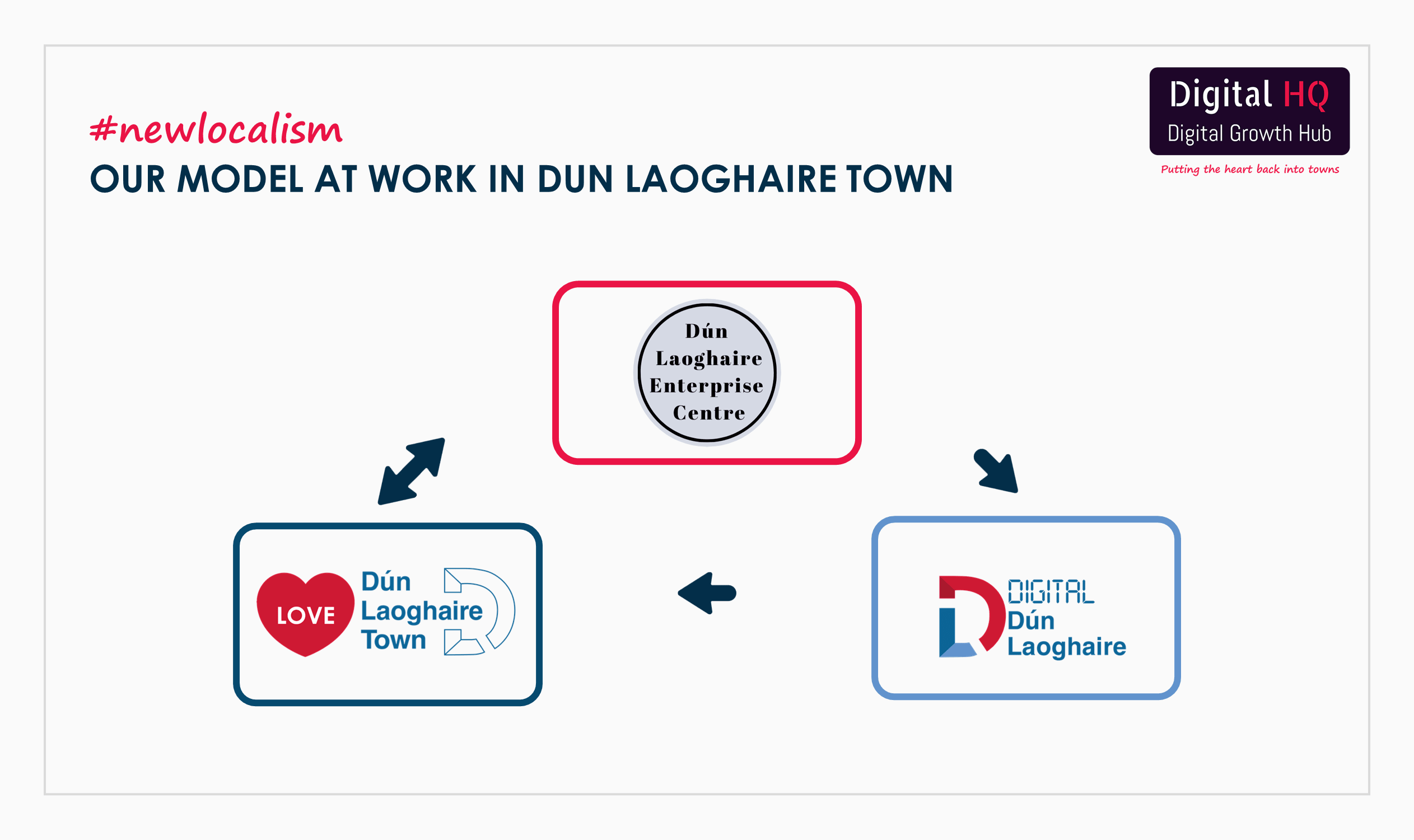 So where to start in your town?
All you need to start is a determined group of motivated people to set up a @DigitalOurTown steering group and set about doing what you can with what you've got. We are happy to help in terms of sharing our experience, please feel free to reach out – eoin@digitalhq.ie
.IE Digital Town
For further reading on digital towns, check out our .IE Digital Town programme which has been developed to foster digital enhancement and adoption in Ireland. It kicks off with the .IE Digital Town Awards.
Alan Finneran is our Business Development Specialist working within our corporate communications team.