Build, grow, prosper…..realise the potential of the internet
One of our key activities is our research reports, which provide empirical, evidence-based findings to guide SMEs in their digital decision-making and online evolution.
Digital business and Covid-19: Five key findings
Our .IE Tipping Point Report 2022 – Irish e-commerce and digital business in the post-Covid era explored consumer and SME attitudes and adaptation to the pandemic over the last two years.
1. Covid has irrevocably altered consumer behaviours: Consumers will be driven by convenience, ease of use and experience. As many now value the flexibility of hybrid working, they also value hybrid shopping. They enjoy the experience and the convenience of in-store shopping while simultaneously valuing the ease and speed of e-commerce. Consumers will gravitate towards retailers that give them the best of both worlds.
2. Digital-first preferences among digital natives: Strong generational differences are emerging in consumer attitudes to online and in-store shopping. Digital-first preferences are particularly apparent among younger consumers. Irish SMEs need to be aware of these, particularly as economic purchasing power shifts to digital natives in the coming years.
3. Cybersecurity is non-negotiable: Consumers are highly cybersecurity conscious. However, as many as 6 in 10 SMEs either do not take any precautions to protect sensitive customer data or do not know how to.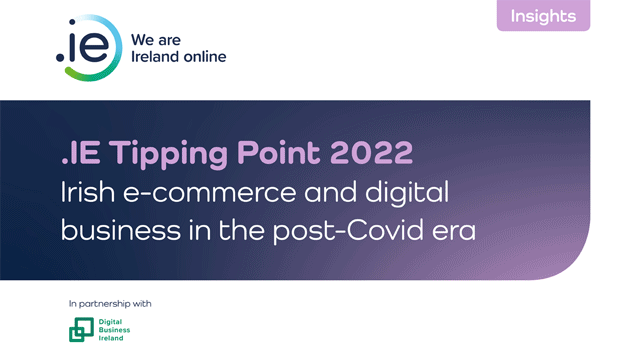 4. The role of the website is changing: SMEs increasingly view websites as dynamic sales enablers or points of sale, not just static information pages. 72% said their website was important in generating sales, up from 66% in 2021.
5. Digital investment pays off: Half of SMEs have invested in their online presence since the start of Covid, resulting in improved sales. Among investing SMEs, 30% are busier than they were before the pandemic and 36% have been able to maintain the same level of business.
.IE Digital Health Assessment: Top insights
Our .IE Digital Health Index analyses the digital behaviours and attitudes of SMEs and consumers. The research shows that:
SMEs need to improve their digital skills: On an ABCDEF scale, Irish SMEs graded 'C' for their communicating skills, 'D' for their transacting skills, and 'E' for their software boosting skills in the report's 'Digital Health Assessment'.
Businesses benefit from an online presence: 72% of SMEs say that being online and digitally savvy has helped increase awareness of their business. Those with a website confirm that it is important in driving future sales growth.
An omni-channel approach is important: Almost three-quarters (73%) of SMEs say that their website contributes to their offline or 'face-to-face' sales.
SMEs are time-poor: Nearly a third (28%) of Irish SMEs say that a lack of time is a major barrier to doing more online.
Useful resources
Below are a selection of resources to help guide you on your online journey.
Additional research
.IE Domain Profile Report: A comprehensive exploration of the .ie database. In the latest edition we assess the full year of 2021, including the pandemic's impact on .ie domain registrations, the overall growth of the .ie database, and country and county of domain registration..
.IE Consumer Trust: When it comes to shopping online consumer trust is vitally important. We asked 1,000 Irish consumers what makes them trust businesses when shopping online.
Digital Trends in Ireland: Reveals Ireland's attitudes to and use of internet technology, our online shopping habits, and the digital behavioural divides between Dublin and Ireland's regional towns.
SME Online Success Stories
See how having an online presence with a .ie website helped these businesses grow.
Build trust with your customers
Customers need to feel safe and secure when purchasing from a website and will look for a HTTPS symbol, which indicates that an SSL cert has been installed.
SSL makes sure that whoever visits your website is connected in an authenticated, secure and safe way and that any information they enter is sent only to the person intended.
Google will penalise websites without SSL so it is important for all businesses, but particularly for e-commerce.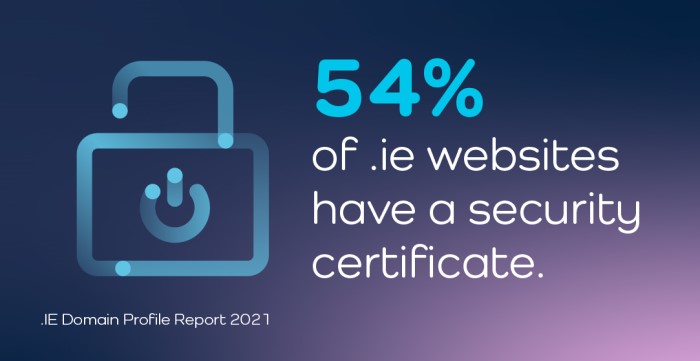 If you do not have an SSL cert for your website, visitors will see a "Not Secure" message in the website address bar. This could lead to a drop in conversions as fewer people are able to find your website. And the ones that do simply won't trust it enough to stay.
If you need an SSL cert for your website, talk to your website hosting provider or your .ie accredited Registrar.
Cybersecurity
Cybersecurity is of vital importance to the Irish economy and to society. At a micro level it is a concern for Irish SMEs. According to the 2021 Hiscox Cyber Readiness Report which covered 8 countries, including Ireland, the median cost of a cyberattack to businesses with one to nine employees was just over $8,000. For businesses with 10 – 49 employees, that figure jumped to $12,000. Recent research by accounting firm Grant Thornton pegged the total losses of cybercrime to the Irish economy at €9.6 billion in 2020.
Our .IE Tipping Point Report 2022 found that consumers are very cybersecurity conscious – 75% are 'very' or 'somewhat concerned' about the security of their personal information when shopping online. However, as many as 6 in 10 SMEs either do not take any precautions to protect sensitive customer data or do not know how to.
While it might be tempting for an SME to postpone investing in anything that doesn't lead to a measurable return in the here and now, a cyberattack can be devastating and lead to permanent erosion of customer trust. The HSE ransomware attack in 2021 showed how a small error can lead to the crippling of critical infrastructure. Similar incidents among businesses are increasingly common, yet most are entirely avoidable with the use of basic cybersecurity tools, such as antivirus software and a password manager.
A word on domains
If you are trading in Ireland, an Irish country code top level domain – in other words, a .ie domain name – makes you and your business stand out as either being based in Ireland or having a connection with Ireland. A uniquely Irish online identity. This is important in building trust with your customers who are based in Ireland and are more likely to click on local website addresses. A .ie website address will also rank higher than a .com address on Irish based search engines, like Google.ie.
Our industry stakeholders
Working with industry bodies such as the Design & Crafts Council (DCCI), Retail Excellence, the Hardware Association (HAI), the Royal Institute of the Architects of Ireland (RIAI), we developed programmes and content tailored to the needs of their members to help them advance their online presence.
Through our sponsorships, we actively support the Small Firms Association (SFA), Digital Business Ireland and many digital organisations/events throughout the country to help advance Ireland's internet ecosystem.
OPTIMISE programme
The programme was launched in 2011 to empower small businesses to improve their online presence, hone their digital capabilities and grow their e-commerce sale and ran until 2019. In 2017 we revamped the programme as a digital healthcheck for members of industry bodies (DCCI, HAI, Retail Excellence, RIAI). It benchmarked each participant's website against best practice, and delivered a report detailing the steps needed to improve the website's performance and e-commerce capability.  Key learnings from the programme are that SME's need step-by-step guidance and training to demystify the process of website development and ongoing management.
This proof-of-concept programme has been adopted internally by DCCI, HAI and Retail Excellence who now provide tailored digital training designed specifically for their members. Further detail on the programme can be found here along with some cases studies of how small businesses benefited from it.