The .IE Tipping Point Report 2022: Irish e-commerce and digital business in the post-Covid era, in partnership with Digital Business Ireland assessed the attitudes and responses to the Covid-19 pandemic of 1,000 Irish consumers and 500 retail and consumer-facing professional services SMEs. This is the third and final part of a trilogy of research.
Key findings
A tipping point has been passed. Consumers have fully embraced the convenience of online shopping. In response, most SMEs have been forced to adapt, digitally and increasingly attitudinally, transforming their static brochure websites into e-commerce hubs and are planning investment in their online stores.
Strong generational differences are emerging in consumer attitudes to online and in-store shopping, SMEs will need to be cognisant of different shopping preferences and trends among digital natives.
Most consumers are highly cybersecurity conscious. 75% are 'very' or 'somewhat concerned' about the security of their personal information when shopping online. However, as many as 6 in 10 SMEs either do not take any precautions to protect sensitive customer data or do not know how to.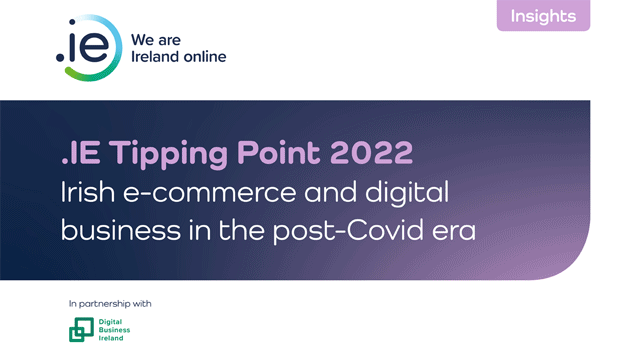 Preparing for the post-Covid era
The pandemic has accelerated Ireland's move towards cashlessness. 62% of consumers said they were using cash 'significantly' or 'somewhat less' since the start of the pandemic. Surprisingly, increasing cashlessness is universal among all generations—and older people are now the least cash friendly. Despite this, as many as 25% of all Irish SMEs still only accept cash payments.
Sustainability and the environmental friendliness of a business's product and supply chain remain a priority for consumers. Almost 80% said it is 'very' or 'somewhat important' that the product they order online is produced and delivered in a sustainable way, a figure that rises to 90% among younger Millennials (1991-1996).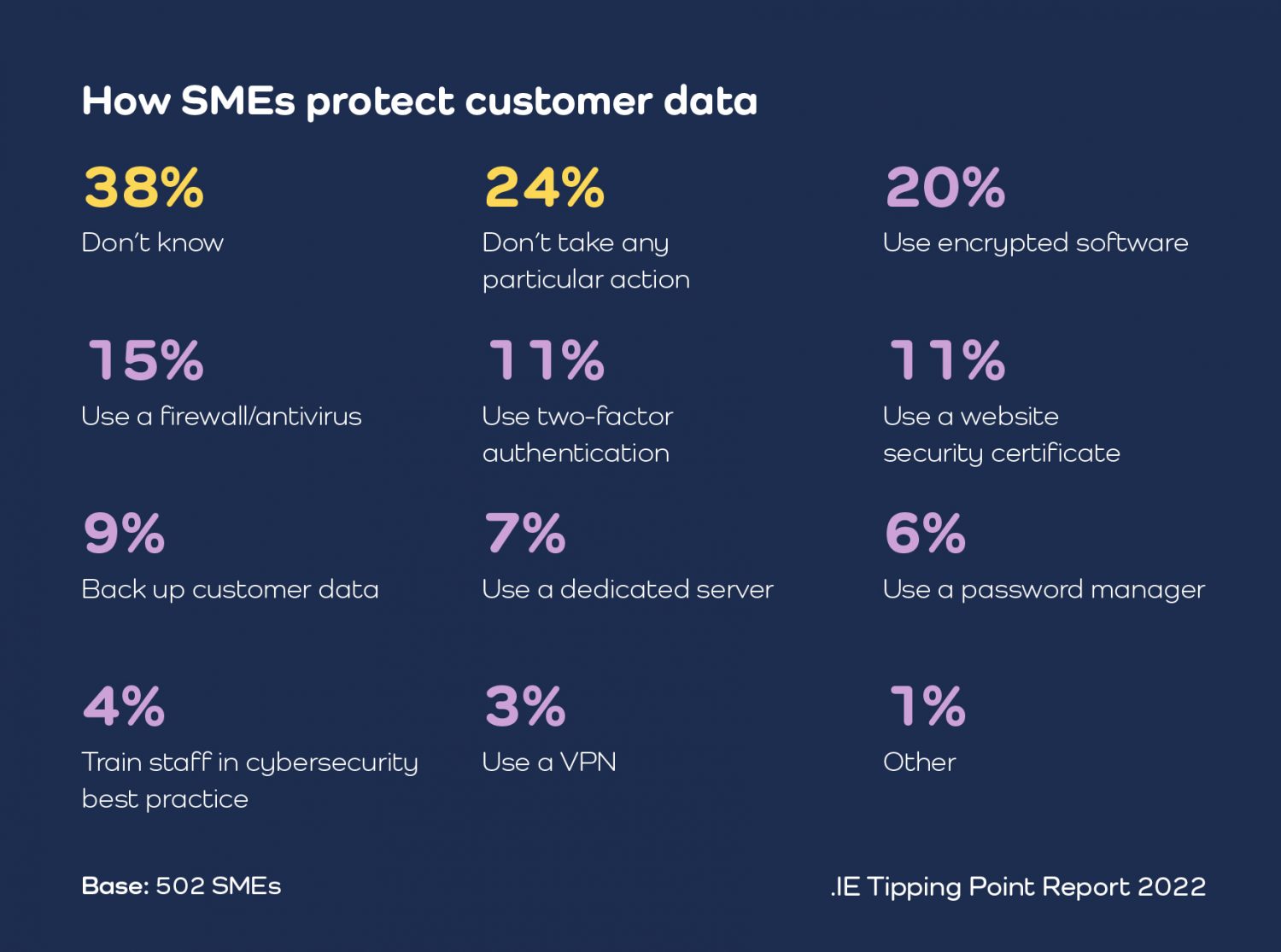 The Covid Consumer
The majority of consumers will prioritise online shopping in 2022. 16% will do most of their shopping online, while 39% said they will shop for necessities in-store, such as groceries, but buy most other things online. 45% of all consumers plan to do most of their shopping in-store.
Consumers in the post-Covid era will be driven by convenience, ease of use and experience. Just as many now value the flexibility of hybrid working, they also value hybrid shopping. Consumers enjoy the experience and the convenience of in-store shopping while simultaneously valuing the ease and speed of e-commerce. They will gravitate towards retailers that give them the best of both worlds.
Digital-first shopping preferences are particularly apparent among younger consumers. Just 29% of Millennials will do most of their shopping in-store in 2022 (compared to 45% of the total sample) while 33% of Gen Z consumers (born 1997-2012) will do most of their shopping online (compared to 16% of the total sample).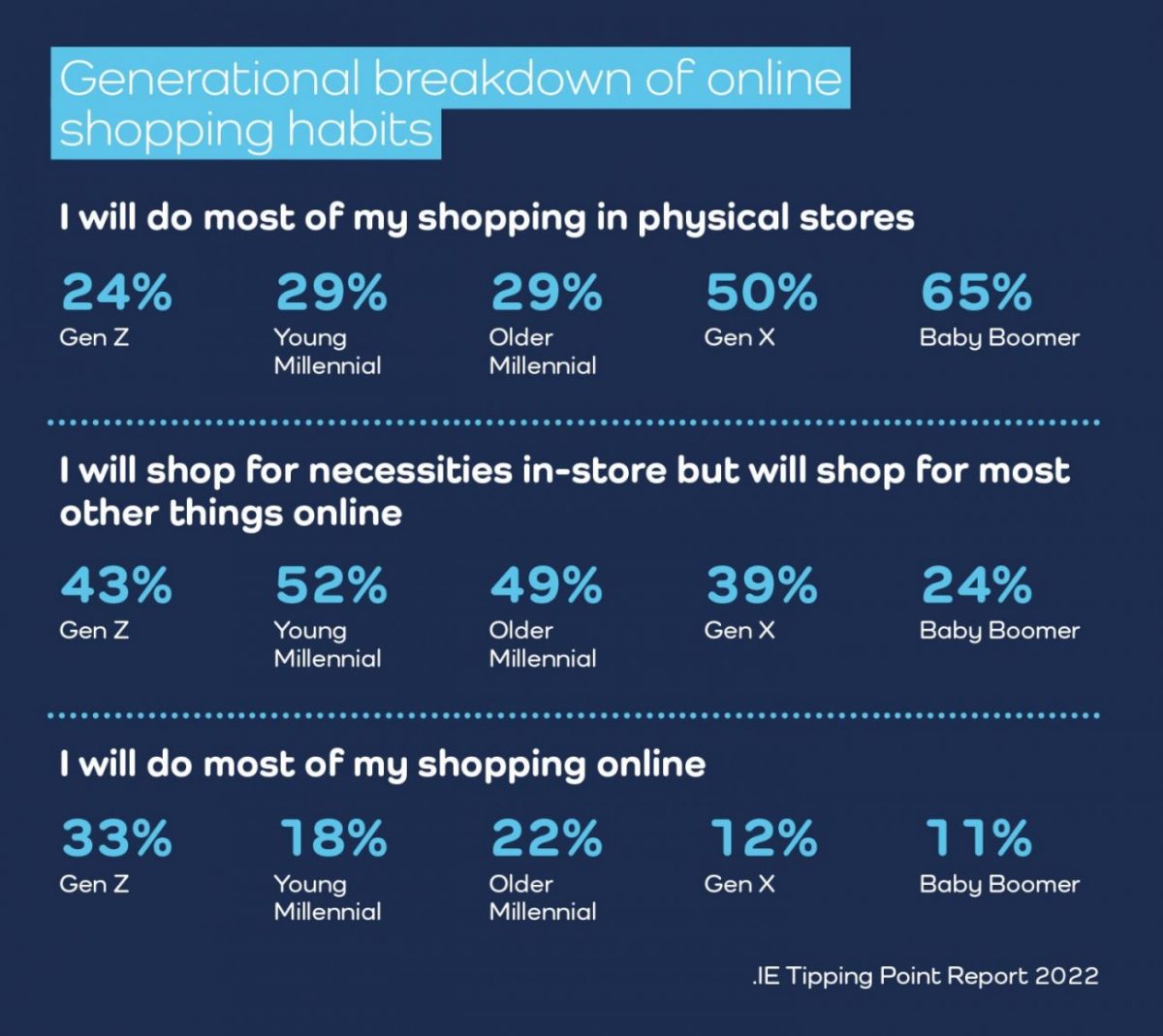 The Covid SME
Exactly three-quarters of SMEs have a website. Just over a third (34%) have an online store—of that figure, 8 in 10 sell directly through a store on their own website.  SMEs increasingly view websites as dynamic sales enablers or points of sale, not just static information pages. 72% said their website was important in generating sales, up from 66% in 2021.
Half of SMEs have invested in their online presence since the start of the pandemic. In the majority of cases, this has resulted in improved sales.
SMEs will continue to invest in their online services. Just over half (54%) of SMEs are planning a significant digital investment in the next 5 years, with most focusing on launching a new website (23%), improving their existing one (15%), or building a dedicated app (13%).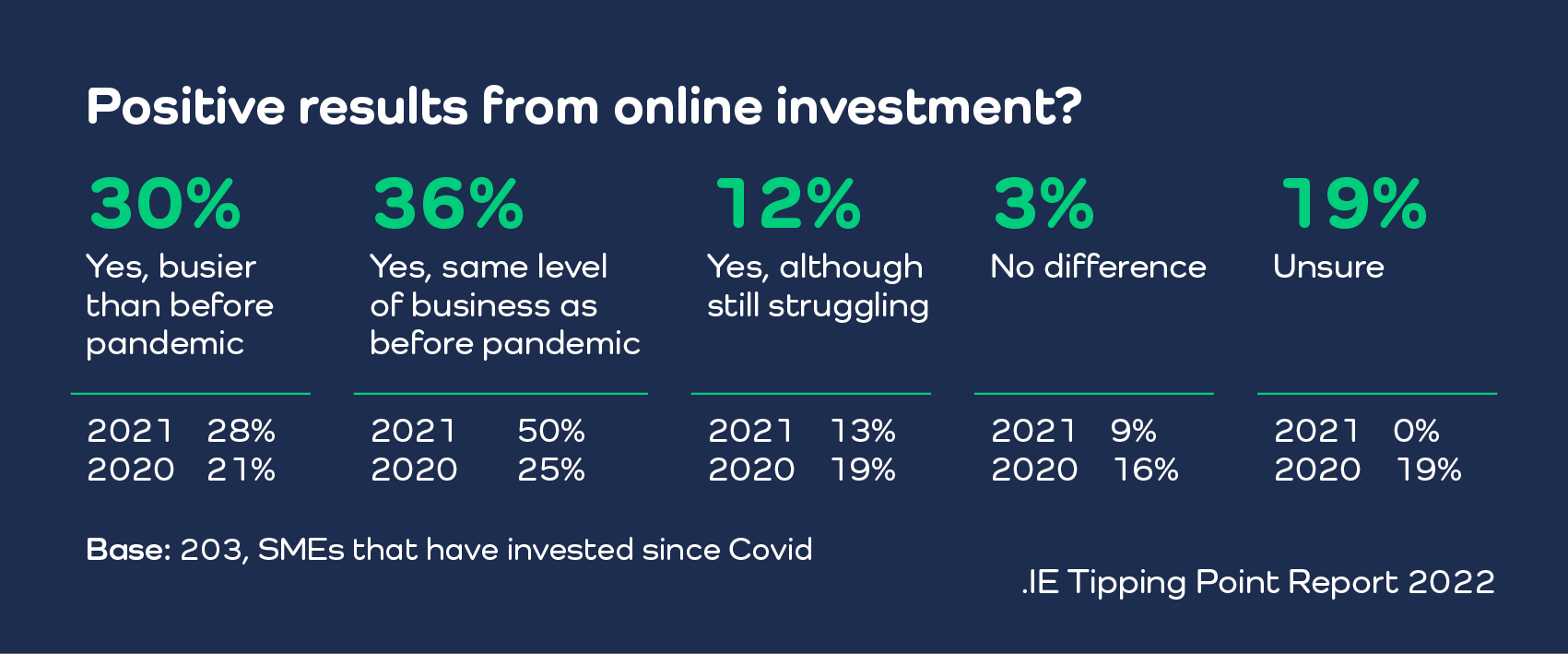 If you are interested in sharing insights from our .IE Tipping Point Report, please download the additional graphics above.
Previous .IE Tipping Point Reports
Get your .ie online address
Looking for a great domain name? See if it's available.