Start, build, grow…..unlock the power of the internet
Consumers expect businesses to be online
Having an online presence in today's digital environment is essential. If you are providing goods or services as a business, sole trader or contractor, it's crucial that customers and potential customers can find you online as it is the first place they will look.
Our .IE Digital Health Index research shows that 80% of Irish consumers agree that all businesses should have, at the very least, a basic website with contact details and opening hours. Nearly two-thirds (63%) think a business is outdated if it doesn't have a website.
The way Irish consumers spend online and in-store is changing. Our .IE Tipping Point Report 2021 reveals 68% of consumers said they spent more online in 2020 than they did in 2019. 58% will prioritise online shopping over in-store in 2021.
The digital era has also raised consumer expectations. Online shoppers want the same level of convenience from their local SMEs that they get from larger retailers. 53% want their local high street stores to provide a full online shopping service, 45% want a click-and-collect service, and 52% want the ability to browse and research a company's products and services.
While consumers are keen to support local businesses during the pandemic, international businesses continue to prove attractive for online shoppers. Consumers view international retailers as more competitive on price, range and online experience, but they view Irish SMEs as more reliable and trustworthy.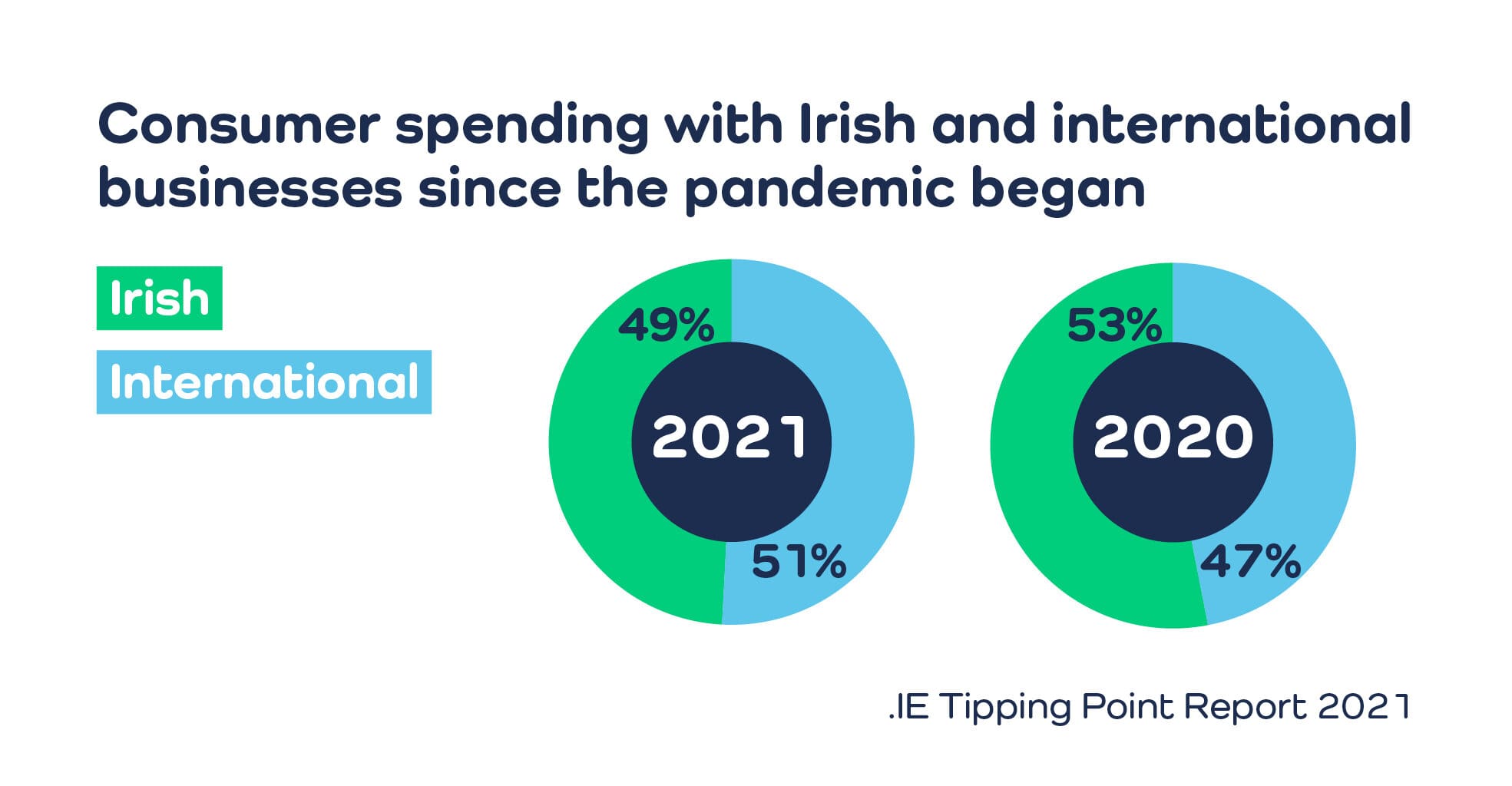 Top tips to get started
Below are a selection of resources to help guide you on your online journey.
How to grow your business online
This webinar contains a wealth of practical advice and tips that you can start working on today.
WEBINAR: Grow your business online
Improving your digital skills
Check out your Local Enterprise Office for a range of practical digital training programmes, which are very affordable and will get you up and running in no time.
SME Online Success Stories
See how having an online presence with a .ie website helped these businesses grow.
Ready to thrive online?
It is easy and fast to register a .ie online address which is preferred by businesses in Ireland.
If you are trading in Ireland, an Irish country code top level domain – in other words, a .ie domain name – makes you and your business stand out as either being based in Ireland or having a connection with Ireland. A uniquely Irish online identity. This is important in building trust with your customers who are based in Ireland and are more likely to click on local website addresses.
A .ie website address will also rank higher than a .com address on Irish based search engines, like Google.ie. Consumers can have confidence in your business as .ie is a well-established and trusted domain because every .ie applicant's identity is checked and validated at the point of registration
Read more about the benefits of a .ie online address.
If you already have your .ie domain and you are looking to use it, talk to your .ie accredited Registrar about your options.