The blueprint for Ireland's digital towns
The Digital Town Blueprint is designed to be used by town leaders and policymakers to facilitate the creation and rollout of a targeted and effective local digital action plan that results in real change.
"Our goals were to define the digital town; develop the metrics to measure a town's digital readiness; and quantify the effects of digital on a town's local economy, society, and culture."
The research team created the Digital Town Readiness Framework. It uses primary and secondary data to measure a particular town's digital capabilities. In doing so, the team filtered through thousands of data points to determine what dimensions and sub-dimensions should be included in a framework suitable for a town context. This data is reflected in eight dimensions, as follows:
Connectivity: The deployment, quality, adoption and use of broadband infrastructure in a town.
Digital Business: The use and sophistication of digital technology among a town's businesses.
Digital Public Services: The use and sophistication of digital technology among a town's local government and healthcare providers, and the availability of open data.
Civil Society: The use and sophistication of digital technology among a town's voluntary, social and community groups.
Education: The support for, use, and sophistication of digital technology in education, and the provision of training and education in digital technologies for all levels in a town.
Digital Tourism: The use and sophistication of digital technology in a town to attract tourists and deliver a distinctive experience.
Horizontal Integration: The degree of coordination across a town on digitalisation, including the availability of a platform for citizens to interact, share knowledge, experiences, and mutual interests.
Digital Citizen: The competence and usage of digital technologies by the citizens in the town.
Visualising a town's digital readiness with the Digital Town Readiness Framework
The eight dimensions are reflected on this radial diagram.  To assess their town, town leaders score their town's digital capabilities from 1-5 across the eight dimensions, with 1 representing "non-existent" or "very low" digital readiness and 5 representing "leading" digital readiness.
For example, a town with a modern, high-speed broadband infrastructure will receive a higher connectivity score versus a town with slower, dated infrastructure; a town where a large number of doctors' surgeries and pharmacies have websites and e-commerce facilities may receive a higher digital public services score versus one that does not; and so on.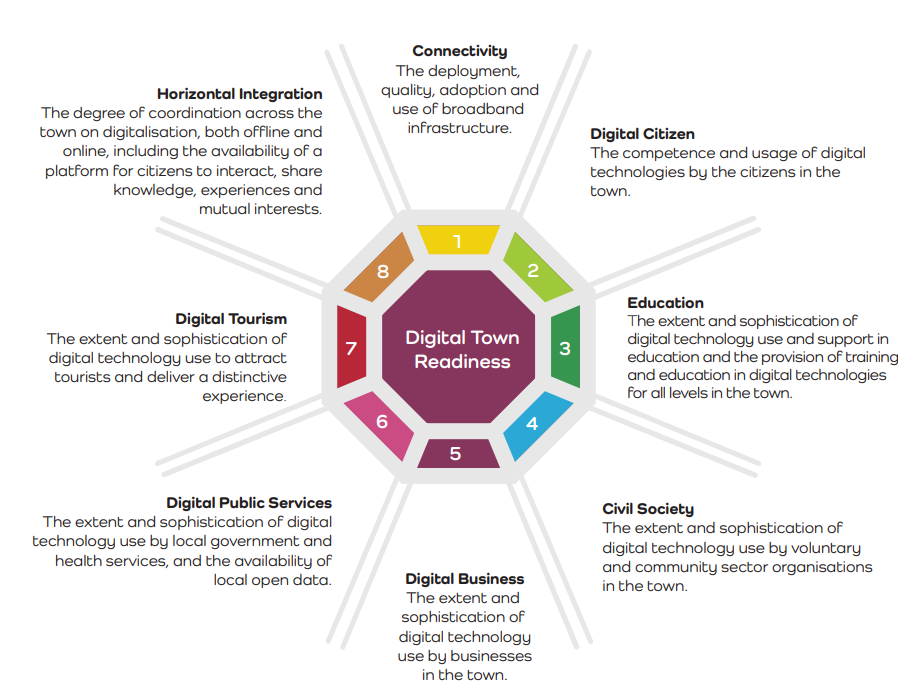 Visualisation of dimension scores
Based on the analysis of the Digital Town Blueprint, an overall Digital Town readiness score can be attributed to the town. This score, and supporting observations, provides an important insight into key indicators for improvement at town level.
This final score is a weighted average of each of the dimension scores (1-5), rescaled out of 100 for easier interpretation. The weighting for each dimension is applied based on the peer-reviewed academic analysis and assessment.