The .IE Domain Profile Report explores and analyses the .ie database.
In this edition, we assess the first half-year period of 2022 – new .ie domain registrations, the overall growth of the .ie database, and country and county of domain registration.
We also have a closer look at steps taken to make the .ie namespace as safe as possible. In our Analysis of .ie domain ecosystem chapter we examine domain usage, keyword usage in new registrations, .ie website categorisation and .ie market share and international growth.
This .IE Domain Profile Report clearly illustrates the nation's digital intent, county by county, in 2020 and 2021, reflecting a narrowing of the digital divide. However, there are major gaps in our collective understanding of the full extent of digital transformation across the country during the two years of on/off lockdowns. In our Press Release accompanying this Report we are renewing our call for post-Covid data: "Any pre-2019 data we have on digital usage is chronically out of date. Post-Covid data is essential for policymakers and local leaders, to help them understand what has happened, and make better decisions around resource allocation, development of programmes and supports needed for SMEs and for towns during the digital decade".
New registrations
New .ie domain registrations decreased by 24.5% in H1 2022 when compared with H1 2021.
Following a surge in registrations during the pandemic and government-imposed restrictions, a slowing down in the rate of new .ie registrations signalled a return to normal growth levels seen pre-pandemic.
During the two years of the pandemic, more than 120,000 new .ie domains were registered.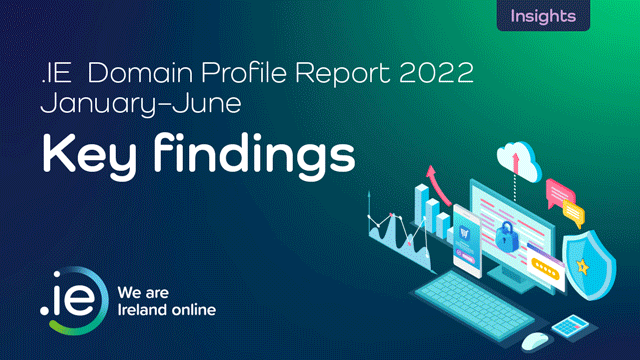 25,539 new .ie registrations were recorded for the half-year period January – June 2022, a small decrease of 3.5% v H1 2019.
Digital remains a core part of our economy and society with the .IE Domain Profile Report clearly illustrating the nation's digital intent, county by county, reflecting a narrowing of the urban-rural digital divide.
SMEs are continuing to use their websites as a core part of their business post-pandemic, seamlessly linking their physical premises with their digital presence. This means that customers can enjoy the experience of shopping in-store, as well as the convenience and ease of e-commerce.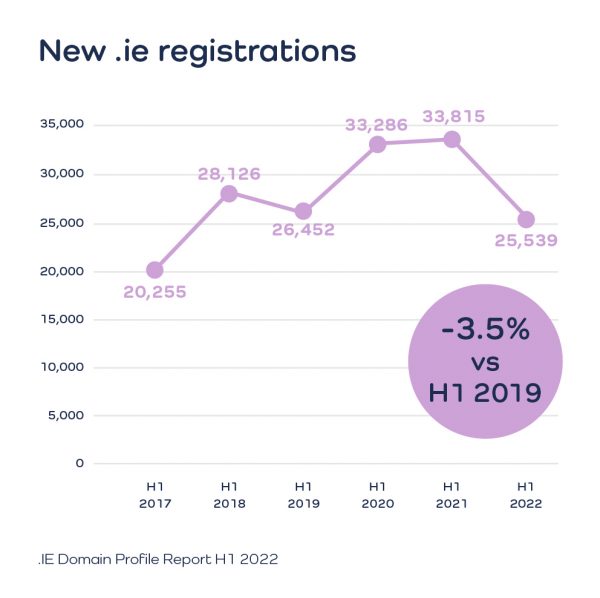 Total database and market share
There were 332,642 domains in the .ie database at the end of June 2022. This is a 2.6% increase on the same period last year, and a 21.8% growth on the same period three years ago (H1 2019), before the onset of the Covid-19 pandemic.
91% of all .ie domains are registered on the island of Ireland, while the .ie domain accounts for 53% of all top-level domains hosted in Ireland. In comparison, .com accounts for 30% of all domains,
Just under half of all .ie domains (48%) have a content-rich website, with almost 1 in 4 (23%) of these e-commerce-enabled, including automated bookings and reservations. The top three payment processors on .ie websites are Apple Pay (59%), Visa (43%) and American Express (38%).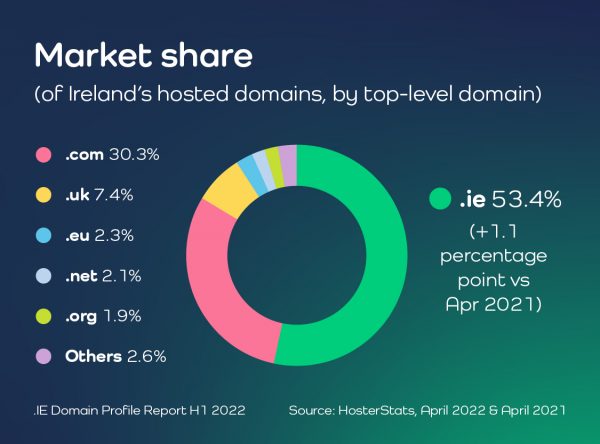 Cybersecurity – a key focus
Through the services of Netcraft and with cooperation from the Registrar community, 211 cybersecurity attacks were identified in H1 2022. These services allow us to proactively respond to online abuse issues and for remediation action to be taken by the domain holder, with the help of their Registrar.
65% of content-rich.ie websites are now secured with a security certificate.
A much smaller percentage of .ie domains use other cybersecurity features, such as DNSSEC (0.17%), which adds an additional layer of cryptographic security to a domain, and Registry Lock (0.02%), which protects a domain from malicious or accidental changes.
As digital usage expands rapidly, keeping the .ie namespace safe from cyber criminals is a key focus for us.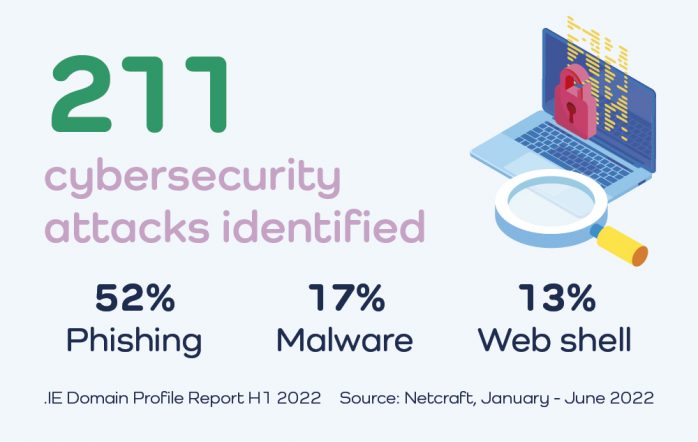 If you are interested in sharing insights from our .IE Domain Profile Report, please download the additional graphics above.
Previous .IE Domain Profile Reports
.ie Domain Statistics
332,128
.ie Domains registered
So Far
45,226
.ie Domains registered
This Year
3,952
.ie Domains registered
This Month