The .IE Domain Profile Report explores and analyses the .ie database.
 This edition assesses the first year of the new decade. We reveal the impact of the Covid-19 pandemic on new .ie registrations and analyse the counties and countries of the registered domain holders. We also take a closer look at the broader .ie domain ecosystem and plot new .ie registrations on a month-by-month timeline.
New registrations
65,113 new .ie domains were registered in 2020, the highest ever figure and an almost 30% increase on 2019. Peaks and troughs in new .ie registrations generally followed the Government's restrictions on travel and business. The highest peak occurred in May, approximately 6 weeks after the closure of non-essential retail.
This peak began to drop off from June, as restrictions eased, but moved up sharply in October, peaking again in November corresponding to the announcement of the second national lockdown.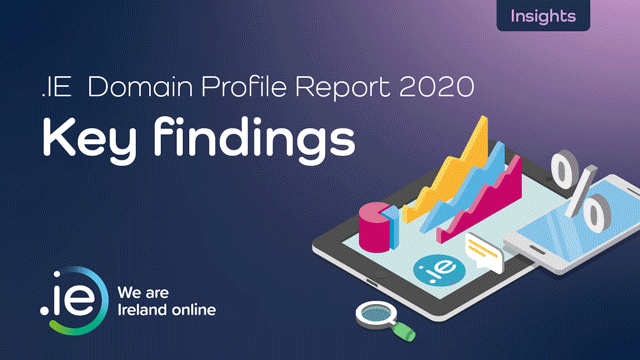 Digital mobilisation across the country
The .IE Domain Profile Report reveals an unprecedented mass mobilisation of digital across every part of Irish society and economy. Businesses migrated online, many for the first time, in direct response to the lockdowns. They realised that having an online presence, and in many cases e-commerce capabilities, would at the very least minimise the damage of reduced or non-existent footfall but also open new markets and create new ways to interact with customers.
Encouragingly, new .ie registration growth was strong across the entire country, not just in urban centres. For the first time ever, annual .ie domain registrations increased in every county on the island of Ireland.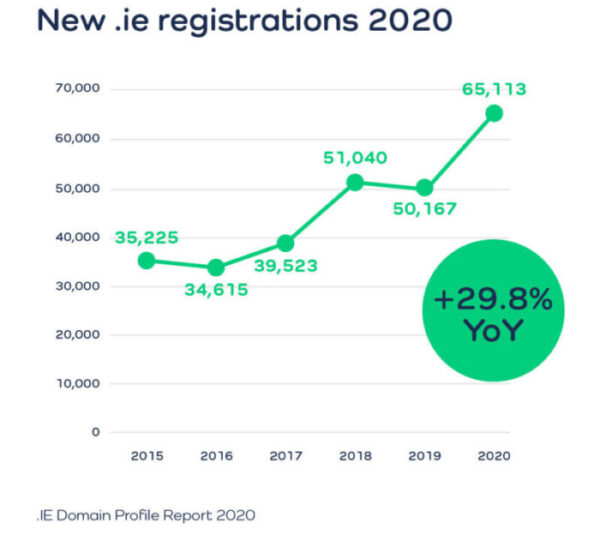 Total database
At the end of 2020, the total number of .ie domains in the database was 309,853, a 10.3% increase on 2019. The database has grown 46.9% on the same period five years ago (2015).
The .ie database's strong growth in 2020 can be attributed to the Covid-19 pandemic and subsequent lockdowns that closed physical premises and restricted travel and social gatherings.
The .ie domain now accounts for 51% of all domains hosted in Ireland, followed by .com (32%) and .uk (8%).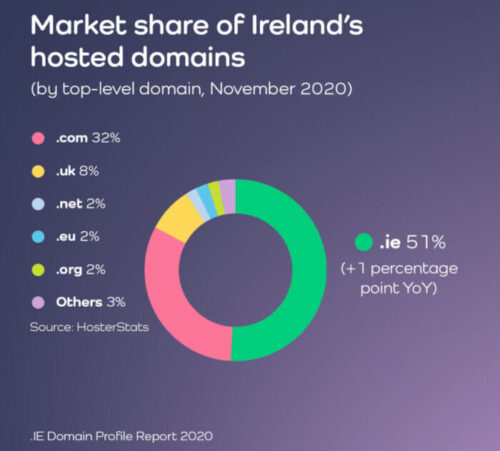 If you are interested in sharing insights from our .IE Domain Profile Report, please download the additional graphics above.
Previous .IE Domain Profile Reports
.ie Domain Statistics
324,372
.ie Domains registered
So Far
37,750
.ie Domains registered
This Year
3,769
.ie Domains registered
This Month