The .IE Domain Profile Report explores and analyses the .ie database.
In this edition, we assess the first half-year period of 2021 (1 January–30 June), tracking the pandemic's continuing effect on new .ie domain registrations and the counties and countries where they were registered. We also examine the broader .ie ecosystem, including the .ie domain's market share and growth and the use of additional security features by .ie domain holders.
New registrations
H1 2021 is the best first half-year period on record for new .ie domain registrations. A total of 33,815 new .ie domains were registered, up 1.6% on the same period last year.
Peaks and troughs in new .ie domain registrations mirrored the Government's pandemic restrictions. Broken down, new .ie domain registrations were up 34% on Q1 2020 but down 22% on Q2 2020.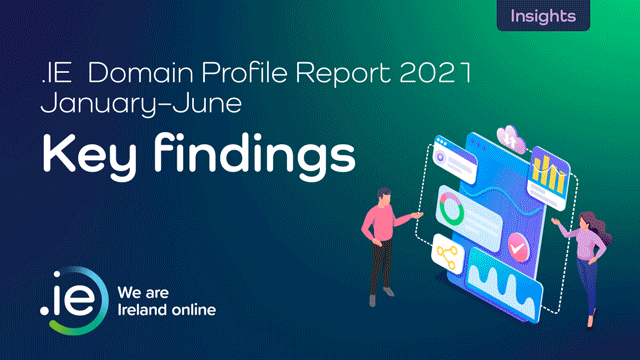 Q1 2021 was dominated by the strict post-Christmas lockdown, which compelled many offline SMEs to invest in their digital presence and new .ie registrations peaked in March.
While the announcement of business re-openings from April and the accelerated vaccine rollout led to a gradual decline from the peak, new .ie domain registrations remained high. This suggests that despite the return of physical business, SMEs recognise that consumers want more digital choice and, in many cases, prefer e-commerce to in-store shopping.
The pandemic has greatly accelerated the trend towards omni-channel retail. A rise in .ie domain registrations suggests SMEs are increasingly prepared for this reality.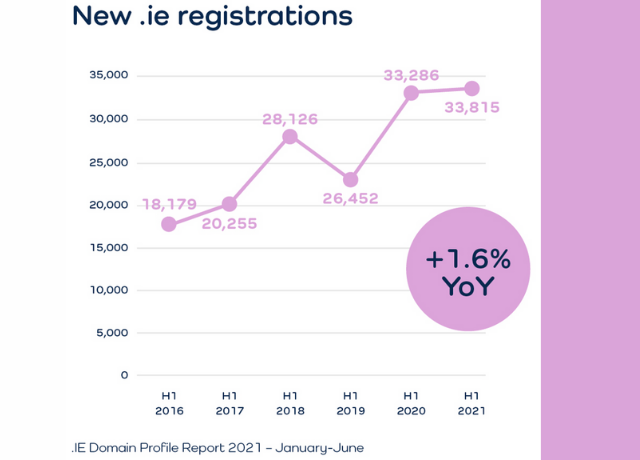 Total database
At the end of H1 2021 (30 June), there was a total 324,074 .ie domains in the database, up 9.6% on the same period last year.
With 51%, the .ie domain holds the highest market share of all hosted top-level domain names in Ireland, followed by .com at 32%. Ireland, with 9.6% growth year-on-year, is the second fastest-growing country code domain in Europe, behind Portugal, with 10.8% growth Y-o-Y.
Authentically Irish and trusted at home and internationally, the .ie domain remains the domain of choice for Irish businesses and individuals.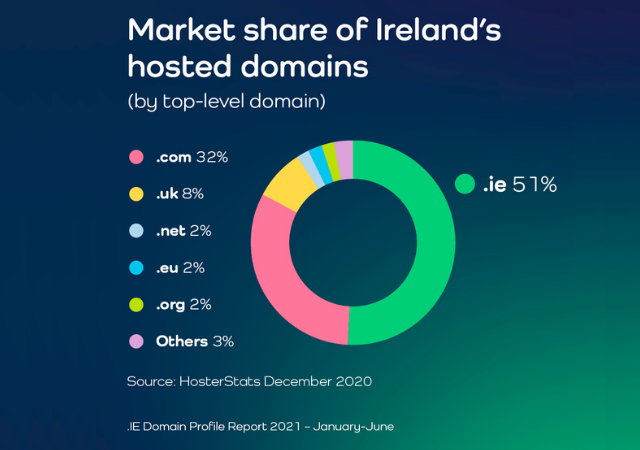 .ie domain keywords
There was a 64% increase in the number of new .ie web addresses with 'outdoor summer'-related keywords and an 18.8% increase in general health-related keywords in the first half of 2021 compared to the same period in 2020.
Many local homeware stores, garden centres, GPs and pharmacists are benefiting from the convenience and revenue-generating power of online sales and virtual consultations.
Read the full report – Digital Edition
Click on the cover below to open the digital edition of our .IE Domain Profile Report 2021 – January-June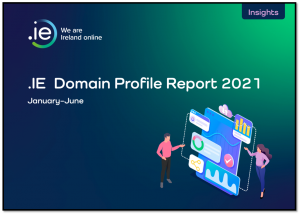 Download
If you are interested in sharing insights from our .IE Domain Profile Report, please download the additional graphics above.
Previous .IE Domain Profile Reports
.ie Domain Statistics
331,079
.ie Domains registered
So Far
60,325
.ie Domains registered
This Year
1,358
.ie Domains registered
This Month