A nation of digital towns
Eolas Magazine – January 2023
Fostering digital adoption in communities across Ireland is a key focus for us at .IE.
The EU and government focus on the Digital Decade promises to deliver transformational change for Irish people, businesses, and communities. A range of digital strategies, policies and plans have been put in place to drive the digital agenda, including Harnessing Digital – the Digital Ireland Framework, the Digital Transition Fund, the Connected Hubs network and the Rural Regeneration and Development Fund to name a few.
These policies are to be welcomed and .IE is pleased to play its part in driving digitalisation through our strategic priority of supporting and serving the needs of the local internet community. In 2021, we launched a new initiative, the .IE Digital Town Programme with a €1 million investment over four years to enable a nation of digital towns. The .IE Digital Town programme was developed to foster digital enhancement and adoption in Ireland, helping businesses, citizens, and communities to harness the benefits of the internet and to thrive online.
.IE Digital Town Awards – pictured L to R: The Piltown Team; Minister Damien English, Minister of State for Business, Employment and Retail at the Department of Enterprise, Trade and Employment; Oonagh McCutcheon, National Director .IE Digital Town Programme; David Curtin, CEO .IE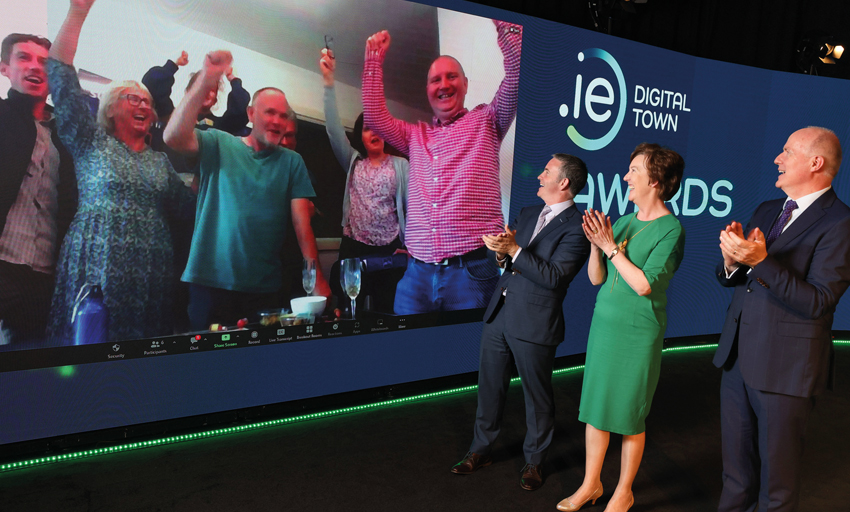 The programme comprises three elements: big data for small towns, the .IE Digital Town Awards, and the .IE Digital Town Blueprint. Two specific pillars of activity are currently underway: the .IE Digital Town Awards, and the Blueprint.
Read the full article on Eolas Magazine.
Oonagh McCutcheon is our Chief Communications Officer and National Director of our .IE Digital Town Programme.