Each year we publish our Annual Report & Review which takes an in-depth look at our company, our activities and our industry.
2020: Celebrating 20 years
In 2020, new .ie domain registrations of 65,113 were our highest annual figure ever recorded, a 29.8% increase on 2019, and a tribute to the hard-working .IE Registrar channel.
Registration revenue increased by 4.7% to €3.77 million in 2020. Operating costs decreased significantly in 2020, primarily as a consequence of the Covid-19 restrictions which forced the suspension of sponsorships, customer service initiatives and unfortunately, the 2020 .IE Digital Town programme. Accordingly, operating profit increased to €332,320 and we recorded unrealised gains on our financial investments of €167,468. Members' Funds increased by 10% during the year.
Chair of the Board, Louise English reported that the onset of the Covid-19 pandemic created unprecedented challenges for businesses, communities and citizens. Keeping the .ie namespace safe and secure for internet users and for Irish business is a critical priority for the Board. .IE maintained its excellent track record for the safety, reliability and resilience of its services.
David Curtin, Chief Executive
"2020 was a year of major challenges and achievements for .IE; we coped with Covid restrictions; we rebranded to ".IE"; we licensed and customised a new registration system; we seamlessly exited the direct B2C retail customer market; we benefitted from accelerated digital transformation which boosted demand for SME's online presence; and by year end the EU agenda for significant cyber security regulation became apparent. What a way to mark our 20th year in business."
"The sad impact of Covid-19 on society, citizens and the economy nevertheless accelerated digital adoption for business, consumers and social activity. The .ie database's strong growth in 2020 can be largely attributed to the Covid-19 pandemic and lockdowns that closed physical premises and restricted travel and social gatherings, which forced small business owners to pivot online, many for the first time."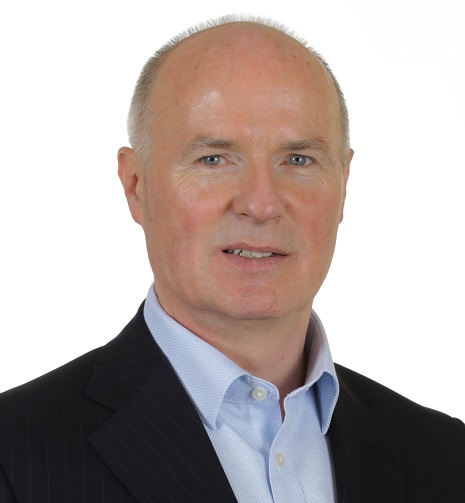 The .IE Technical Services team must be commended on its significant achievements during 2020, when .IE partnered with the Canadian registry, to license and customise its new domain registry management platform. Codenamed TITAN, it provides our Registrars with more powerful and flexible domain management tools as well as a modern, user-friendly interface. It has greater functionality and flexibility than the pre-existing Core Registry System (CRS) which served us so well since 2013.
Together with the new ticket handling system Deskpro, Exchequer and the reporting capability supported by the data warehouse, this standardisation of processes will future-proof .IE's systems and provide a new platform for the next decade of growth and expansion of the .ie namespace.
Read the full report – Digital Edition
Click on the cover below to open the digital edition of our Annual Report 2020.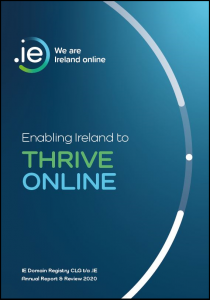 Download
You can download the full report below.
Get your .ie online address
Looking for a great domain name? See if it's available.