Defibrillator Locator App – Co. Roscommon
Selected as an exemplar case study by DCU in partnership with .IE
Funded by DRCD Digital Innovation Programme 2021
Funding awarded: €20,900
Maturity: Pilot
Timeframe: June 2019
Contact details:
John McDermott (developer)
E: roscommonrr@gmail.com
P: 087 319 7610
https://www.emcallapp.com/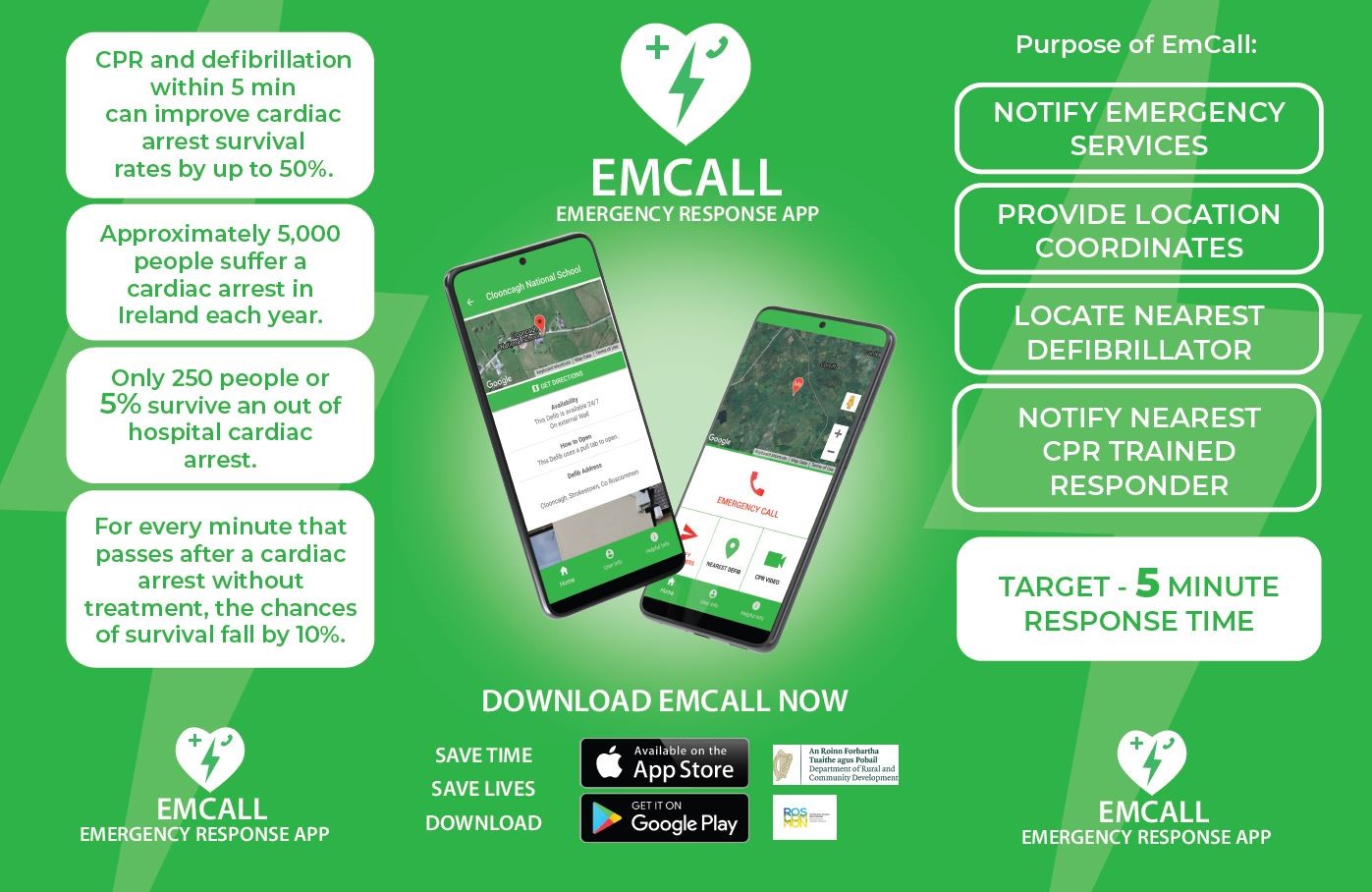 Who:
Roscommon County Council
In Ireland, only 5% of individuals who experience out-of-hospital cardiac incidents survive. Medical research shows for every minute that passes after the cardiac incident occurs the victim's chances of survival reduce by 10%. Speed and quality of medical response are the crucial factors in determining whether a person survives. However, 60% of people will survive a cardiac incident if they receive CPR and the use of a defibrillator within six minutes. Access to defibrillators and people trained in CPR is particularly problematic in rural and remote regions, where such response times may be prolonged and access to defibrillators constrained. Technology can provide a solution to speed up /initiate a local emergency response system by providing participants/volunteers with the information and notification instantly.
Objectives:
To enable people in County Roscommon, who experience an out-of-hospital cardiac event, to achieve the highest survival rate in Ireland by:
notifying the emergency services with location coordinates or the Eircode.
locating nearest accessible defibrillators to the incident scene.
notifying the 8 nearest CPR trained Responders of the incident and scene location.
Measure outcomes and contribute to an annual report of the Out-of-Hospital Cardiac Arrest Register.
What:
This project developed a mobile application for use across Roscommon County to enable faster communication and instant data transfer in the event of out-of-hospital cardiac events. The intention is to increase response times and ultimately save lives. To do so, the app achieves three tasks. Firstly, if a cardiac event  occurs it provides direct access to 112 or 999 emergency numbers, provides location coordinates of the event which alerts emergency CPR-trained responders immediately. The target time for response and intervention is 4-5 minutes, which is significantly lower than an ambulance target time of 20 minutes. Secondly, it maps out the locations of defibrillators within County Roscommon. There are 209 defibrillators currently listed as accessible and available from the app and website. Finally, the app has registered over 350 CPR trained Responders. It also provides them and organisations that have defibrillators with up-to-date information including topics such as the care and maintenance of defibrillators, updates on new CPR rules, practices, and general information useful to CPR Responders or First Aid practitioners.
Why:
This project provides fast access to the closest defibrillator and CPR responder to increase the chance of surviving a cardiac incident by as much as 50%. Furthermore, it provides up-to-date information for those trained in CPR in order to retain their skillset. Before this application, 112/999 callers needed to know where the nearest available defibrillator was and then retrieve the list of responders and phone numbers from the defibrillator cabinet. They then had to ring the responders to notify them of the cardiac incident. This wasted valuable time, and worsened the possible outcomes of an out-of-hospital cardiac event.
Scale:
This app is limited to use within Country Roscommon and is available to download on both the Google Play Store and Apple App Store. It currently has 1,000+ downloads.
Technologies:
Mobile Website; Mobile Phone Technology
Impact and Lessons Learned:
The project enabled Defibrillator Groups to assess whether they had sufficient defibrillator numbers and trained responders to achieve their target response time. Where this is not the case, a grant aid application will be made to the Leader Programme to provide defibrillators in black spots where the 4 – 5 minute response cannot be achieved.
An unexpected outcome of the project was that community meetings provided defibrillator groups the opportunity to network for the first time. The community meetings were also crucial for planning, design and implementation of the project. This highlighted the need to ensure communication channels are not just digital, in order to maximise the success of the project. Another lesson learned was tailoring promotional material to suit the intended audience. The initial promotion messages were overly technical, and this required a change in approach to focus on what buttons to press rather than the technologies behind this. Finally the funding was necessary to address issues in both the initial EmCall Website and the EmCall App.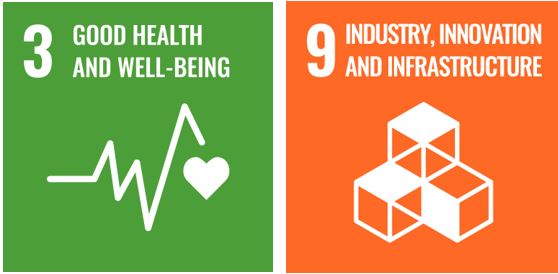 Written by Dr. Jennifer Kennedy, The Irish Institute of Digital Business, Dublin City University.