In 2018, we launched the 'Digital Town' initiative which highlights the benefits and possibilities of the internet and celebrates the digital achievements of local towns.
The Digital Town concept is centred on holding an 'Internet Day' in selected communities. The aim is to create a day of celebration promotes awareness, knowledge, use and understanding of the internet among citizens, businesses and the wider community.
Digital Town 2018, Gorey, Co. Wexford
We chose Gorey, Co Wexford as the 2018 Digital Town – celebrating Gorey's digital achievements and highlighting the importance and impact of the internet on society, on businesses and on the community in general, while demonstrating the real benefits and potential of digital towns can deliver.
Gorey was selected for its achievements in cultivating a truly digital environment in the town, and for its ongoing successes in fully embracing digital for its residents and for local business. We believe that through showcasing its efforts, Gorey can inspire Irish towns to begin their journey to becoming fully digital.
Our CEO David Curtin, Corporate Communications Manager Oonagh McCutcheon and MC Bobby Kerr celebrate the launch of Digital Town 2018.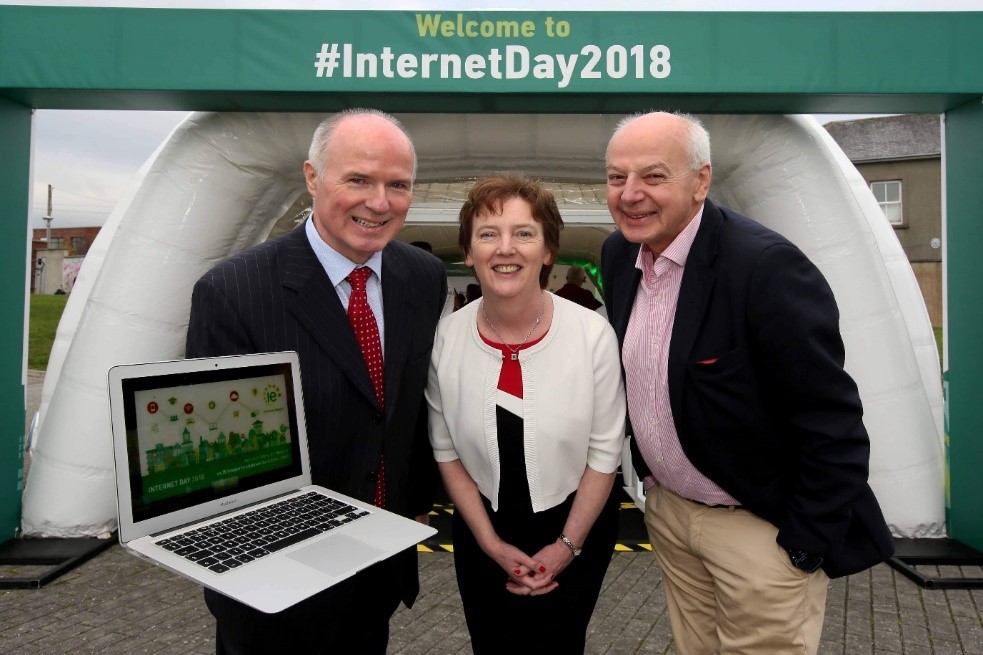 What happened?
Over the month of October, working closely with Wexford County Council, The Hatch Lab and Gorey Chamber of Commerce, we planned and oversaw a number of digital engagements aimed at showcasing Gorey and developing additional digital skills and know-how for people and organisations in Gorey.
This work culminated in the official launch and celebration in Gorey on 25 October at the town centre  at Civic Square.
Digital Town – 25 October
Official launch: We hosted the official launch in the .IE Digital Dome at 10am, where entrepreneur and broadcaster Bobby Kerr acted as Master of Ceremonies. Our CEO David Curtin delivered a short address and revealed the results of a national consumer survey on the Digital Trends in Ireland 2018. Following this, there was a discussion on 'The Digital Town' with a panel of local and national business experts:
Tony Hanway, Group CEO, Virgin Media Ireland
Jim Hughes, CEO, INNOVATE, President, Gorey Chamber of Commerce
Louise O'Conor, Chief Digital Officer, Abodoo
Annette Soraine, Board member, Fastrack to IT
Oonagh McCutcheon, Corporate Communications Manager, .IE
Open to all: From 11am-3pm, there was a team of leading digital experts in the .IE Digital Dome, providing free advice and digital demonstrations to business owners, community groups and citizens on all matters digital including skills, e-commerce, website development and mobile video.
Digital demonstrations delivered included:
A short workshop on 'Digital Animation & Mobile Video Made Easy' which showed businesses how to shoot professional quality video and animations using their mobile device.
'How to build a website in 20 minutes' which demonstrated how to build a website from scratch in 20 minutes with a newly registered domain and no coding required.
There was also the opportunity to try out a mixed reality experience, which immersed people in a 3D painting canvas called Tilt Brush.
Media gallery
Check out our media gallery to see all the highlights from the day.
Get your .ie online address
Looking for a great domain name? See if it's available.