Digital Transformation: maintaining momentum
Today, we launched our Pre-budget submission for 2023 – Digital Transformation: maintaining momentum.
Digital transformation is not only changing companies but also redefining markets, industries and economic activity resulting in a changing business environment. Yet in spite of the importance of digital transformation to the Irish economy, empirical research on its drivers, scale and impact during the Covid-19 pandemic is still lacking, creating a national knowledge gap.
Covid-19 fuelled digital transformation across industries by forcing companies to pivot, almost overnight, and change their processes fundamentally and to alter their strategic vision for long term growth and value creation. While at the same time, Covid-19 spurred the digital transformation of companies, primarily SMEs, accelerating overall digital adoption by years within a matter of months. By focusing on digital orientation and digital capability, SMEs investing in digital technologies have been able to survive and thrive through testing circumstances.
In the words of Tánaiste Leo Varadkar "the world has changed in the last year or two, Ireland has probably come on 15 years in terms of the digital transformation." It's indeed true that the Irish economy is digital and there is no going back.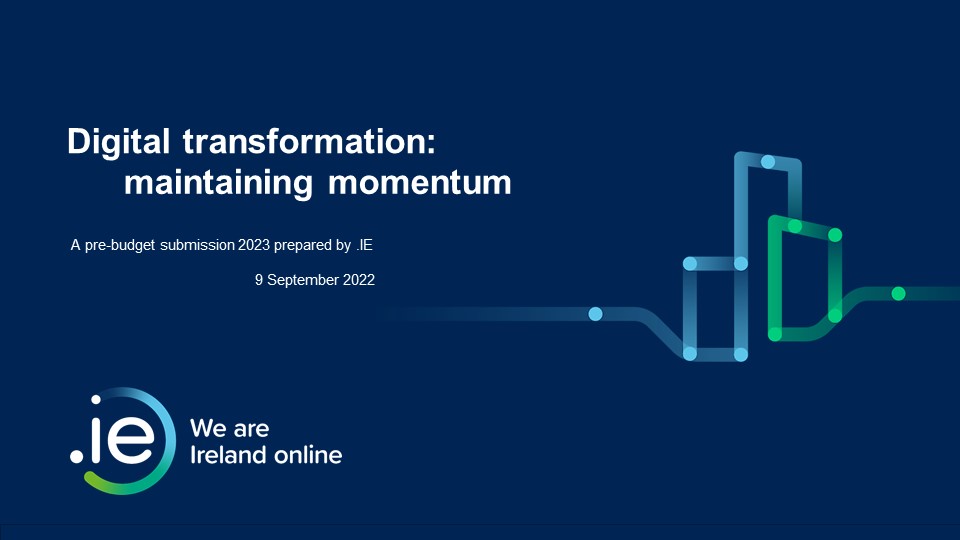 Now as we enter a post pandemic phase, Ireland's giant strides in digital transformation are facing challenges from inflation and supply chain issues precipitated by geopolitical events.
These factors have created obstacles in maintaining the momentum of digital transformation, as SMEs struggle with new demands on management attention and on finances.
The .IE Domain Profile Report on domain activity for the first six months of 2022 illustrates the resilient nature of Ireland's digital transformation as businesses around the country carry on tapping into the benefits of technologies, using digital innovation for the betterment of their local area. The .IE Tipping Point Report 2022 revealed that consumers enjoy the experience and the convenience of in-store shopping while simultaneously valuing the ease and speed of e-commerce.
While the National Remote Work Strategy, Our Rural Future and the Harnessing Digital strategy are now critically important parts of the programme for government, their implementation may be hindered due to major gaps in our understanding of the full extent of digital transformation across the country during the two years of on/off lockdowns.
"Now is the time for a whole of Government approach to digitalisation to ensure that the digital divide continues to narrow for the betterment of business, citizens, communities and the national economy."
Key recommendations
1. Address the post Covid data deficiency
The .IE Domain Profile Report for H1 2022 highlighted major gaps in the availability of up to date data, limiting the nation's understanding of the full extent of digital transformation following the pandemic A cohesive, whole of Government approach to data collection is essential to ensure the appropriate and effective identification, development and funding of programmes and national initiatives in 2023 and beyond.
2. Prioritise town level digitalisation
The future direction of Ireland's Enterprise Policy should be focused on towns, not cities. The .IE Digital Town Blueprint identifies the data indicators and dimensions to make an assessment of a town's digital readiness. This benchmark criteria which is already being incorporated into the Master Plans for 26 towns as part of the Department of Rural and Community Development's Town Centre First initiative can help policy makers close the digital divide with a bias in favour of regional development. We are calling on whole of Government support for the activation of digital towns nationally, with an expected financial commitment of €770,000 over a 2 year period.
3. Empower SME representative bodies
The range of options from too many siloed service providers is a significant barrier which SMEs face when implementing digital projects. As such, SME representative bodies, not individual SMEs, should be the target of any national programmes and initiatives to ensure the effective upskilling of their SME memberships into the future.
Download
You can download our full Pre-budget submission 2023 below.
David Curtin is our Chief Executive Officer.