How an illustrator created a successful business online with a .ie website
What an inspiring story!
Ruth Cahill established Duck Blue, a greeting card company, in 2009 having spent a number of years as a graphic designer, working in one of Ireland's biggest agencies, Neworld Associates. Family circumstances meant that she had to quit her job to become the carer for her son who was born with a serious illness. Ruth always had an entrepreneurial side to her and aspired to owning her own business. Her son's illness pushed her into taking the plunge.
Growing the business
She set up her own business gradually. As carers are allowed to work for 15 hours a week, Ruth started Duck Blue. When her son went to pre-school and primary school, she had more time and was able to grow her business. At first, this was on a really small scale. She was in the fortunate position that she could grow slowly but steadily. Medical treatment for her son improved hugely in the last few years so she was able to go full time into her business in 2021. She invested a lot of time in self training through the LEO in Kildare, doing three or four courses every year. She found the LEO really supportive and a great source of networking. As a result of doing all these courses, when she went into the business fulltime she was fully prepared and ready for it. She took courses on finance, starting your own business and digital skills.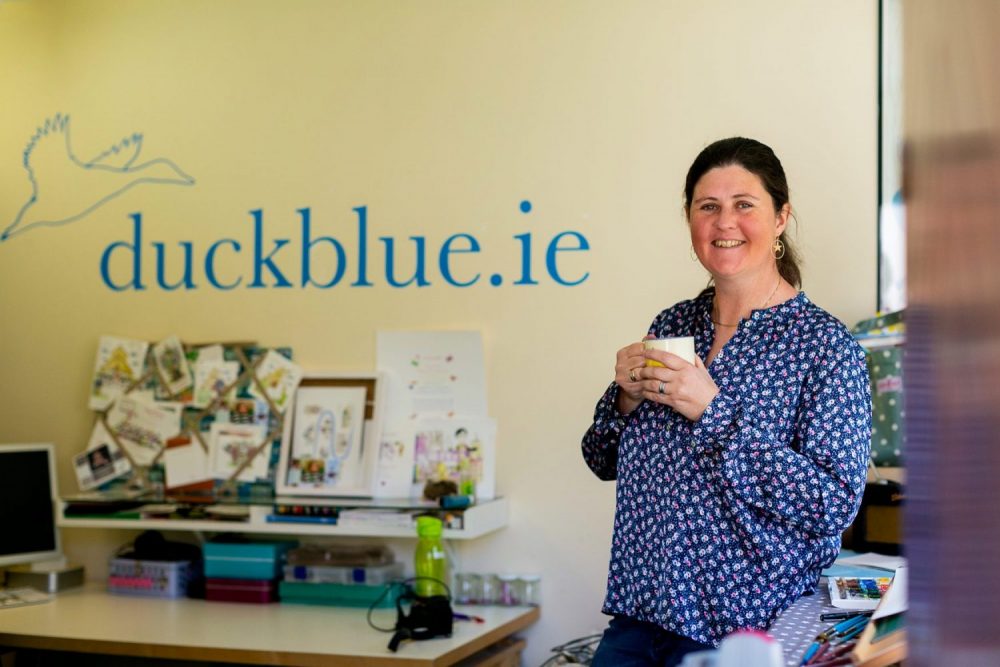 The move to e-commerce
Ruth always had her .ie domain and website but initially it was a brochure website. Covid was the tipping point to create a fully functioning e-commerce website. The new website launched in May 2020. She built the website herself in just three days using the Shopify platform and by looking at YouTube videos! She merged her .ie domain on her Shopify website which she says she found really easy to do.
The tech support provided by Shopify is first class and she found them very responsive. She had been selling on Instagram and Facebook but from the LEO, she learned about the value of streamlining her business operations. Now she will only take orders through the website because from an accounting point of view and keeping the taxman happy, everything needs to come through the one portal. Otherwise mistakes happen when there are too many channels to manage and it's a big hassle.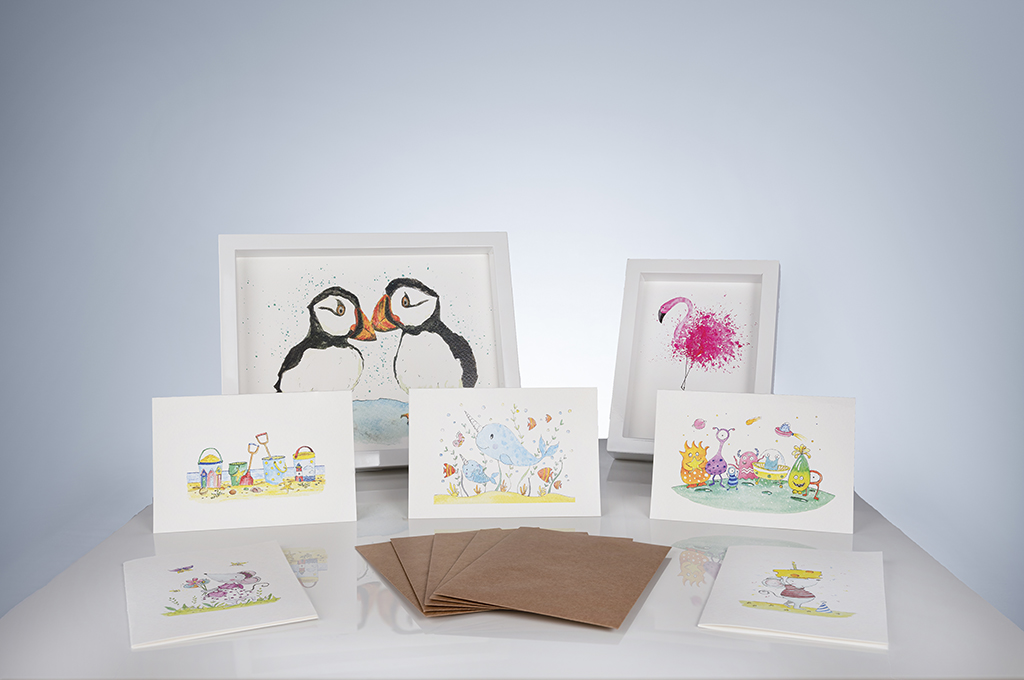 Ruth works from a purpose built studio which means she can design, print and package everything on site. From the point that she launched the website, orders came in thick and fast. This forced her to think about whether she wanted to remain a one-man-band or whether she should take on staff. However, she decided that the work life balance she has at the moment is ideal, so she will keep her business small for now.
Online sales
The Covid lockdown was really good for her business as consumers moved online. People started sending more cards and were looking for something meaningful. She got a great opportunity when Ryan Tubridy asked for Kildare businesses that needed a shout-out to get in touch. Within an hour of him reading out her email, she got about €4k worth of orders. Her repeat customers are huge and she gets orders from all over the country. A lot of shops enquired about stocking her cards – this happened organically – she didn't seek them out. She estimates her website is approx. 70% of her business and retailers are the remaining 30%. Her retailers range from big operators like Dubray Books to smaller retailers such as local florists.
Her B2B customers interact with her initially via the website contact form. Ruth monitors traffic on her website, looking at user journeys.  She will see if someone is browsing through her collection for an hour or so and invariably a retail order will come through.
She completed a course in Google Analytics at the Kildare LEO and really values the skills it taught her which she can apply directly to her business. For example, she gets traffic from Instagram and Facebook and knows that she gets more sales through Facebook. Her conversion rate is approx. 13% and at good times it is up to 20%.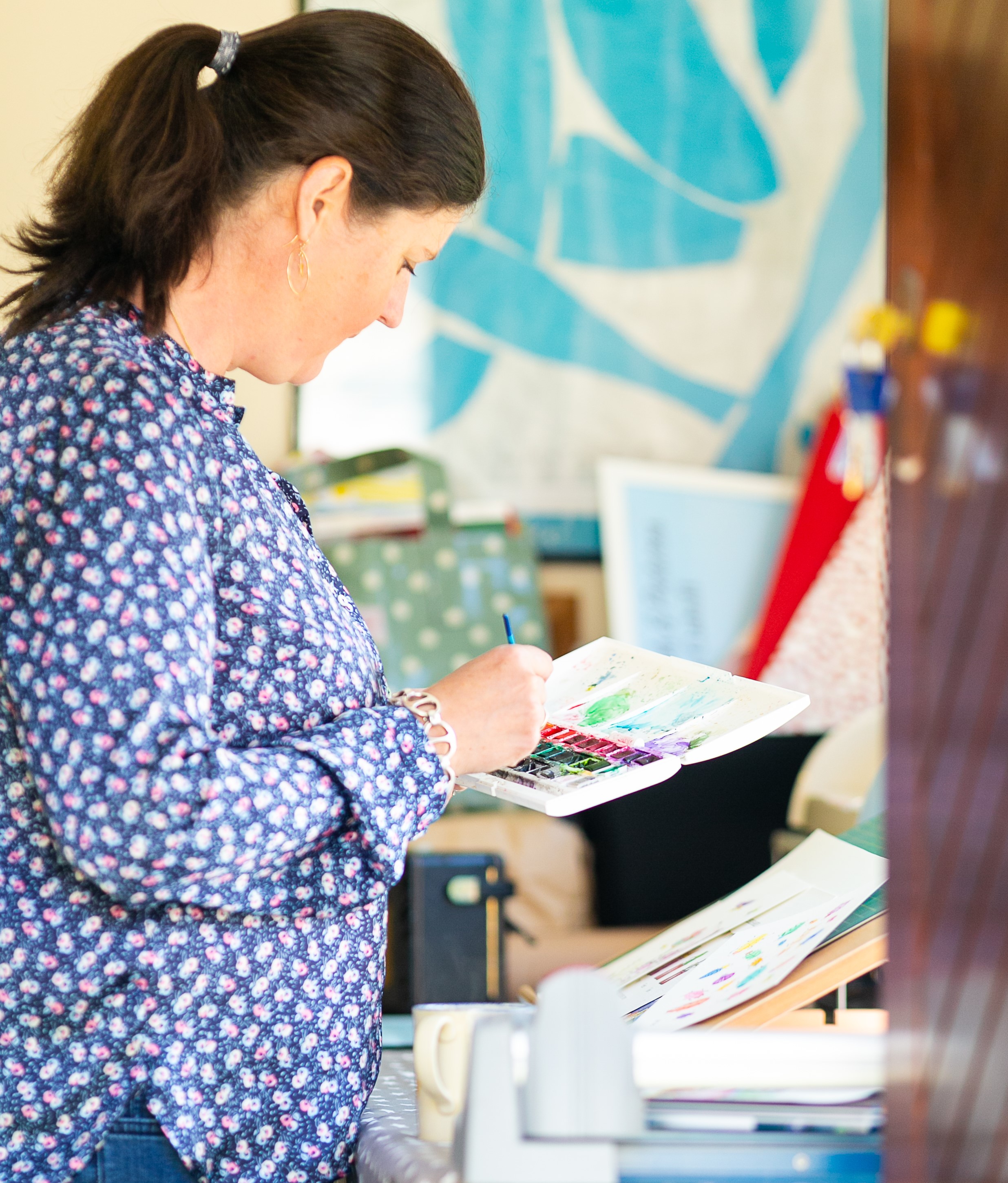 Ruth plans to remain as a completely digital business and has no plans to open a retail outlet.
She feels that Irish customers are very loyal and want to purchase from .ie websites and is proud to include it within her brand.  She never even considered a different domain such as .com.
The past two years have been incredibly busy with a 700% increase in turnover – Covid, her new website and the shout-out from Ryan Tubridy being key contributors.
This means she needs to be really focussed and to avoid distractions such as very small bespoke requests. There are plans to improve productivity by making the online ordering form easier for customers to use.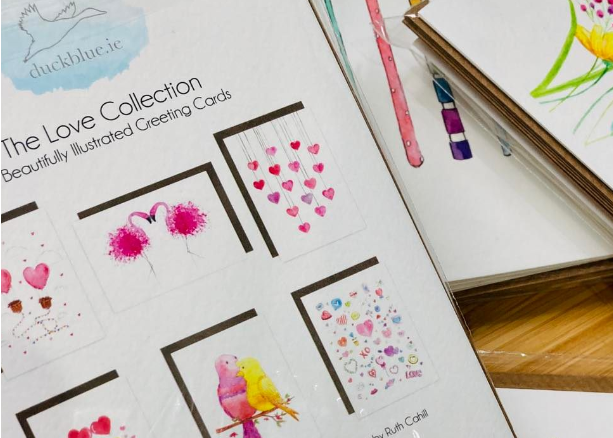 Ruth's top tips
Share information with people, help others out. Life is too short not to be kind and helpful.
She would urge people to develop an e-commerce website from the get-go. There is no place for brochure websites in today's world.
An e-commerce website should be your sole order point. It's much more streamlined and efficient than taking orders on multiple social channels.
Find tools that help customers create orders without having to go back and forth to get clarification. All that eats up precious time.
Make terms and conditions clear and very accessible. This can prevent problems down the line.
Try to upsell where possible.
Monthly e-newsletter – this always results in new sales.
.ie is a no brainer. More retailers are moving away from big international suppliers and looking for local card designers and a .ie website conveys that the maker is Irish.
Read more
Check out our other SME Online Success Stories.
Our SME Start and SME Evolve pages offer practical insights and business supports that enable you to thrive online.
Oonagh McCutcheon is our Corporate Communications Manager and National Director of our .IE Digital Town Programme.