Finalists: Small town – (up to 2,500)
Arranmore Island – Using IoT to help with assisted living for the elderly
Arranmore has suffered population reduction in recent decades as traditional industries declined. In 2017, Arranmore Island Community Council set about reversing the island's population decline and set in place a campaign called #ComingHome, which aimed to encourage families to relocate to Arranmore. The council engaged with the island's diaspora and it quickly became clear that employment opportunities, and lack of digital connectivity to allow people to work remotely, were two major sticking points in people considering making the move to Arranmore.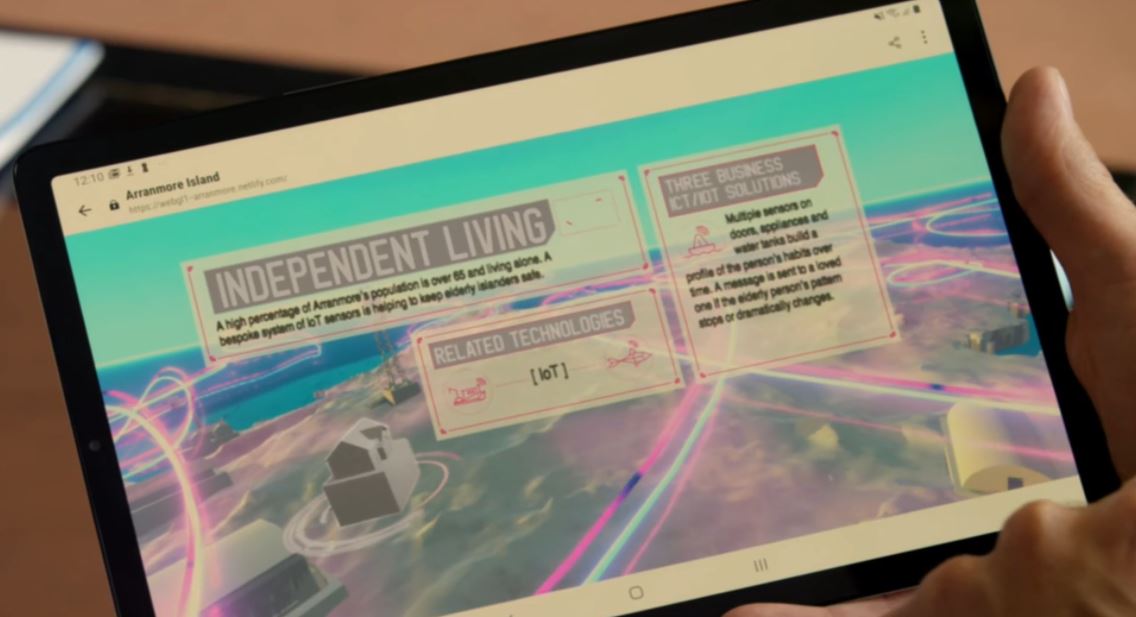 In April 2019, the island's digital working hub opened. There are very few digital hubs, digital shared workspaces or office facilities that provide secure, high speed internet connectivity as good as you'll get in any major city in the world, while having a long, glorious and usually empty beach, literally on its doorstep.
Other projects underway include an IoT trial to provide solutions in assisted living for the elderly. Using unobtrusive IoT devices in the home, activity in simple areas such as kettle use and door opening events could be monitored and alert carers or family members if there was a change in behaviour. IoT solutions were also used in environmental monitoring such as rainfall counters, air quality metering and tidal activity, as well as the inclusion of a weather station, the data from which was publicly accessible.
Ballyvaughan – Digitising outdoor recreation
Ballyvaughan is a gateway town to the Burren and has targeted "outdoor recreation" as an economic driver for the area. By digitising outdoor recreation they have enhanced the offering of the area in new and innovative ways. The projects are all unique in an Irish context and some are European firsts.
The ambition is to differentiate Ballyvaughan and its surrounding area from other outdoor recreation destinations, nationally and internationally, by embracing new technology.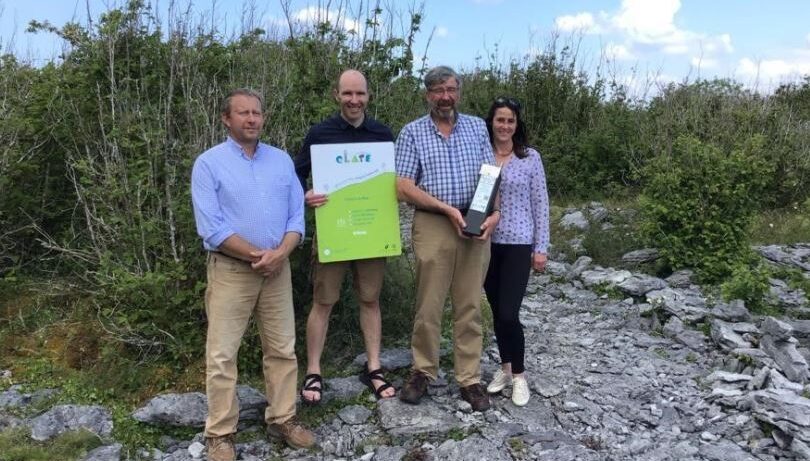 1. Googletrekker
The Fanore to Ballyvaughan Trek walking trail was one of the first trails in Europe to go live on GoogleMaps via the googletrekker in 2014. A team of local volunteers from the Burren Outdoor and Education Centre walked the trail carrying the trekker (a 20kg backpack containing 15 cameras) recording the trails. It took 4 months from initiation to the trails appearing on GoogleMaps.
Read the article here: Clare walking trails mapped on Google Street View
        2. Interactive cycling signs
A network of interactive cycling signs was installed in the Burren including at the base of the two hills leaving Ballyvaughan – Corkscrew Hill and Ballyalbin. The signs were modelled on the cycling signs in the Alps which include details of the hill (length, gradient, max gradient). The digital element was an integrated "NFC Chip" that allowed cyclists to "tap" the sign with their phone and then it automatically opened the Strava segment webpage for that hill. (Strava is an online platform for cyclists and runners which allows them to upload their cycling data to create a league table of cyclists on a specific hill). The cyclist can then see the time for the fastest cyclist up the hill and this can be a target. These are the first permanent Strava segments in Europe and the first interactive digital recreational signs in Ireland.
      3. Digital Photo Posts
A number of digital photo posts were installed along the trails around Ballyvaughan. The project involved manufacturing a stainless steel smartphone holder that sits on top of a standard walking trail marker post. The holder allows a walker to place their phone in the holder and take a scenic picture or a selfie. The signage on the post was upgraded to include a NFC chip so the walker can touch their smartphone off the post and it sends a copy of the picture to a dedicated page on the trails website. They also included a QR code and tinyURL on the post for users who are not familiar with NFC technology. The system is also used as a citizen science way of getting feedback on trail conditions.
Dingle Peninsula –
Reimagining creatively through digital
Dingle Peninsula has a dispersed rural community and saw digital as a lever for improving many aspects of life. Dingle Creativity and Innovation Hub is at the centre of activities, with three pillars of activity – sustainability, digital transformation and creative industries which are the umbrella for a range of innovative projects.  They decided to build on their skills and promote innovation and imagine new ways of doing things through digital to improve people's lives and create jobs.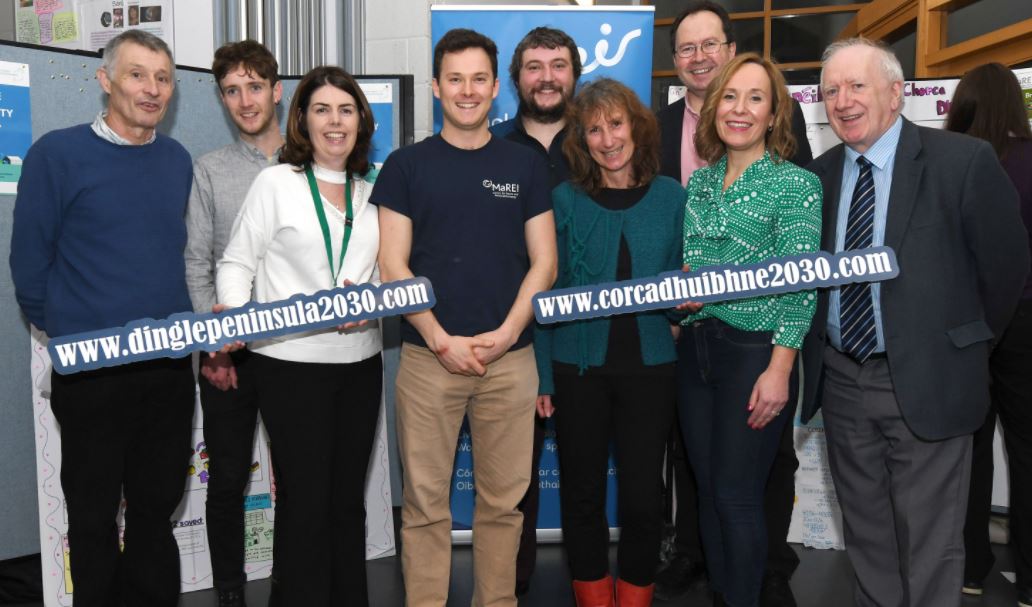 Some of the projects include a pilot project to increase sustainability and productivity by collecting 'real-time' data using sensor technology such as current and predicted weather and soil conditions, grass growth rates and key environmental indicators. This means that carbon efficiencies can extend the grazing season, which increases profits for farmers. Localised 'real-time' weather data enables tourism providers to tailor tourist packages based on changing weather conditions.
And there is so much more – animation workshops, reimagining workshops for the vibrant, creative Dingle community.
Killorglin – Showcasing local hidden gems on a global shop window
The Reeks District organising committee set out to create a global shop window online and promote tourism in the town and surrounding area. The team also kicked off a local Google View Ranger and Komoot mapping as well as a Geocaching inviting local people to log and share the hidden gems on their doorstep so that local amenities become more discoverable.
It was voted one of the top destinations in the world to visit in 2019 by Rough Guide and the initiative has generated thousands of referrals to local businesses online via its website and social channels that would otherwise not have happened.  They attribute a lot of their success to the town pulling together and working for the same end goal. Projects in the planning include a dynamic, user-centred website and creating audio guides for walks in the district. And the good people of Killorglin are keen to share their experience with other towns and villages across the country.