How a .ie website became the HQ for a sustainability movement
reuzi.ie is Ireland's one-stop shop for sustainably made, reusable goods and an educational hub on all things related to sustainable living.
I was lucky to get the opportunity to sit down with its inspiring founder and CEO, Pat Kane to hear all about her story.
Pat has a strong business background. She worked in senior roles in global telecommunications companies, such as Telecom Italia and Digicel, before moving to Ireland where she managed the online marketing for Paddy Power and then became Director of Customer Experience for the Paddy Power Betfair group. It was in this role that she got a deep insight into consumers' behaviours and attitudes. As a result, customer experience will always be a key focus for her and for her business going forward.
The beginnings
After becoming a mum for the first time in 2014, Pat started to notice all of the packaging and rubbish that comes along with a baby, from boxes for the first tooth, monthly milestone cards and bottles to the multitude of nappies! As a family, they were conscious about sustainability and looked for eco-friendly goods where possible. However, as a consumer Pat's experience with purchasing sustainable goods was very fragmented.
Pat felt there was a gap in the market and in 2018, while on her maternity leave with her second child, she decided to test out the concept of a one-stop shop for sustainable goods.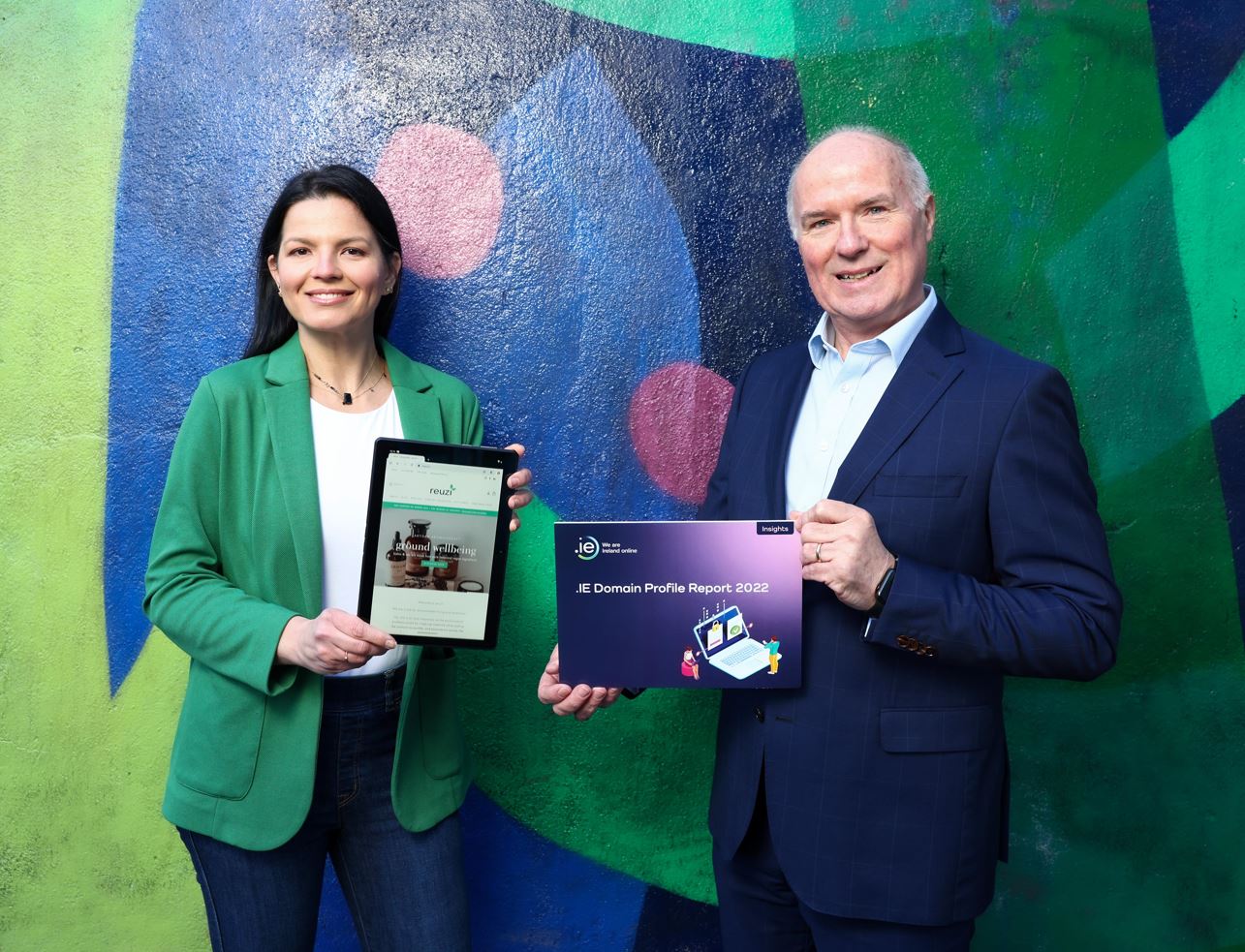 Her focus was on offering goods that were unique, attractive and colourful – items that people would want to purchase. So, five days before the birth of her son, she launched a basic WordPress website, built by herself, offering a small range of products – and with that reuzi.ie was born!
Getting the website live was crucial and it came first, ahead of creating social media profiles. It was really important for Pat to have a digital asset that she owned, could fully control and use to sell her products 24/7. The .ie domain was the obvious choice for her website as it represents her business as truly Irish.
"I chose a .ie domain name because we are proud of what that means to my customers and community in Ireland and across the rest of the world – that we are an authentic Irish business doing great work."
As you would imagine, Pat and reuzi focus on working only with Irish suppliers and Irish distributors for their product range.
"Sustainability is about representing local, supporting the community and helping your community thrive."
The website
reuzi did open up a standalone store in Foxrock in 2019 and operated it for nearly two years. However, Pat ultimately decided to focus on online as their base – the website being their global headquarters.
Around 2019, acknowledging the importance of investing in their website, they applied for and received the Local Enterprise Office Trading Online Voucher. With it, Pat was able to upgrade the website and move to the Shopify platform. Pat finds the Shopify platform brilliant – it is easy to manage content updates, adding new products, keeping the blog up to date, reporting, tracking orders and providing ideas on how to improve the UX. Pat also uses the email marketing function within Shopify, which is useful for any campaigns they want to run. Any development work on the website is managed by an external expert.
reuzi's about page shows that they invested time in telling their story and outlining their vision, mission and values. As a visitor to the website myself, it really offers a great insight into their brand purpose and helps to humanise the brand.
Like many businesses, online sales thrived during Covid when people were more willing to give sustainable products (such as shampoo bars and natural deodorants) a go as they spent more time at home. Corporate gift vouchers were also very popular.
While managing the business, Pat also went back to gain some formal educational qualifications in sustainability. She now offers a range of corporate services through her website, such as business consulting on ESG (Environmental, Social, Governance) planning and strategies, staff education and communications, and customer experience journey mapping.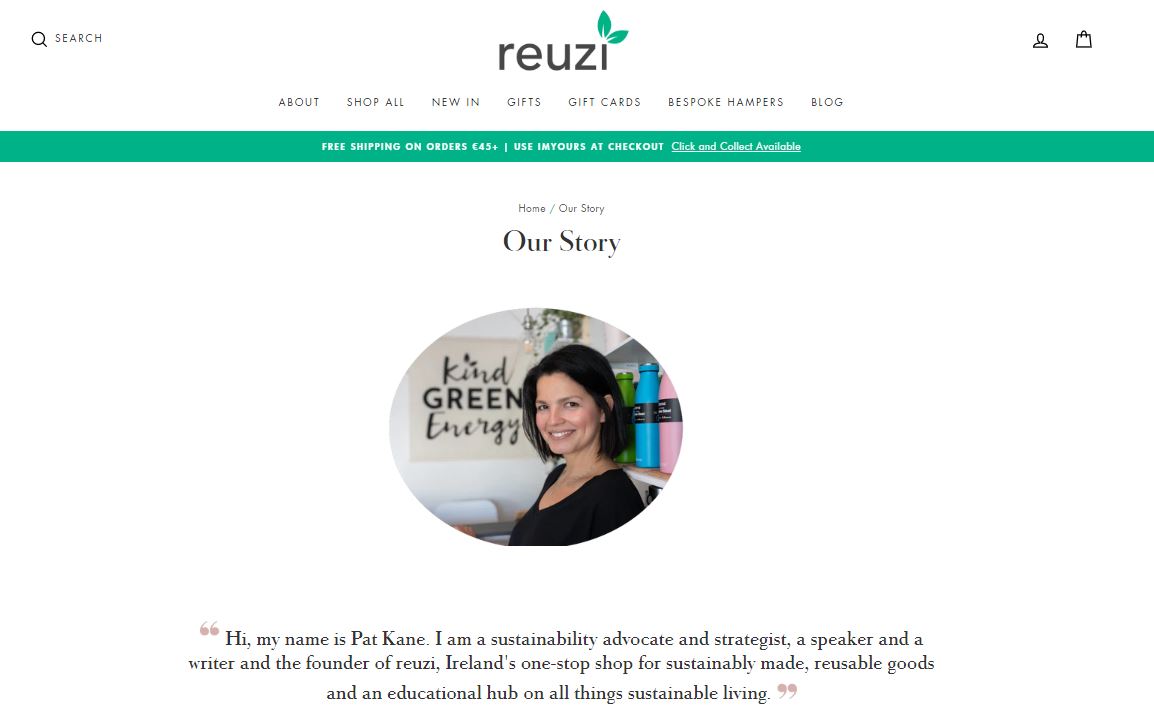 As well as being a marketplace for sustainable products, the website is also an educational hub on all things related to sustainable living. Their mission is to make sustainability an easy to digest subject. With their company motto #ThePowerofOne, it's all about communicating how we can all make a difference and contribute to our planet, step by step.
Promoting the business
reuzi use many channels to promote the business, such as social media, email marketing, PR activities and they have run paid digital campaigns in the past. They also join forces with other great Irish brands, which attracts new customers and increases their brand reach. For example, most recently they did a competition with Homespun and Biasol for Pancake Tuesday.
Another successful collaboration was their pop-up stores in Brown Thomas and in Arnotts early in 2022. You can now find reuzi products in many of the Kilkenny Design stores nationwide and on their website. The brand fit with Kilkenny works very well and brings their products to a whole new range of audiences.
Pat, with her consultant hat on, also worked separately with the Kilkenny Design group on helping to develop out their own sustainability strategy.
Pat also takes time out to speak at various events, join working groups and uses her personal social pages to chat about all things related to sustainability. Cultivating the personal brand also works to help raise the profile of the business brand.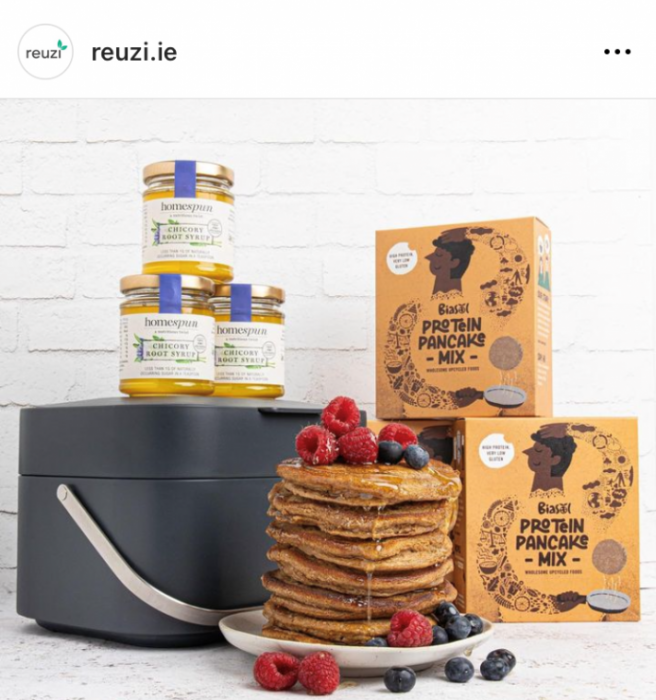 Looking to the future
Going forward, Pat intends to invest further in the website to improve the UX. They'll take a step back and look at making the customer experience smoother, helping people to find products more easily.
Also, they have plans to invest in additional marketing activities, potentially developing an online campaign this year.
Pat's top tips
Website comes first: It's your global headquarters that you fully control and is essential to showcase your full range of products and services.
Don't fake it till you make it: Work hard and realise that 'done' can be better than 'perfect'.
Ask for help…and accept it: There are many inspiring entrepreneurs out there. Don't be afraid to contact them and ask for advice. Reaching out with a direct message via social media can be a good start.
Consider further education: Formal education and getting relevant qualifications on ESG was really important to Pat to enable her to become an expert in her field.
Need more inspiration?
Check out our other SME Online Success Stories.
Our SME Start and SME Evolve pages offer practical insights and business supports that enable you to thrive online.
Naomi Temple is our Marketing Manager working within our corporate communications team.