How a website increased sales for a food retailer
I first met Mark Murphy in Dingle in July 2021 when we were shooting a video of the overall winner of the .IE Digital Town Awards – Dingle Peninsula.  We talked about his businesses in the town and how he decided to go online.  He owns The Little Cheese Shop and Dingle Cookery School – the latter was set up in 2014.  Like many other businesses, Mark knew that he had to build a website for the shop, especially given Covid restrictions.
Mark took over The Little Cheese Shop about four years ago. As a regular customer in the shop himself, he loved the quirky premises and the fact that it was an independent shop.  He was doing his Christmas shopping there when the owner told him she had decided to sell. By the time he walked out of the shop that day, he had not only bought his Christmas cheeseboard but also the shop itself!
Supporting Irish food producers
Mark is a huge supporter of artisan, locally produced Irish food. As owner of the Dingle Cookery School for the last seven years, as a culinary arts teacher in Tralee IT, and as a founder of the Dingle Food Festival, he is completely immersed in the food scene.
The shop had a wide range of continental cheeses but Mark's goal was to extend the range of Irish locally produced cheeses.
At this point, 90% of the cheese he sells is from Irish producers.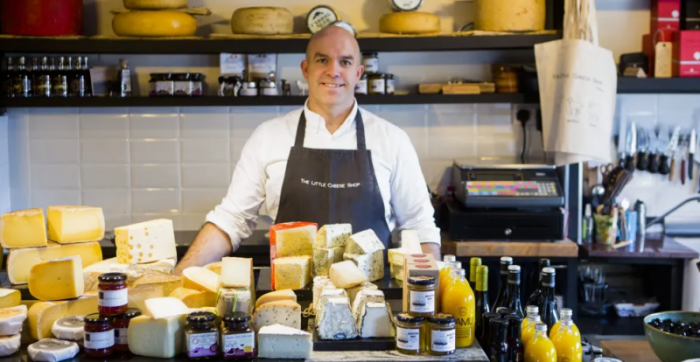 Importance of cross promotion
Mark plans on working to ensure that the cheese shop and the cookery school complement each other by cross-selling/up-selling across the two businesses. For example, people attending the cookery school can be encouraged to bring home a cheese hamper and equally, visitors to the shop can book a cookery class.
The shop is very well supported by locals and they have embraced the shop as a well-loved part of their town. This means it can stay open year round. As the business owner, Mark likes to be in the shop as much as possible to chat to customers and hear about their likes and preferences.  He is lucky to have excellent staff who are just as passionate about the business as he is.
Benefits of a website
Údarás na Gaeltachta provided a grant to build the website which launched in November 2020 just before the busy Christmas period. The website has had a huge impact on sales – it has opened the shop to every county in Ireland.
"At seasonal times, such as Christmas and Easter, sales have trebled as a result of having the website."
The Dingle economy is very seasonal. This means that there are fewer shoppers in the town in winter months and during this time, approx. 70% of his sales were online. The pattern changes in the summer as visitors flock to the town.
When people are on holiday, they are happy to drop into the shop and meet Mark and his staff while they are choosing their cheese.
The website has been very useful for people who visited the shop and then later when they are at home, they shop online. And vice versa – if people have ordered online and are visiting Dingle, they will always drop in to the shop.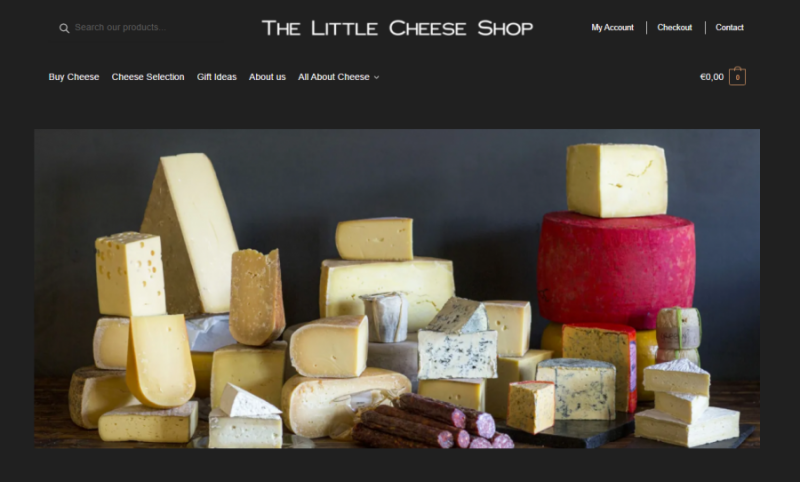 Mark says the website has had another benefit. When he contacts local media and radio stations to promote the business, the first question the journalist will ask is 'what's your web address?'. They are very unwilling to have people on the radio who don't have a site as there is nowhere to direct listeners to. He appeared on Bobby Kerr's 'Down to Business' show and says 'it was almost scary the number of orders I got'.
The social media channels he uses are Facebook, Twitter and Instagram which is very visual and an ideal channel for the shop.  He is constantly amazed about the power of social.  If he posts a picture saying 'I have this cheese in today' he will have people through the door that same day.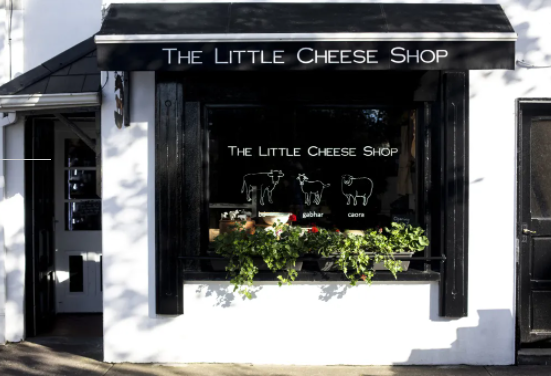 Mark recommends the Seth Godin's book on marketing – 'This is marketing'.  He found it really useful and has applied many of the principles in the book – to Mark it all feels like common sense. For example, the importance of the 'About' page on the website to express what he is doing – cheese isn't for everyone so it's important to target cheese lovers as these are the people who will buy from him.
.ie website shows you are local
He finds his .ie website is perfect for the Irish market which is what he plans to focus on for the moment. The website is a great platform especially during quieter months when footfall reduces and while the shop was closed during Covid.
Keep planning and improving
Christmas 2020 was extremely busy with online orders and the challenge of having a good system for fulfilling online orders.  He put in huge hours in the run up to Christmas but plans to have a much smoother, more efficient fulfilment system in place for the coming Christmas period.
He sees the website as an integral part of his business and allocates time each week to make small improvements, update content and optimising it for search.  The website has made a significant contribution to his turnover and Mark looks forward to this continuing into the future.
Mark's top tips
Don't procrastinate – if you don't have an e-commerce website, get started today.
Allocate time each week to work on the website.
Actively listen to customers to see what the online experience was like for them. Take action if needed.
Encourage customers to leave reviews.
Read more 
Check out our other SME Online Success Stories.
Our SME Start and  SME Evolve pages offer practical insights and business supports that enable you to thrive online.
Oonagh McCutcheon is our Corporate Communications Manager and National Director of our .IE Digital Town Programme.