How town leaders can adapt their high street to the hybrid shopping revolution
In just two years, the pandemic fundamentally changed the way we work and do business.
The rise of hybrid working showed that many could accomplish more at home than in the office, simply by cutting down on commuting. But aside from time saved and productivity benefits, what employees truly value about this post-pandemic normal is flexibility—the choice and freedom to work in a way that suits them, from the office on some days and from home or a co-working space on others depending on need.
Our growing love of flexibility and convenience is also reflected in the way we shop. We don't always want to make a time-consuming trip to the town supermarket when we can easily browse for and buy products online from the comfort of home.
However, when it suits us, we appreciate the opportunity for a leisurely stroll down the high street to buy a coffee and physically examine the products we want to purchase. We like a hybrid of convenience and experience.
SMEs that have grasped the growing hybrid shopping phenomenon seamlessly link their physical shop with their digital presence, such as their website or e-commerce store, to cater to both types of consumers.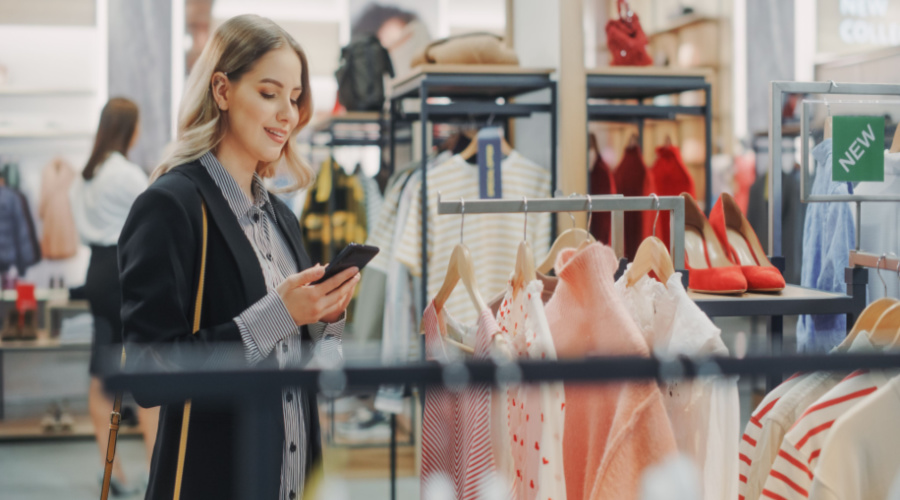 In a hybrid shop, a consumer can browse stock online and complete their purchase in-store, browse in-store and buy online, or any combination of these according to preference. The bricks-and-mortar premises and the online store co-exist synergistically rather than compete, creating more revenue opportunities for the SME and its community.
The hybrid consumer
The .IE Tipping Point 2022 report shows that Irish consumers are already hybrid shoppers. This year, 55% will either do some or most of their shopping online, while 45% will shop mostly in bricks-and-mortar stores.

What's more, the amount spent online is also likely to increase in 2022. PayPal research from 2021 showed that the average annual consumer spend on Irish websites rose from €357 in 2020 to €503 in 2021. PwC research from 2021 showed almost half of consumers felt they had become 'more digital' in the last 6 months.
Irish SMEs have a number of powerful advantages over their international counterparts. Not only are consumers generally patriotic and keen to 'buy Irish', consumers also perceive them as being more trustworthy, more reliable and with better order tracking and delivery.
However, the issue is that just 34% of retail and consumer-facing professional services SMEs have an online store, and when consumers can't find their product of choice locally or elsewhere in Ireland, they will simply spend their money with overseas retailers.
For local towns struggling to keep their high streets open and occupied, that's a challenge.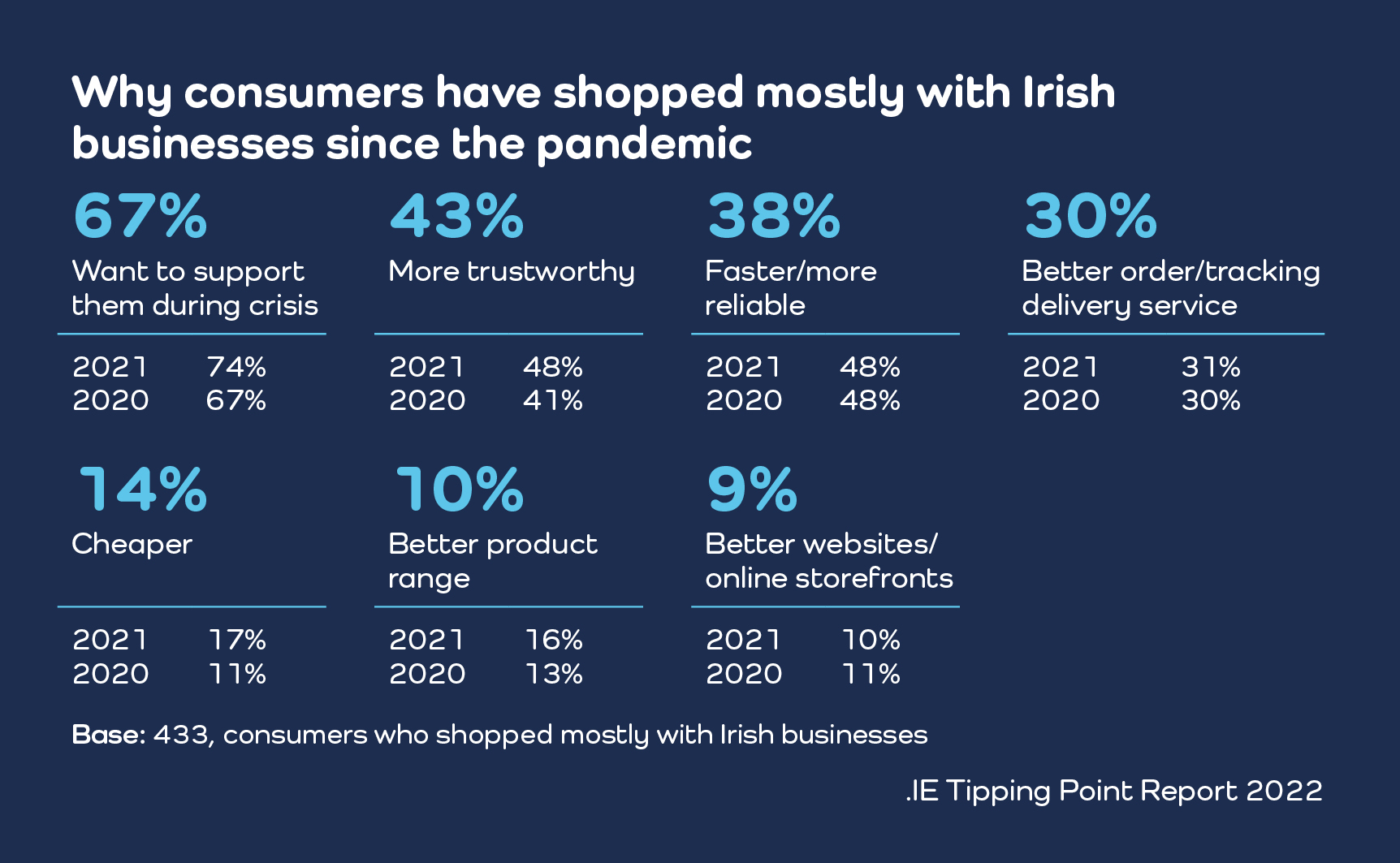 How towns can embrace hybrid shopping
For town decision-makers, harnessing e-commerce trends so that they generate tangible returns for their local community, such as increased local revenues and increased employment, is complicated.
But while each community has different needs, thus requiring different tactical approaches, there are common foundational steps that all towns can take to ensure that their high streets and broader communities can take advantage of hybrid shopping and digital technology.
     1. Start an e-commerce working group
Agreeing a development trajectory is important. Towns are comprised of many different stakeholders, all of whom have different and sometimes competing priorities.
To provide a stable foundation for hybrid shopping infrastructure, town leadership must build a coalition of business and government representatives that is capable of planning, implementing and inspiring change at a local level.
     2. Prioritise infrastructure
Without high-speed, reliable broadband infrastructure, a town's hybrid shopping opportunities are ultimately limited.
The working group must prioritise close communication with private and government broadband providers to ensure their town has the infrastructure to support a network of digital businesses and hybrid shoppers.
     3. Inspire a digital culture
While direction and infrastructure are crucial, many businesses need hands-on guidance from their local county council, Local Enterprise Office, chamber of commerce or a voluntary association.
Communities that invest in initiatives that kick-start, inspire or help SMEs improve their hybrid shopping offering, for example through a start-up programme, community platform or skills training course, are far more likely to be successful and attract long-term investment.
Case study: ShopBallinasloe.ie
Through our .IE Digital Town Awards, which seek to enhance and profile digital and digital success in Ireland, we've had the pleasure of working with some of Ireland's most inspiring businesses and communities, many of which have wholeheartedly embraced hybrid shopping and online business, such as Ballinasloe.
When pandemic struck and shops were forced to close, Ballinasloe was at a serious disadvantage: 90% of businesses had no e-commerce presence. Local marketing agency Araya Business Support Services and web developer Kickstart Web Design came together to create ShopBallinasloe.ie, a 'mini Amazon' for local businesses.
They were supported within their community by local organisations and businesses, and Galway County Council.
On ShopBallinasloe.ie , local retailers can sell their goods and services to residents and those further afield. The site also provides a full onboarding strategy, training sessions and marketing support to help get businesses set up and trading.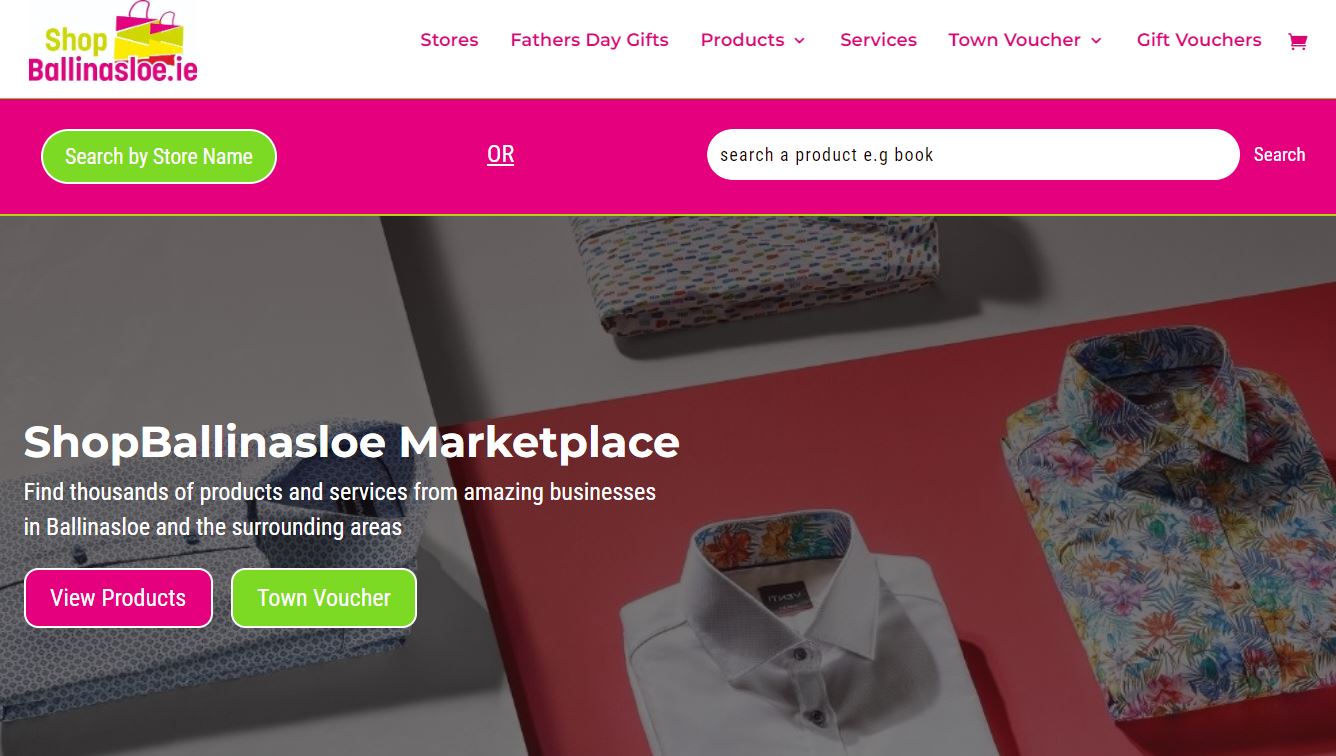 By the end 2021, many of the town's businesses had an e-commerce presence and more than €50,000 worth of 'Town Vouchers' were sold.
Further reading
Oonagh McCutcheon is our Corporate Communications Manager and National Director of our .IE Digital Town Programme.