The .IE Domain Profile Report explores and analyses the .ie database.
In this edition, we assess the full year of 2021, including the pandemic's impact on .ie domain registrations, the overall growth of the .ie database, and country and county of domain registration.
We also examine the broader .ie ecosystem, including domain usage, .ie domain security features, keyword usage in new registrations, .ie website categorisation and .ie market share and international growth.
New registrations
2021 was the second-best year for new .ie domain registrations, with H1 2021 the strongest half-year period on record.
New .ie domain registrations increased by 24% in 2021 compared to pre-pandemic 2019 as tens of thousands of SMEs built websites and online stores.
The rate of new .ie domain registrations in 2021 largely reflected the Government's lockdown policy. In the months when Ireland was in strict lockdown new .ie domain registrations surged. SMEs moved online in order to continue selling to their customers and stay connected.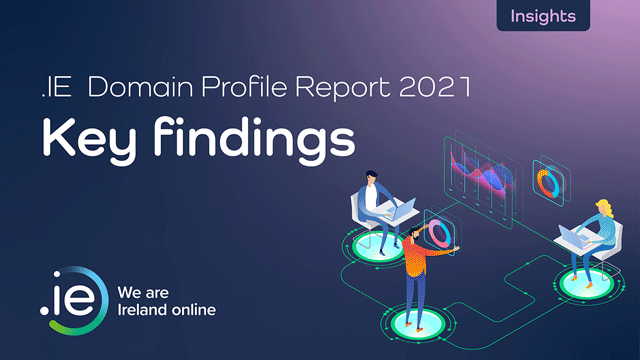 In July, registrations bottomed out as reopening continued and vaccine rollout accelerated.
However, the pandemic's link to new .ie domain registrations appeared to decouple in August as registrations once again increased despite the Government's accelerated reopening plans.
SMEs are no longer simply reacting to the pandemic. Instead, consumer behaviours are changing, and SMEs are changing with them.
Businesses are investing in new websites, integrating e-commerce technology, and using productivity-enhancing tools all year round because they recognise the huge role they play in profitability and customer acquisition.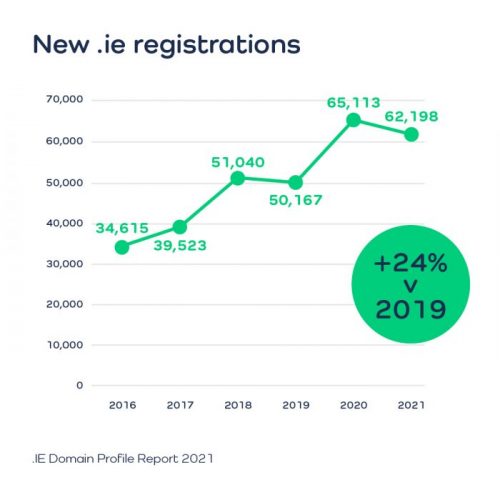 Total database and market share
There were 330,108 .ie domains in the database at the end of 2021, a 6.5% increase on 2020.
The .ie domain accounts for 52.6% of all top-level domains hosted in Ireland, ahead of .com by more than 20 percentage points.
It is also one of the fastest-growing country domains in Europe, behind only .pt (Portugal) and .ee (Estonia), which demonstrates the impact of Covid-19 as a catalyst in accelerating digital adoption and usage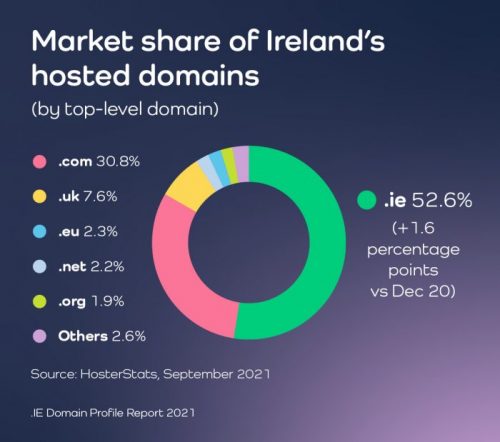 .ie domain security features
It's encouraging to see the majority of .ie websites (54%) have a security certificate, which ensures that consumers are protected from having their personal details stolen by cyber-criminals during an online transaction.
However, comprehensive domain cybersecurity entails using the full range of available tools. A much smaller percentage of .ie domains use other cybersecurity features, such as DNSSEC (0.16%), which adds an additional layer of cryptographic security to a domain, and Registry Lock (0.03%), which protects a domain from malicious or accidental changes
Read the full report – Digital Edition
Click on the cover below to open the digital edition of our .IE Domain Profile Report 2021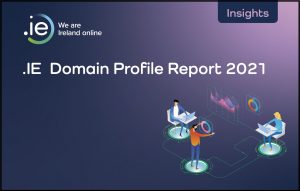 Download
If you are interested in sharing insights from our .IE Domain Profile Report, please download the additional graphics above.
Previous .IE Domain Profile Reports
.ie Domain Statistics
334,307
.ie Domains registered
So Far
20,464
.ie Domains registered
This Year
2,779
.ie Domains registered
This Month