How a growing retail technology business uses their .ie website to boost brand equity
Positive Retail, the leading retail technology provider in Ireland, offers scalable software solutions and consulting services to retail businesses both within Ireland and abroad. I had the privilege of sitting down with the Managing Director, Damien O'Driscoll, and Marketing Manager, Brenda Kelly, to learn about the beginnings of Positive Retail and its recent growth.
Positive Retail, formerly known as Positive Systems Solutions, launched in 2010. Today, the company has a team of 14 dedicated employees based in their offices in Dublin 12.
Growing the business
Originally, Positive Systems Solutions had a .com domain, which was a strategic choice at a time when the .ie domain application process wasn't as straightforward as today. However, as time progressed, Damien reconsidered their domain strategy. He saw the value of positioning the brand as a local Irish enterprise, with a goal to empower small local retailers. This change of perspective coincided with the rising trend of business abbreviations and shortened domain names in the early 2010s. In 2013, this shift led to the birth of pss.ie.
"What's very important to us is showing our Irish identity. By having a .ie website, it shows that we are Irish, we are indigenous and that we care about supporting local businesses and communities" – Damien O'Driscoll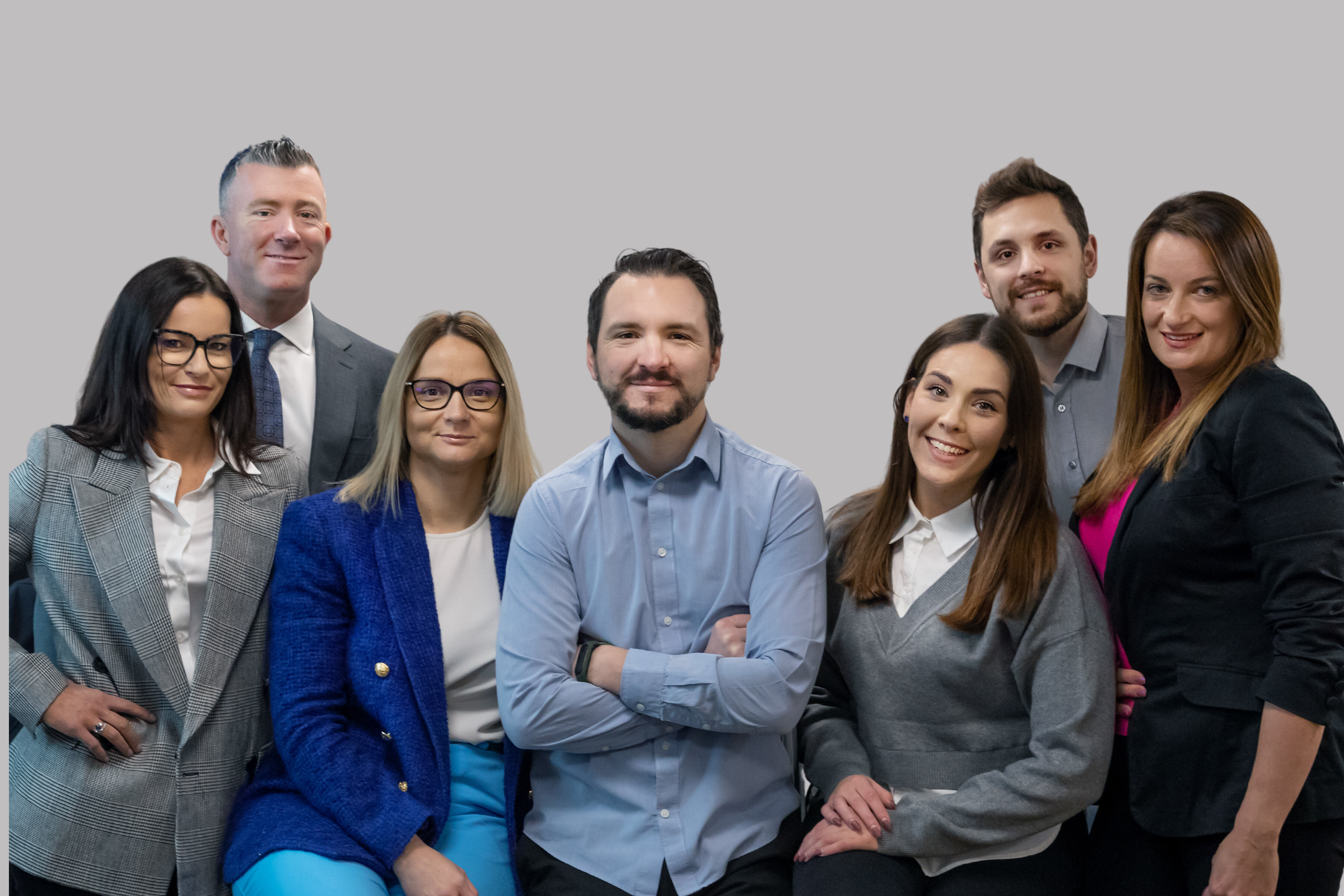 Damien also saw the global appeal of a .ie domain. As Ireland continued to attract growing companies in the tech and pharmaceutical sectors, a .ie website address earned a respected and trusted international reputation.
"Ireland is the Silicon Valley of Europe so when we are talking with our customers in places like Iceland and Denmark for example, they instantly recognise the .ie address as a mark of our tech-savviness and trustworthiness."
In 2023, Positive Systems Solutions underwent a significant transformation, rebranding themselves as Positive Retail marking the beginning of a new chapter in their journey. In addition to software solutions, they now offer consulting and project management services to their clients.
Online journey
From the very outset, establishing a strong online presence has been a top priority for Positive Retail. The website serves as the digital face of the brand, a vital gateway for reaching both national and international audiences. Positive Retail uses its website as a comprehensive showcase, presenting all they have to offer to potential clients.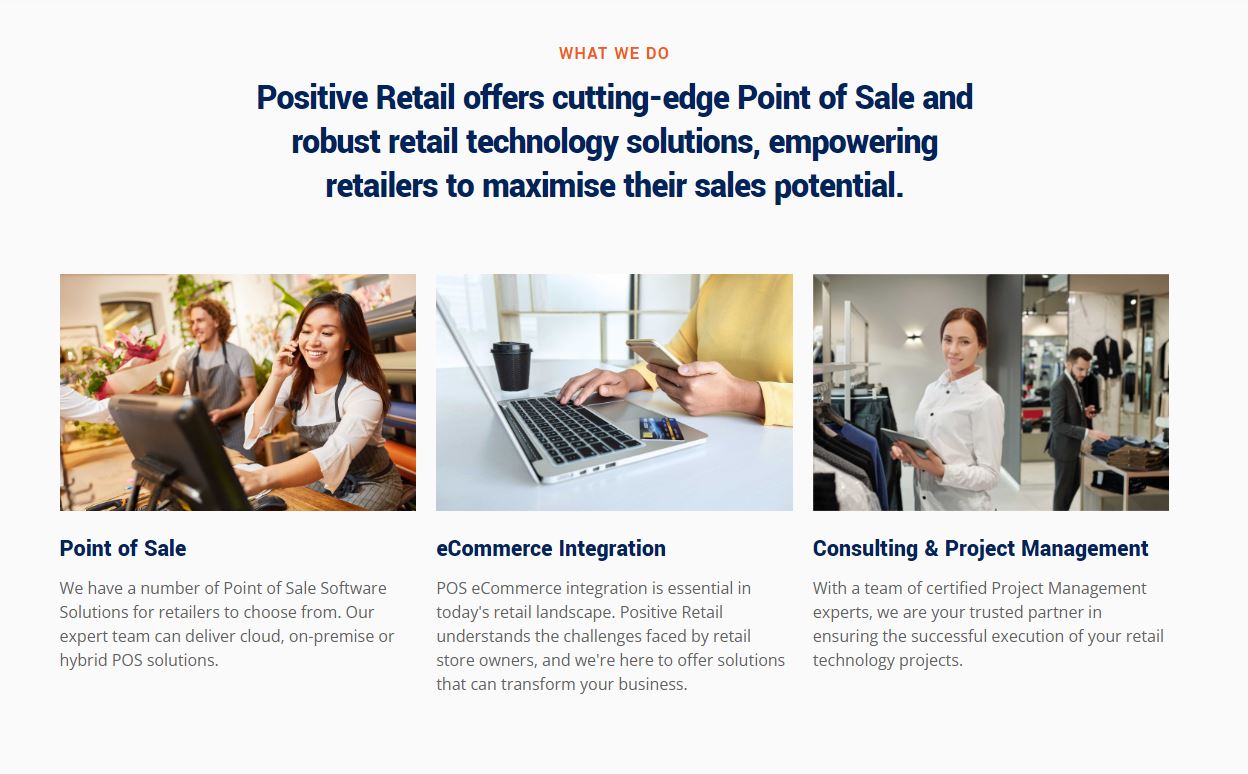 "Gone are the days of 'build it and they will come'. We have a wonderful business here but without a website, people wouldn't know we existed. And while we believe in the simplicity of our services, small retailers might not fully grasp how our systems can help them. Having a website means we are accessible to all and can show the benefits of our products."- Damien O'Driscoll
In 2021, Positive Retail revamped their website to improve the user experience (UX). The focus of this upgrade was to provide visitors with all the essential information about the company and its offerings the moment they land on the website, which aligns with evolving customer expectations.
"We ensured that our website offers a high-level overview of who we are, what we do and the products we sell without having to talk to a sales representative."- Brenda Kelly
Most of their clients are SME or ME businesses, consumer research revealed that their target audience typically seek ways to enhance their businesses in the evenings. Based on this, the website was designed to boost Positive Retail's leads even beyond regular business hours, ensuring that prospective clients could find what they needed 24/7 without having to pick up the phone.
"To increase the chance of capturing those who visit our website, we introduced a booking system, allowing them to schedule a demo without needing to speak with a sales representative. This increased our inbound conversions by a remarkable 40%." – Brenda Kelly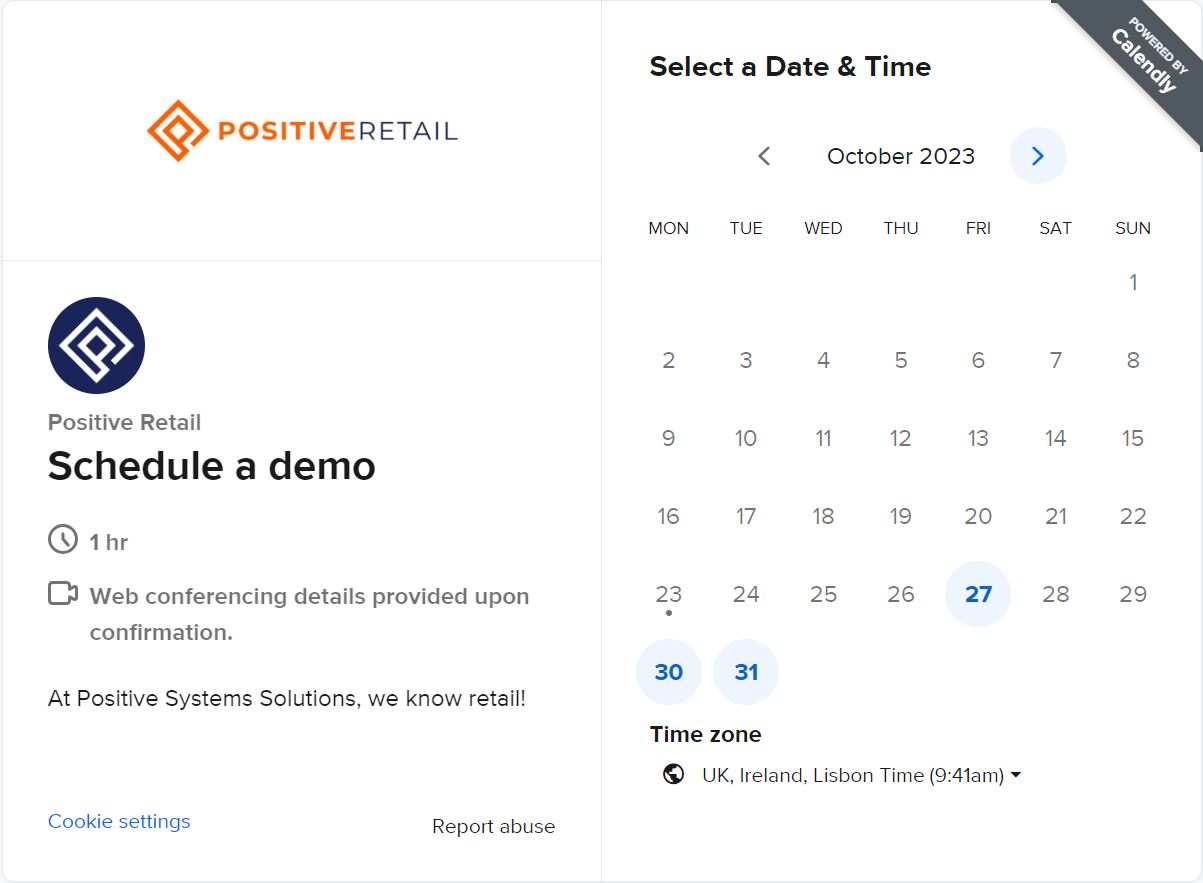 Promotion
Over the past year, one of Positive Retail's key strategic goals has been to enhance brand recognition. To achieve this, Positive Retail regularly updates its blog page with insights on current industry trends, company updates, and most importantly, content that addresses the concerns of their target audience. This not only draws people to the website but also generates valuable leads. They also produce compelling testimonial videos of their clients, showing the benefit of investing in their technologies and services.
Positive Retail participates in events that are in-person, including those organised by Retail Excellence Ireland and Digital Business Ireland as well as being proud Guaranteed Irish members. Additionally, they collaborate with other brands and industry experts to deliver digital webinars. They worked with Louise Lally, a business coaching expert, on a recent webinar which offered invaluable guidance to retailers aiming to achieve their Christmas Key Performance Indicators (KPIs). These partnerships and affiliations with reputable organisations boost brand awareness, offering lead generation opportunities.
"In the run up to the rebrand, much of our promotional efforts were directed towards branding and, to compliment that, establishing strategic alliances through branding. By collaborating with other Irish organisations that contribute value to the retail sector, we can leverage their industry reputation to build consumer trust." – Damien O'Driscoll
Any promotional content is shared on their social channels, including X (formerly 'Twitter'), , LinkedIn, Instagram, and YouTube. While at Positive Retail they value the influence of social media, their strategy primarily aims to drive traffic back to the website, where they can convert prospects into customers.
"Our objective is to make the phone ring, and the only way we can achieve that is by directing people to our website, engaging their interest, and encouraging them to schedule a consultation." – Damien O'Driscoll
Future Plans
With Positive Retail's recent growth, one of the main objectives of 2024 is to expand their brand and offering to their customers. A complementary business named Positive Insights, delving into the field of analytics is set to launch in the first half of 2024.
With the recent website redesign, a strong emphasis has been placed on search engine optimisation (SEO). Brenda conducted industry keyword research and strategically incorporated these phrases throughout the website, aiming to organically achieve higher rankings on search engines like Google. Organic ranking is prioritised instead of spending on paid advertising because it resonates better with Positive Retail's target audience and increases their return on investment (ROI).
"We've worked really hard to improve our website in terms of search engine ranking and having a .ie domain is a huge benefit as .ie addresses always rank higher on Irish search engines."
Coming from a digital background, Brenda strongly advocates the value of automation in business processes. Having made this investment, Brenda believes it's crucial that they continually assess the systems in use, allowing them to fine-tune and optimise the process as time progresses.
"One of my primary goals is to further enhance the automation process. Currently, we have a Customer Relationship Management (CRM) system in place, ensuring that when a lead is generated through our website, it seamlessly connects with our CRM. An automated workflow is in place, and our sales sequences are executed. This is something we will continuously improve" – Brenda Kelly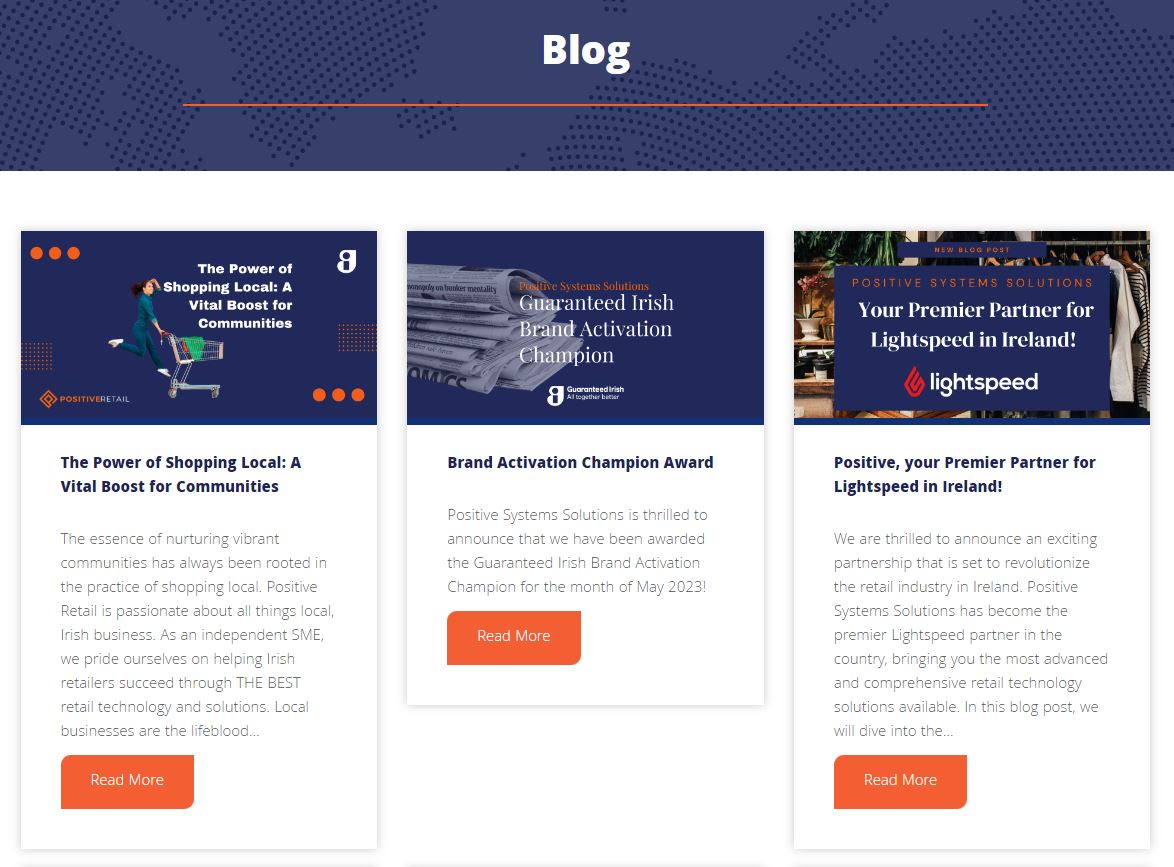 Top Tips
Website investment is key: It is your digital storefront, representing your brand to the world. Ensure that your website is a true reflection of your brand, from the colour scheme to the tone of your content. Tailor messaging to appeal to your target audience, creating a personalised experience that fosters a strong connection.
Invest in system automation for lead generation: Implement automation tools for both inbound and outbound leads. This not only saves time but ensures a prompt and consistent response to customer inquiries, leaving a positive impression.
Collaborate with other Irish businesses: Partnering with other Irish businesses can help you build authority and trust within your industry. By association, you can gain credibility, which often leads to increased customer trust. It shows that you are part of a reliable and interconnected network.
Utilise social media and online events: Social media and online events are powerful tools for marketing and brand promotion. This creates excitement around your brand which will in turn drive traffic to your website. Leveraging this is a great tool for brand awareness and lead generation.
Read more
Check out our other SME Online Success Stories.
Our SME Start and SME Evolve pages offer practical insights and business supports that enable you to thrive online.
Laura Boyle is our Marketing Assistant working within our corporate communications team.