This year marks the 24th anniversary of the prestigious Spider Awards. As the longest running digital awards programme in Ireland, The Spider Awards recognise companies and individuals driving digital excellence in every aspect of their ethos.
Taking place on the 21st of November 2019 at the RDS Concert Hall, Dublin, the gala awards ceremony will see industry leaders take home the iconic Spider award as one of the market's most sought after recognition for digital, web, community, and brand excellence.
When the Spider Awards first launched 24 years ago, the internet and websites were the prime focus recognising the early adapters to new technology. Since then, digital transformation has impacted every corner of the modern world and the Spiders aim to award the leaders of this digitalisation. This year there will be a celebration of the 30th anniversary of the World Wide Web, founded by Sir Tim Berners-Lee, a British computer scientist. Presented by the .IE, we will look back on the journey of the World Wide Web from its inception to its impact on today's industry.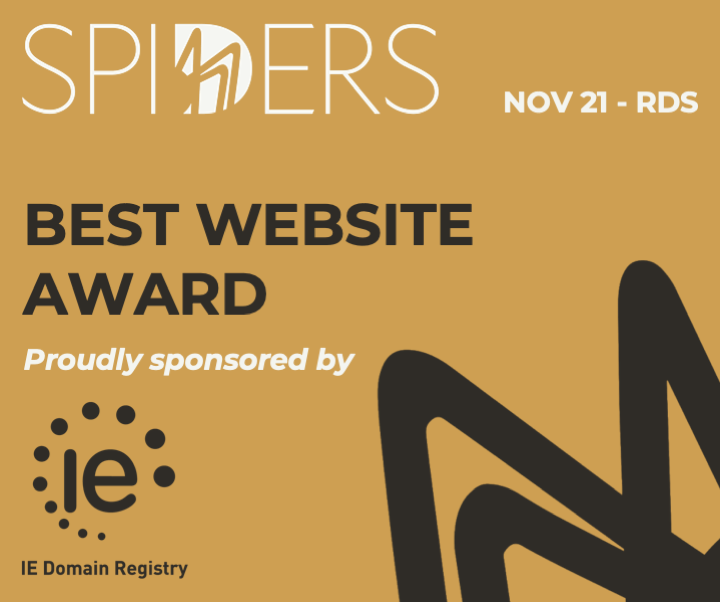 .IE is delighted to sponsor the 2019 Spider Awards and the 'Best Website' category. We are a digital advocate for the SME community and are committed to supporting them to improve their online presence and e-commerce capabilities.
We are sponsoring the 'Best Website Award' category as we know how important this channel is for business development. According to our SME Digital Health Index 2018, 89% of SMEs say their website plays an important role in driving new business. With online spending rising ten times faster than offline, we believe that more Irish SMEs need to actively engage in digitalising their sales processes.  Our research shows that only 30% of SMEs can take sales orders and only 26% can process payments via their website.  The 'Best Website Award' celebrates the achievements of those companies who are developing their digital presence and leading the way online.
To enter The Spider Awards click on the link here: https://www.thespiders.ie/nominations-2019