Why a website is essential for a thriving fashion retailer
Divine.ie is an Irish women's clothing brand which offers timeless, effortless style to its customers both in-store and online. Since its launch in 2005, Divine has become a shining example of what can be achieved with passion, resilience and commitment to quality.
I was fortunate enough to sit down with founder, Mary Greene to hear about how she grew Divine into a successful bricks and clicks business.
Growing the business
Following a long search for the perfect location, Mary launched the Divine Clothing boutique in Maynooth in 2005. The up and coming town had just opened a new shopping centre, Manor Mills, which felt like the right fit for the brand.
Following a very successful start, Mary expanded the business and opened a second Divine boutique in Malahide in 2007. This was a challenge for Mary as she wanted to personally serve all of her customers, but couldn't be in two places at once. Mary delegated responsibility and with the help of her sister-in-law Viv and her amazing team, the Malahide boutique thrived.
Divine made appearances on national TV shows such as Xposé and Off the Rails, which increased their brand awareness and reach. Divine began receiving much deserved attention from customers across Ireland.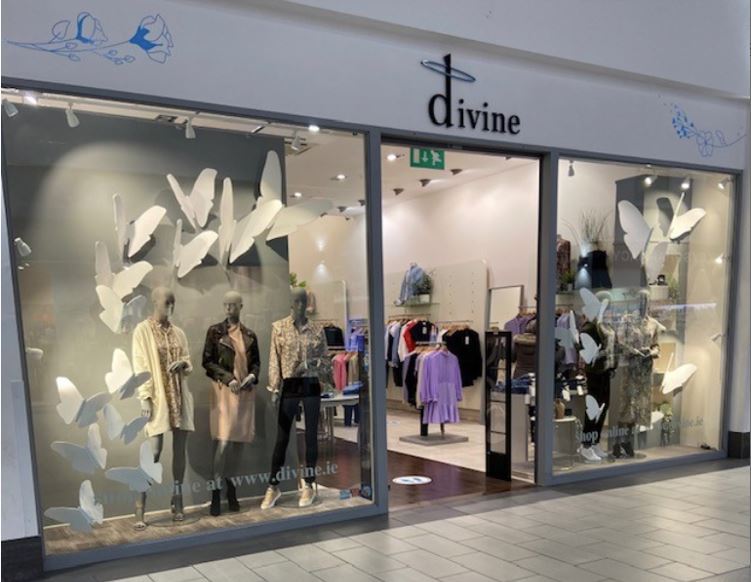 "We were getting phone calls from women all over the country and began developing relationships with them, selling over the phone and posting packages to them."
"It made me realise that there was such a market out there, nationwide."
Mary began looking to the future and saw an opportunity to reach her growing market online. She decided to launch a website in 2009 and instinctively chose a .ie website address. She wanted to showcase that Divine was an Irish brand. From personal experience she felt that a .ie website was more trusted, particularly within her target audience.
"A .ie website address is more trusted. Even for me, if I am shopping online, a .ie address always attracts me. It shows you are dealing with an Irish brand and that's important, especially within retail when considering returns. So, it was an easy choice to go with a .ie website."
Move to e-commerce
The website was initially a brochure website showcasing the mission of the brand – to make 'dressed-up look effortless and turn casual into chic.' Mary's goal for the website was to bring Divine to the national market. Divine developed a fully functioning e-commerce website on the WooCommerce platform in 2010, with the help of a tech-savvy friend.
"It felt like the next step for progression to begin selling online."
With rental costs rising and the additional overhead costs associated with physical stores, Mary sought to modernise the business and adopt an omni-channel sales strategy. She decided to close the Malahide boutique in 2013 to focus her efforts on the Maynooth boutique and growing the online business.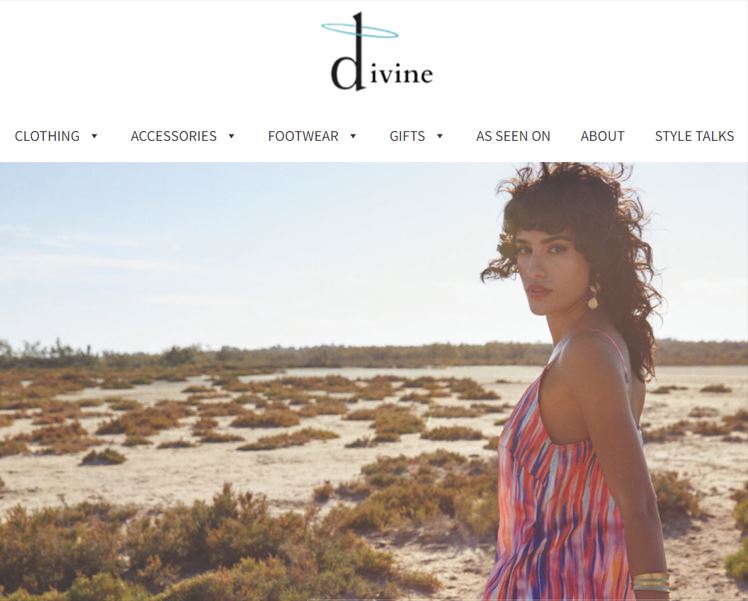 With the boom in social media, Mary set up an Instagram account in order to push traffic to the Divine website. The team began posting content to showcase the labels and designers that Divine.ie stocked, including unique call-to-actions driving prospective customers to the website.
Initially, Mary was hesitant to appear on camera and relied on her team to create the content for Instagram. However, when Covid-19 hit in 2020 and the Maynooth boutique was forced to close, Mary found herself left with the new summer stock. She packed up everything and began recording daily 'try-on' videos from home, promoting Divine's summer collection. Orders started pouring in through the website and before she knew it, the stock was sold out. Mary realised the value of having a personal brand to support her business. Today, Mary continues to be the face of Divine and appears on Instagram along with her team. She also added a unique feature to the website; 'Mary's Must Haves' which includes her weekly selection of her favourite pieces.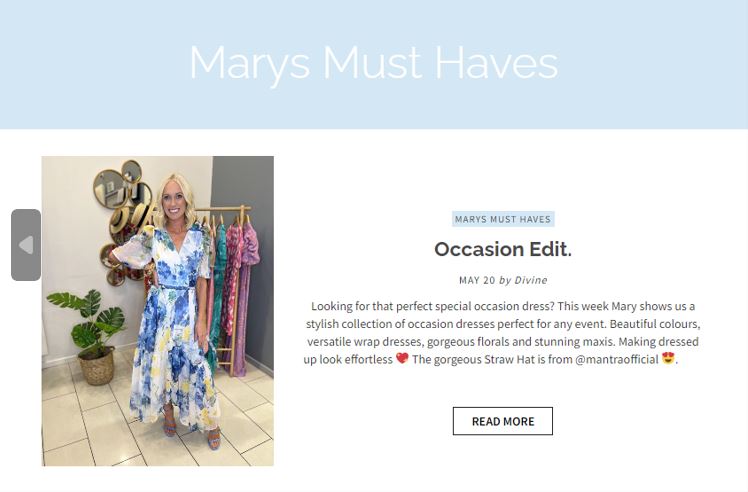 Promotion
The Divine Instagram account has gained over 35,000 followers organically, and Mary is convinced that her e-commerce website would not have thrived without growing a customer base on Instagram and directing them to the website. While Instagram is an amazing tool to build awareness, Mary always understood that it was important to have a website first.
"I would always recommend investing in your website first. If you are looking to sell online, you need a website. Social media is the tool to drive people there. There's no doubt that having a website is the key to success."
Divine also uses email marketing campaigns through Klaviyo, where they can personalise emails and target their subscribers based on their preferences. The email campaigns promote Divine's new collections, upcoming sales and events held in store. They also invested in Google Ads where they saw a good return.
Online sales
In 2019, e-commerce sales represented 15% of overall sales. The pandemic triggered a surge in online sales with e-commerce accounting for 47% of the total sales by 2021. As stores began to reopen in 2022, online sales stabilised at 30%. The majority of online sales are from Ireland – right across the country, but they also receive international orders from countries such as Dubai, the United Kingdom and America.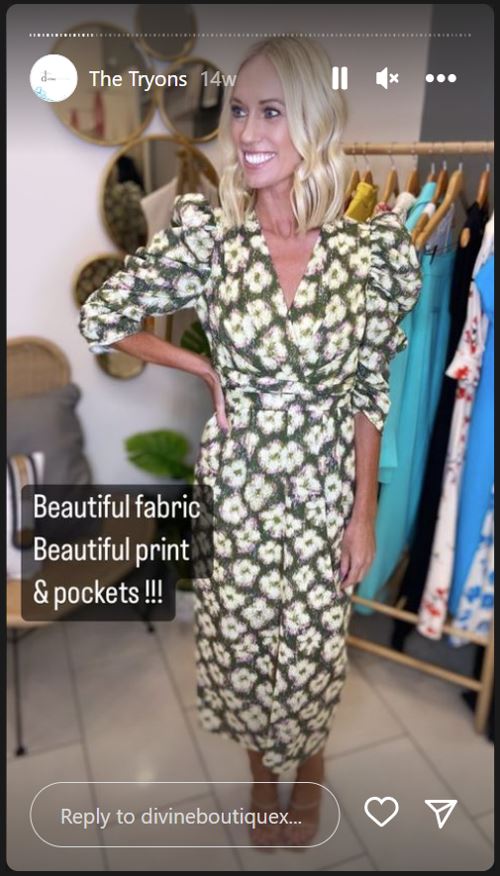 As online demand grew, Mary began to treat the website as another store and invested the time and resources it deserved. She entrusted the task of managing the website to her exceptional e-commerce team, which currently has three full time staff, led by her sister-in-law Viv, who has been with Divine from the beginning and is a huge contributor to the innovation of the website.
"It's like having another store, just not as much overhead costs. It deserves the same attention as the Maynooth boutique."
Looking to the future
So far, Mary has built her Instagram audience organically, but is now exploring the possibility of using paid social media advertising to promote the brand in the future.
Mary also hopes to secure a second LEO Trading Online Voucher and use it to improve the Divine website's user experience and boost their search engine ranking.
Mary's top tips
Love what you do! When you are passionate about your business, it doesn't feel like work. And remember, Rome wasn't built in a day.
Know your strengths: Delegation of responsibilities is key to success.
Don't get complacent: Always think ahead to continue to drive the business and keep it dynamic.
Stay true to yourself: Be unique and don't compare yourself to other businesses.
Everything comes back to your website! Marketing should direct your customers to your website so give it the time and attention it deserves.
Divine is a member of Retail Excellence.
Read more
Check out our other SME Online Success Stories.
Our SME Start and SME Evolve pages offer practical insights and business supports that enable you to thrive online.
Laura Boyle is our Marketing Assistant working within our corporate communications team.