Why digital is an essential tool for one motor dealership
Finlay Motor Group is a third generation business which has been in operation for 85 years and I had the pleasure of talking to their Sales Director, Gary Finlay recently.
A digital focus
The motor dealership is located in Naas, Co. Kildare with an extensive showroom. They also operate a number of different websites, and the one they use most is FinlayMotorGroup.ie. Although Finlay Motor Group has fully featured e-commerce which was built last year, customers are slow to adopt the full e-commerce experience.
You might ask why is this the case? The motor trade has a complex business model and things are changing in the motor industry with the main manufacturers wanting to go fully online end-to-end. They look to Tesla as a model, which has an online only ordering process.
Online presents particular challenges to the motor industry because there is a vast number of variables in the sales cycle.  For example, Ford has a huge range car models such as Puma, Kuga, Mondeo, Galaxy and Mustang to name a few, and each of these has five different engines, three different gear boxes and four or five different body shapes. This means if there is one change, for instance in VRT or a price increase, the job of updating the website would be huge.
For this reason, Ford has a centralised web platform where all information is kept up to date and pushed out to dealers in real time. There is no other way that dealers could manage the volume of content. Gary is happy to pay for and subscribe to this platform as it frees up resources to focus on other areas of online marketing.
Customers can create a specification of the vehicle they want and the system creates a price in real time. The customer can then select a dealer and the configured vehicle request goes to the dealer.  The big manufacturers want customers to make payments online but this is not happening yet.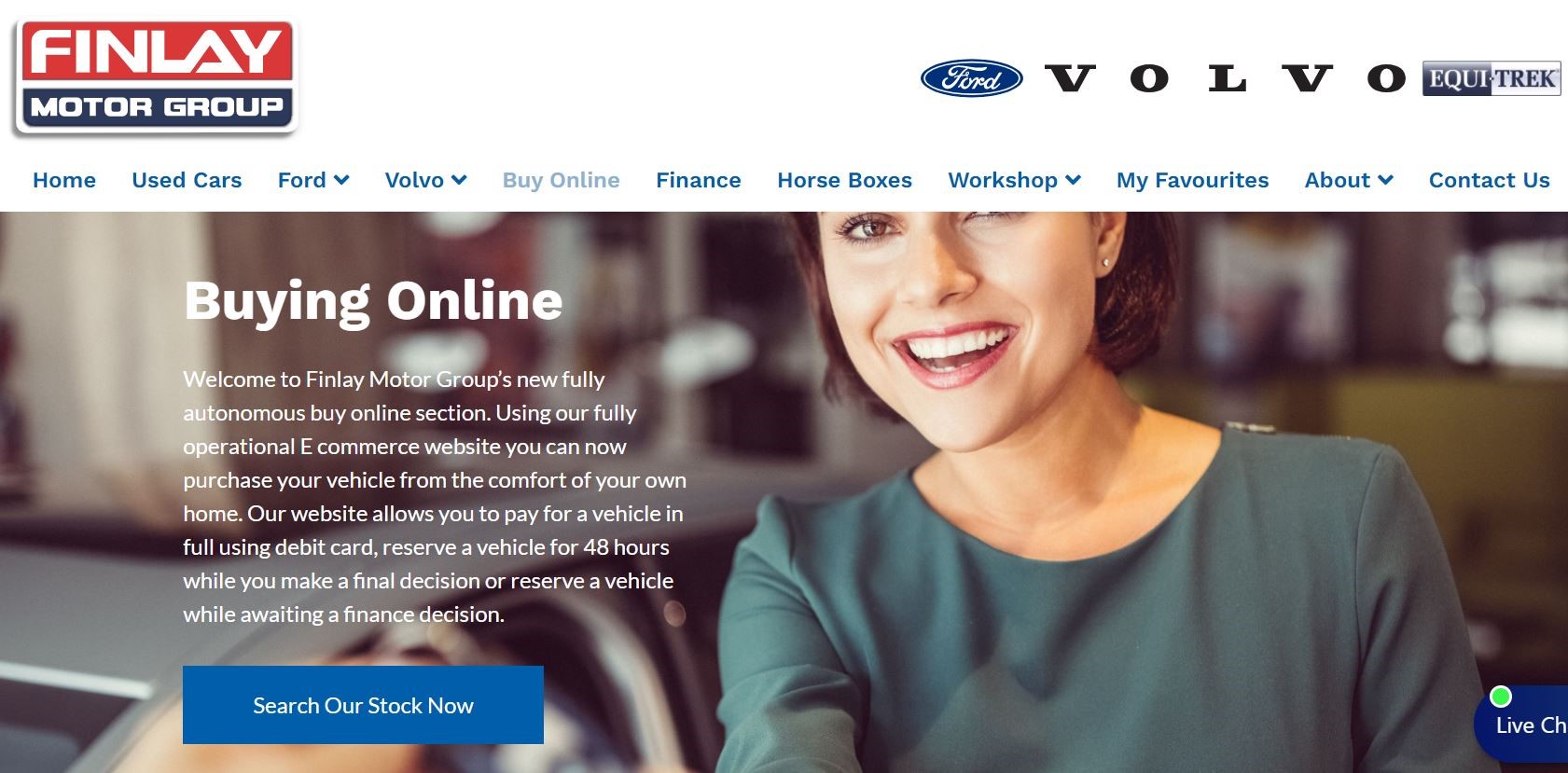 Omni-channel
Gary sees www.finlaymotorgroup.ie as a core part of the sales cycle.
"Customers want to do their research online"
Then they want to go to the showroom to see, feel and touch the vehicle before deciding to buy. It is possible to reserve a car on his website with a refundable deposit of €200. Potential customers will only pay a deposit on the car they are genuinely interested in.
Most customers also have a car to trade in, and need to negotiate the price in person. However, with increased use of Personal Contract Plans (PCPs) the overall thing they are looking at is the cost of their monthly repayment. PCPs are good for the dealer too, as retention rates are much higher.
Monitoring website performance
Website performance reports are brought to the weekly management meeting.
They analyse key stats such as site visits, time on site and traffic sources.  Finlay Motors is active on Instagram, Facebook and LinkedIn and has organic posts and paid ads on various social channels. In addition, they use radio advertising and local, as well as national, newspaper advertising. By analysing this data weekly, they can prioritise where the marketing spend will go.
The overall conversion rate from all sources is 33% (this includes online, walk-ins, phones). The online conversion rate is 9% (those who make an enquiry via the website).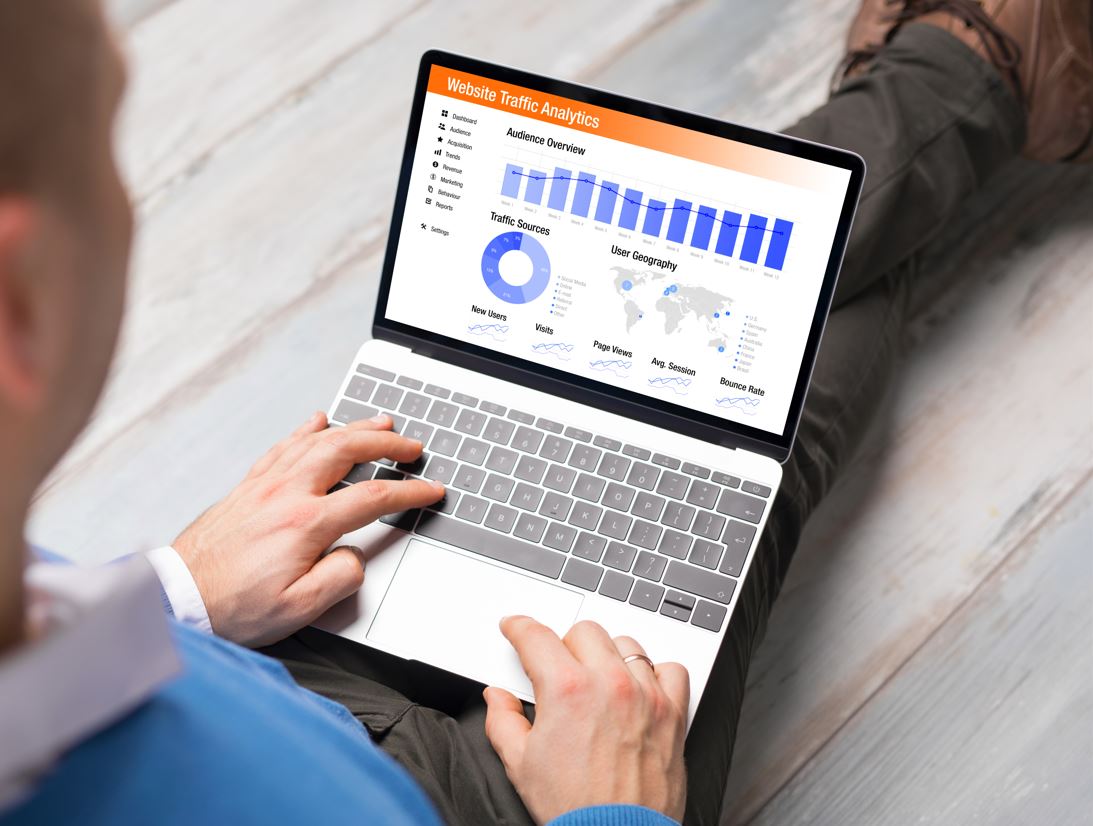 Benefit of a .ie website
While they have both .ie and .com versions of the Finlay Motor group website, most traffic comes to the .ie version.
Gary says the website is a vital tool for their business and they couldn't survive without it. He says
"having a .ie website adds more credibility and it's seen as more trustworthy particularly for a high value, big purchase like a car or a van."
Gary's ambition for the next six months is to try to grow the end-to-end transaction online. Watch this space!
Gary's top tips
Your website is your shop window. Having a high quality website is vital – if yours is not up to scratch replace it. It's worse to have a poor website than to have none at all.
Ensure you have good quality images and good design consistency is vital.
Pricing and product information needs to be correct and prominently displayed.
Make the website a key management tool – ensure all relevant stats are reported on a weekly basis.
It's important for the business owner to get skilled up in digital so they fully appreciate the potential of online and not just delegate it to a junior.
Central platforms, although a paid service, are worth it because it ensures all content is updated in real time. The investment is worth it.
Read More
Check out our other SME Online Success Stories.
Our SME Start and SME Evolve pages offer practical insights and business supports that enable you to thrive online.
Oonagh McCutcheon is our Corporate Communications Manager and National Director of our .IE Digital Town Programme.