Why a trustworthy appearance is important for your business
With the dramatic shift towards working from home during the Covid-19 pandemic, has come an upswing in cybercrime. Everyone – from consumers and small business owners to government agencies and multi-national corporations – have become prime targets. Recent research by accounting firm Grant Thornton pegged the total losses to the Irish economy at €9.6 billion in 2020.
That's why it's more important than ever for your customers to have total trust in the online company they are dealing with. A small, simple but important step you can take right now is to link your business website's domain name with your email address.
Why your email address should match your domain 
Having an email address that matches your website domain name is a great way to instil confidence in your customers that they're dealing with a reputable, professional business. Remember: presentation – and first impressions – matter. Your email address could very well be your customers' initial point of contact with you.
If we think purely about appearances, which of the two (fictional) email addresses below seems more legitimate when considering a purchase?
OR
From a technical standpoint, having an email address that's consistent with your website domain helps ensure messages from you aren't automatically marked as spam, or look suspicious to recipients. After all, you don't want potential customers ignoring your emails.
Our .IE Consumer Trust research touches on the importance of a professional email address: "74% of consumers trust businesses that use professional email addresses, such as a .ie address."
Matching your email to your domain name is also an easy and low-cost way to further build and advertise your brand's presence.
Another point to consider is that purchasing a business email often comes with useful productivity tools. For example, subscribing to G-Suite from Google not only comes with a business Gmail account, but also grants you access to their full suite of office apps, including Google Drive (for cloud storage), Docs, Calendar and Hangouts/Meetings.
The how: Linking your email address to your domain
Now that we have covered the "why" behind linking your domain name and email address, let's address the "how."
The first step is to contact your accredited .ie Registrar (from whom you bought your domain) to create a new email address with a corresponding password. Keep in mind, most (if not all) of the accredited Registrars on our list will offer various packages and plans that may include at least one custom email address, which is one that uses your domain name.
Next, choose your desired email platform – e.g. Google's Gmail or Microsoft Outlook. Each platform will have a slightly different (but similar) process for adding and integrating your new business email.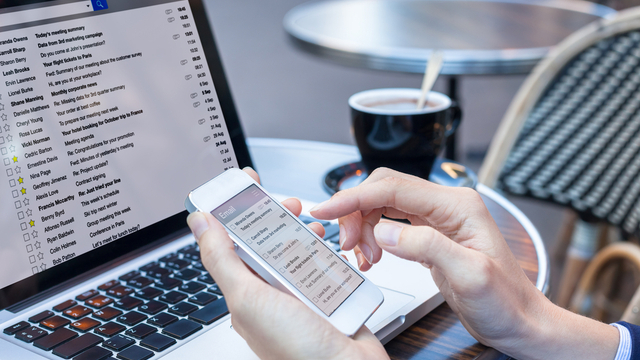 For the purposes of this walkthrough, we'll use Gmail as our example and assume you already have a free personal account to work from.
As we mentioned before, you will need to have a custom email address already set up with your accredited .ie Registrar or web hosting partner. Ideally, that custom address should reflect your company name. For example, info@examplecompany.ie.
Once that's sorted, you're going to use a POP3 to connect your custom address to your Gmail account. POP3, or Post Office Protocol, is a standard mail protocol that's used to retrieve messages from a remote server to your local email client. Your Registrar will have all the POP3 information you need.
Go into your Gmail settings, and under the "Accounts and Import" tab, navigate to "Check mail from other accounts" and then click "Add a mail account". This should prompt you to add your custom email address.
Next, choose "Import emails from my other account (POP3)" and enter your username, password and the POP3 info from your domain or registrar provider.
You will also need to configure your Gmail account to send mail through your custom email's SMTP (Simple Mail Transfer Protocol) server. This is what handles all the sending and receiving of messages. The SMTP server info is typically found in the same place as the POP3 info.
With your SMTP information in hand, navigate back to the "Accounts and Import" section of your Gmail account's settings menu. Then, find the "Send mail as" setting and click "Add another email".
Here, you will be asked to enter your new, custom email address. Next, click the "Treat as an alias" box, enter your SMTP information and then click "Add account".
Google should then send a confirmation code to your custom email address.
Click the link in the email from Google followed by "Confirm" and voila! You've just added a custom email address that matches with your business website's domain.
As a final check, ensure everything is working properly by sending out a few test messages to friends or family. Within Gmail, you should now be able to choose which email (your personal or business account) you send from in the "to" line whenever you compose a new message.
Just like that, you have added a quick and painless layer of legitimacy, trustworthiness and professional presentation to your online business.