Kildare-based Finlay Motor Group wins €10K in our 20th Anniversary Competition
Naas-based Finlay Motor Group is announced as the overall winner of our competition to celebrate our 20th anniversary and recent company rebrand. 
As part of the competition, a total prize fund of €20,000 was awarded to three .ie domain holders (1 x €10,000 and 2 x €5,000).  First prize went to Finlay Motor Group who received €10,000. The other prize winners were 1 Step More, a navigation training course operator and Meath Springboard Family Support Services.
The competition was designed to provide .ie domain holders, including businesses, individuals or community groups, with the opportunity to win a one-off cash prize to enhance their online presence and upgrade or enable e-commerce functionality, which, particularly during the Covid-19 pandemic, has allowed many to continue to trade and in some cases, to grow, while bricks and mortar premises have been closed.
Finlay Motor Group intends to use the cash prize to invest in its website including SEO, usability and new features such as a video chat app.
Pictured (L-R) are David McLoughlin, Sales Manager, Finlay Motor Group and Gary Finlay, Managing Director, Finlay Motor Group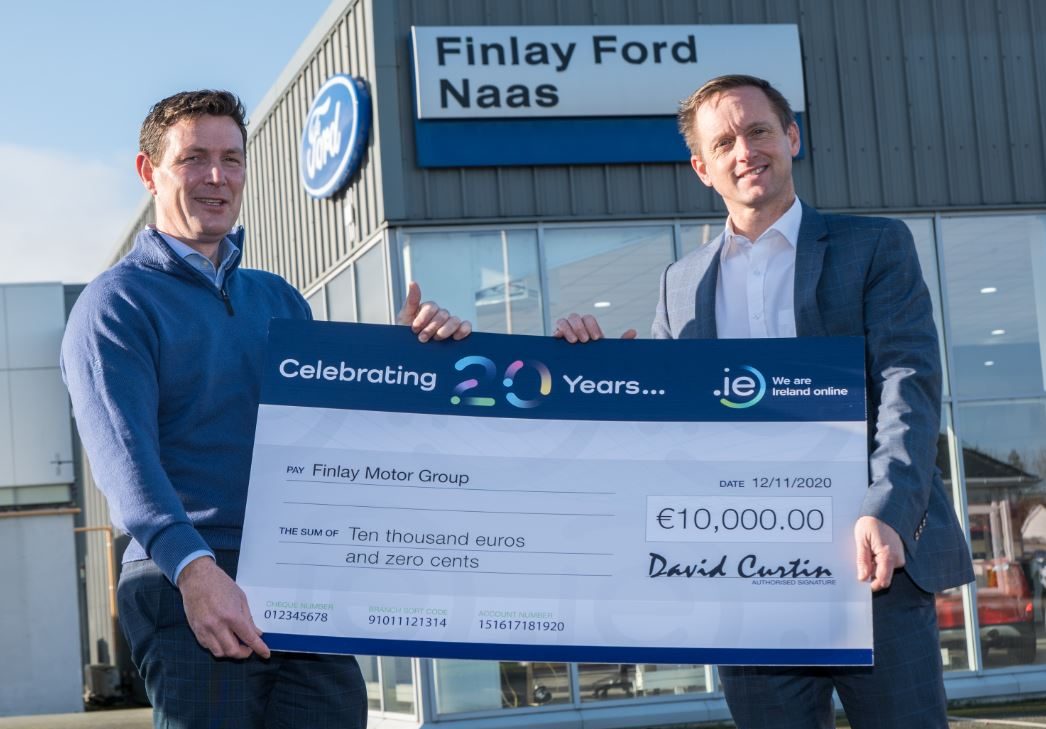 Check out what the winners had to say
Finlay Motor Group's Managing Director, Gary Finlay discusses the importance of their .ie website for the business. The cash prize will enable them to take their online presence to the next level.
Paul Nolan of 1 Step More chats about what he is going to do with the cash prize and how important a .ie domain is for his business.
Meath Springboard Family Support Services tell us that they will use the cash prize to develop online resources aimed specifically at children. Their .ie domain lets people know that they are a local service.
Celebrating 20 years
2020 marks 20 years in business for us, the guardians of Ireland's unique online address, .ie.
In that time, we have led the advancement of Ireland's internet ecosystem, working with businesses, communities, and people to educate, guide, and support them on their internet journey and to highlight the benefits of an online presence.
The careful guardianship and management of the .ie domain has resulted in it becoming Ireland's most trusted domain, with 77% of Irish consumers preferring a .ie website when buying online.* The .ie domain now has 51% of the hosted market in Ireland, followed by .com with 33% market share.
2020 sees spike in .ie domains
A total of 54,852 domains have been registered in 2020 so far, with a huge spike witnessed in the months of April to October as a result of the Covid-19 pandemic, a 39% increase in registrations on the previous year.
There are currently 306,280 .ie domains in the database. (correct at November 2020).
Comment
Our CEO David Curtin, said: "We are delighted to announce Finlay Motor Group as one of three overall winners of our 20th anniversary celebration prize fund.
"In its competition entry, Finlay Motor Group highlighted its commitment to its locality of Naas, Co. Kildare and the importance of .ie to highlight to consumers that it is an Irish owned and operated business."
"The internet continues to rapidly evolve, and it is critical that the .ie community evolves in parallel. This has never been more apparent than in recent months. Since the outbreak of Covid-19, we have seen up close the capacity for the online community to sustain traditional bricks and mortar Irish SMEs trading through Covid-19.
"This need for businesses to pivot online has become even more apparent in recent weeks since entering Level Five restrictions. Those businesses with the capability to quickly adjust to an online marketplace will ultimately emerge from the current Covid crisis all the stronger in the long run. Finlay Motor Group is testament to the ingenuity and resilience of Irish SMEs and we are delighted to support them in investing and developing their online business.
"As people rush to buy online in the coming weeks and in the run up to Christmas, I would ask people to think Irish and where possible look to buy from .ie websites so we can all support local Irish businesses in these difficult times.
"As we move into our next chapter as a business, it only seemed right to mark the occasion with a change to our name, one that aligns with our purpose and ambition to empower people, communities and businesses across Ireland to thrive online.
"We are excited to share the celebration of our 20th anniversary with the .ie community and mark this new phase of our journey as .IE moves forward with confidence into 2021."
For further information about the competition, please check out our 20th Anniversary Competition page.
*.IE Consumer Trust Survey 2020