How to write good website copy that sells
So, you've built yourself a website and you're off to a great start with getting your business online. But what are you going to put on it? Website content comes in many forms – text, videos, images, interactive content, audio and so on – but in this post, we'll be focusing on the words, also known as 'copy'.
The copy on your website ranges from the simple 'call-to-action' words on buttons (such as 'buy now' or 'sign up'), known as 'microcopy', to e-commerce product pages and long-form blog posts. Great copy is equally important for brochure-style websites as it is for those selling products or services online, and we'll come onto why that is shortly.
Whether you're still in the process of creating your website from scratch, or you already have one and it needs refining or adding to, keep reading for all the tips you'll need to create persuasive and compelling web copy that does a great job of communicating the benefits your business – and, more importantly, selling your products and services.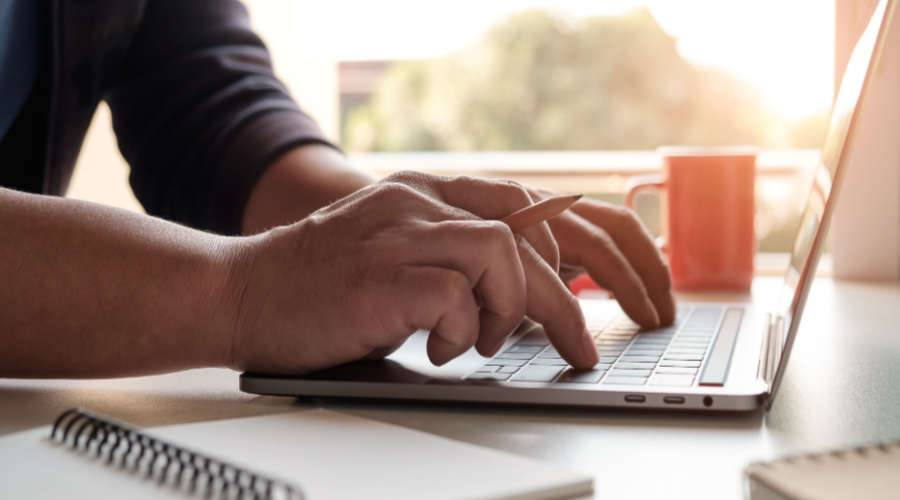 Why your business needs good website copy
Website copy is critical for your business. Not only is it there to tell the story of your company, but it's there to inspire action and ultimately to drum up business. Great website copy is essential for:
Selling your products and services – you need to make sure potential customers understand your offering immediately, and that they know how and what to buy from you. While images are an important part of this, there's no substitute for clear and concise supporting copy.
Your branding – words are how you express your business's values and personality, shaping the impression potential customers have of your business. You only have to look at brands such as Innocent and Chupi to see how important tone of voice is to creating a brand.
Your credibility – there's nothing more unprofessional than a website that's littered with typos and spelling and grammar errors, and these will reflect badly on your business. Research has shown that 91% of consumers don't trust websites that contain mistakes (just think how unlikely you are to trust an email supposedly from your bank that contains spelling errors), so less-than-perfect copy could well cost you business. Not only that, but your website copy holds you accountable – it must be a truthful reflection of your business, with an accurate portrayal of your products or services.
So, we've established that good copy is essential – but how do you write it?
The basics of writing effective copy for the web
Fundamentally, the hallmarks of great web copy are the same as they are for other kinds of writing: it needs to convey the necessary information in a clear, enticing, engaging and unique way that any reader can understand. It needs to be honest and authentic, as well as accurate and up-to-date. But there are a few other things to think about when writing copy specifically for the web, and two considerations in particular to bear in mind.
Firstly, many people will be reading your content on a mobile device – a small screen – and will be scrolling quickly through, scanning for the information they need. Secondly, it's not just humans who'll be reading your content; search engine algorithms will as well. Your copy therefore needs to be easy to read, find and understand for both human and algorithm audiences.
This creates a particular set of requirements that you'll need to consider when writing effective copy for your website. Your copy will need to:
Be written for your target audience – copy that's effective for one group of people may not be for another, as everyone's different. That's why it is vital to keep in mind who you're writing for, using language that is relevant to your target audience (your customer base) and including the information that they want to know about.
Be easy to scan – you can ensure this by using headings and subheadings, short paragraphs and bullet points to break up information. No walls of text! Here's a good example from Comfort Keepers.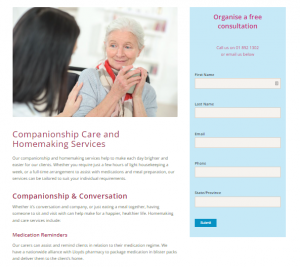 Be written in plain English – everyone should be able to understand it, so keep it snappy, avoid very long sentences and steer clear of flowery language. Also, avoid acronyms and abbreviations.
Be error-free – typos and spelling and grammar errors are a big no-no. If you're not too confident on this, you could use a tool such as Grammarly to help.
Include keywords – 'keywords' are the words and phrases people type into search engines to find what they're looking for. Search engine algorithms will be looking for these on your website to help determine what searches your page should be included for. While you shouldn't cram your copy with keywords (this will do your website more harm than good), it's a good idea to include them in headings and subheadings, provided this reads naturally.
Include a call-to-action – what action do you want people to take on reading your page? The prompt you include on your page is known as a 'call-to-action', and it could be anything from 'buy now' to 'request a quote'. A good call-to-action provides a clear command and instils a sense of urgency ('sign up today').
It's difficult to give a recommended word count for each page, as it depends on the type of page and on the amount of information you need to convey on it. It's also a question of balancing the needs of human readers and search engines; too long, and you risk people switching off and not reading it, but too short, and there may not be enough content to tell search engines what the page is about. Algorithms may also deem the page to be 'shallow' – in other words, not providing enough useful information.
As a rough guide, 200-300 words is a good length to aim for on static web pages (such as your 'About' page, as in this example from Total Produce), while product copy tends to be shorter – 100-150 words, depending on how many features you need to talk about (don't forget to use bullet points to highlight the most important ones so that people can understand them straightaway).
Here's a good example of product copy from Designist.
Homepage copy should be kept concise and make use of signposts to direct potential customers deeper into the site.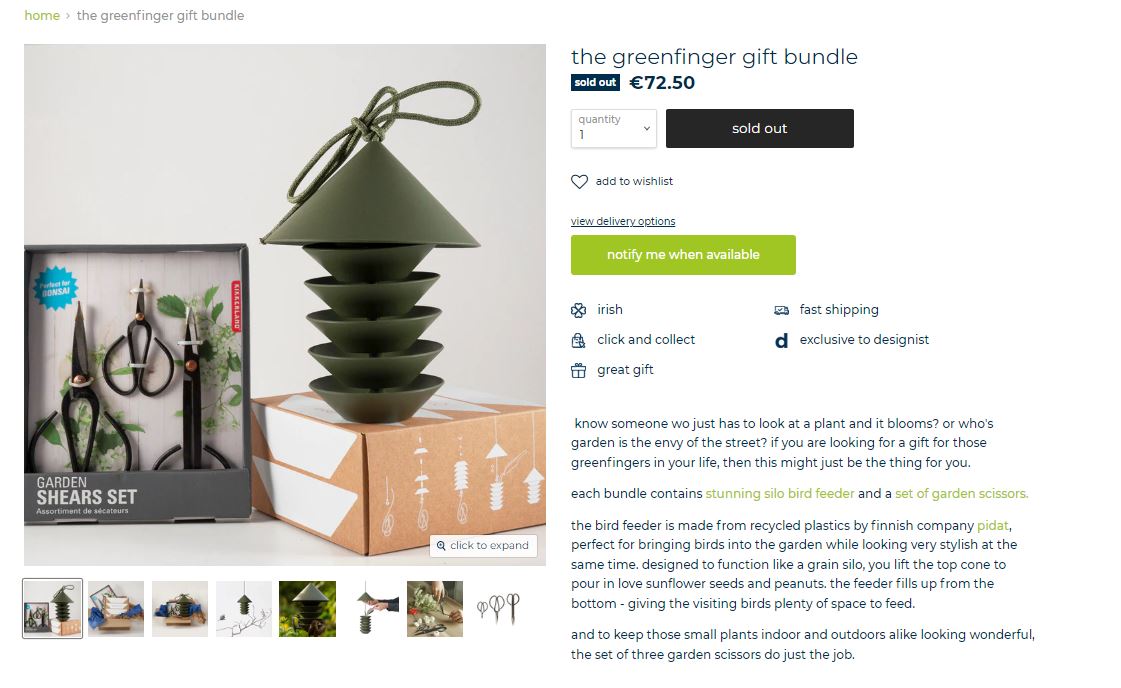 The bigger picture
When you're working on individual pages, it can be easy to lose track of the bigger picture. Website pages should work together, providing a cohesive experience for users. The language should be consistent throughout the website, reflecting your brand identity. If you have pages being written by different people, it's important to make sure they all sound as though they were written by the same person.
Providing a cohesive experience also means structuring the information into a logical sequence of pages with clear navigation. For an e-commerce site, for example, that would mean dividing your products or services into categories and sub-categories that make it obvious where customers will find particular products. For example, Women's Clothes → Dresses → Occasion Dresses.
Finally, if you don't feel confident writing clearly and concisely – or you could do with a fresh pair of eyes to identify your unique selling points and communicate them effectively – you always have the option of hiring a copywriter to help you. They can write website copy from scratch, or refresh or rewrite your current copy, as well as helping you develop a consistent brand tone of voice if you haven't already.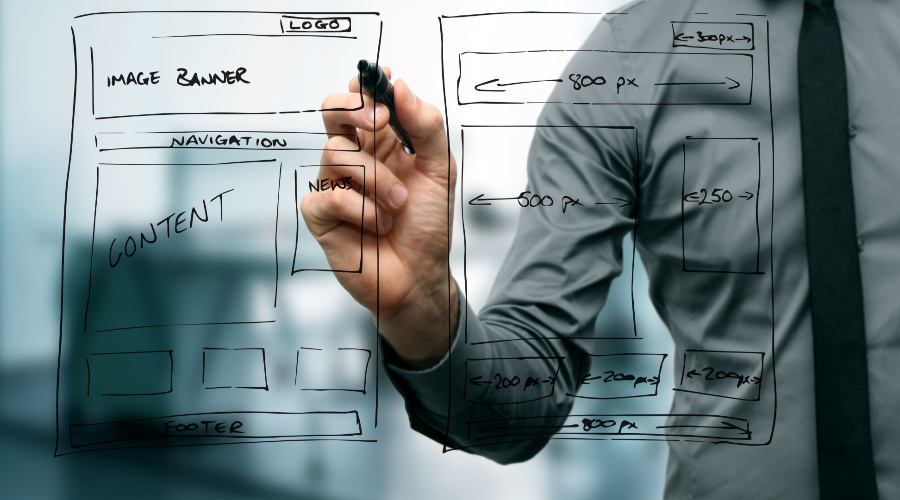 Further reading
For lots more advice on building a web presence for your business, take a look at our advice and resources for starting or growing your small business.
Oonagh McCutcheon is our Corporate Communications Manager and National Director of our .IE Digital Town Programme.