.IE Digital Town Awards Winners and Runners-up 2022
Overall Winner €10,000: Piltown
Piltown. Co. Kilkenny was crowned the overall winner by Minister Damien English, Minister of State for Business, Employment and Retail at the Department of Enterprise, Trade and Employment.
The town was chosen from the category winners as overall winner. In addition to winning the Digital Business category prize of €9,000, Piltown was awarded an additional prize of €10,000 – bringing its total prize winnings to €19,000.
Pictured L to R: The Piltown Team; Minister Damien English, Minister of State for Business, Employment and Retail at the Department of Enterprise, Trade and Employment; Oonagh McCutcheon, National Director .IE Digital Town Programme; David Curtin, CEO .IE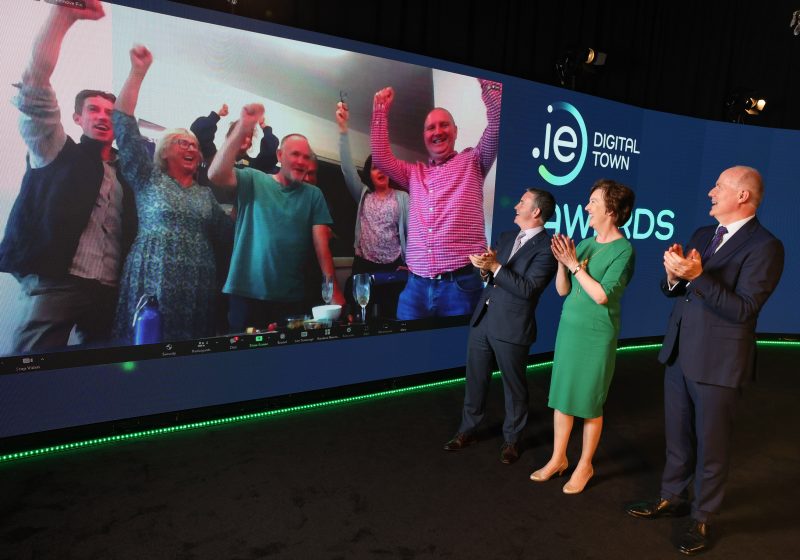 Digital Education €9,000 Winner: Sligo
Using digital tools to prove inclusive student support in higher education
IT Sligo has taken the lead in addressing the challenge of providing flexible learning opportunities for students in the North West through digital solutions. The project has seen many initiatives piloted in Sligo and then rolled out to other colleges across The Atlantic Technological University. To date, the project has created or introduced many supports to assist with students' wellbeing, academic skills and non-academic support.
IT Sligo's capacity building through online education enabled its students to switch to remote learning overnight during the pandemic, allowing them to continue their studies and graduate as expected.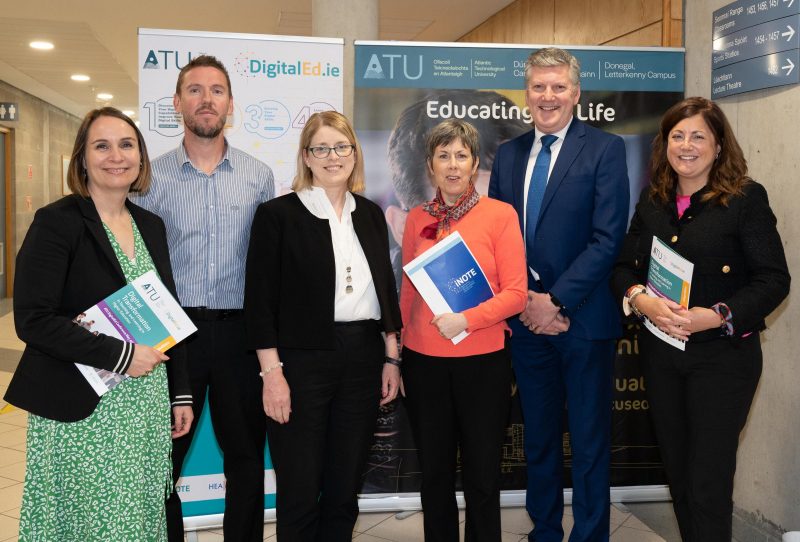 Digital Education €5,000 Runner-up: Murroe
Scoutus Interruptus: How digital technology helped keep us scouting through the time of Covid
Murroe-Boher Scout Group in rural Co. Limerick has brought lasting change to how it operates by developing a more nuanced understanding of how digital technologies can be applied more effectively and in a more child-centred way. From initially holding interactive sessions on Zoom focused on cooking together, playing games, and Q&As with guest speakers who would otherwise not have been accessible to a rural community, the group found creative ways of collaborating with artists and using digital approaches including  Minecraft, stop-motion animation, and audio and video recordings.
The group has now begun an Arts Council-funded project to create a spooky audio-trail and podcast entitled 'Murroesome'.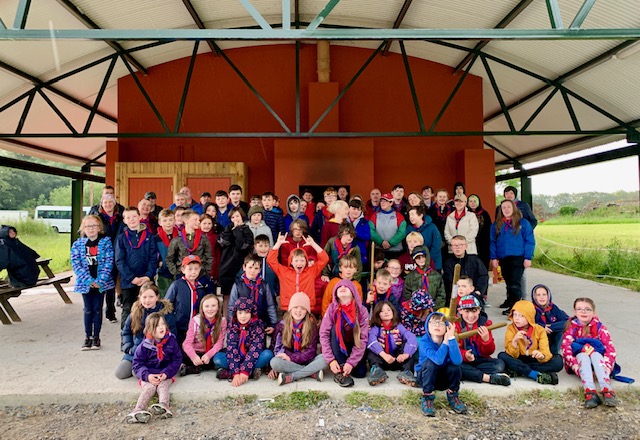 Digital Tourism €9,000 Winner:
Gleann Cholm Cille
Building a digital cultural infrastructure for our community
Gleann Cholm Cille, a Gaeltacht community, has worked together to build its digital competencies across all age groups and produce a living and inclusive digital repository of our rich cultural heritage that is easily accessible to everyone at home and abroad. This has proved to be a focal point for intergenerational learning, community involvement and cooperation, promotion of the Irish language, and a valuable asset for tourism in the region.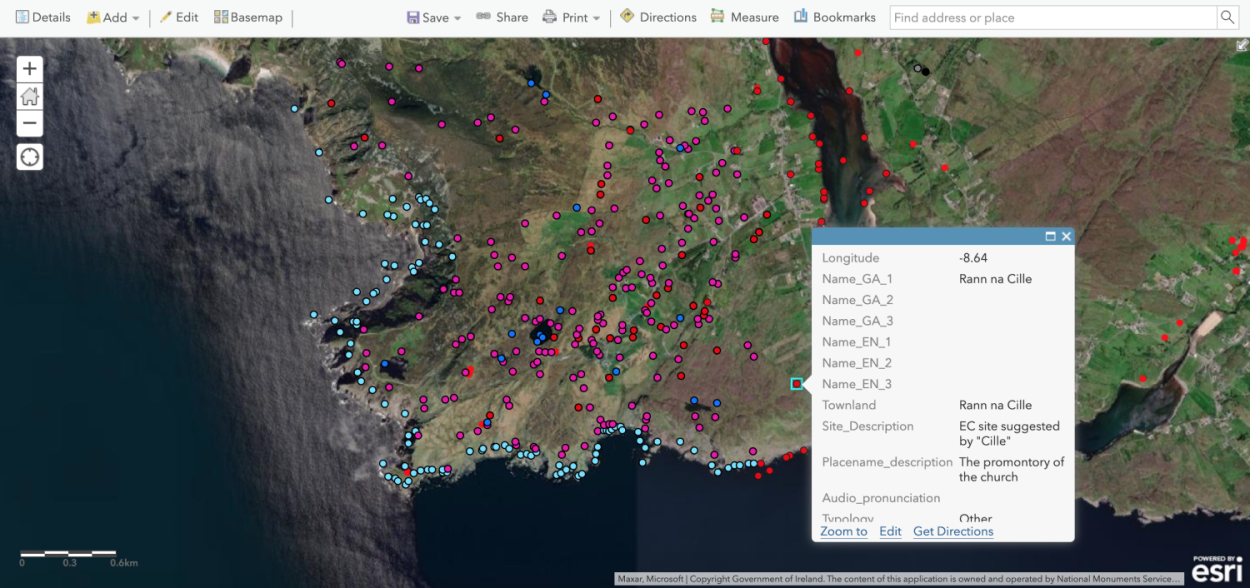 A collaboration with experts in DCU School of Geography, using the ArcGIS digital mapping platform, has created a public online repository of local placenames, folklore and archaeology.
Digital Tourism category is sponsored by AIB Merchant Services
Digital Tourism €5,000 Runner-up: Ballyvaughan
Linking the physical and digital worlds via interactive signage
Ballyvaughan has pioneered the development of interactive outdoor recreation tourism infrastructure to link physical walking and cycling trails to the digital world. Interactive signage allows trail users to take and submit selfies and upload them by touching a trail post. Cyclists can see details of a coming hill by touching the sign and the "strava" segment will automatically open on their smartphone. IoT flood sensors are being installed on sections warn tourists of flooded sections of trails and people counters to monitor trail usage for the management committee.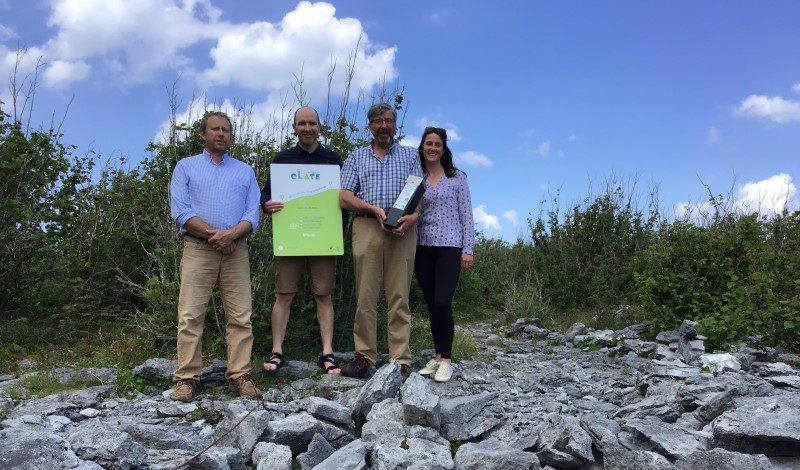 Digital Tourism €2,000 Commended: Ballincollig
Ballincollig Gunpowder Mills: Mobile Phone App
The PowderMills App is a digital pocket tour guide, allowing users to explore the ruins of the Ballincollig Gunpowder Mills. The user points their phone at a building and is presented with a 3D view of what buildings looked like over 200 years ago. A truly interactive experience marries technology with the rich history and culture of Ballincollig and presents information including history of the building, floor plans, old photos and audio or video clips.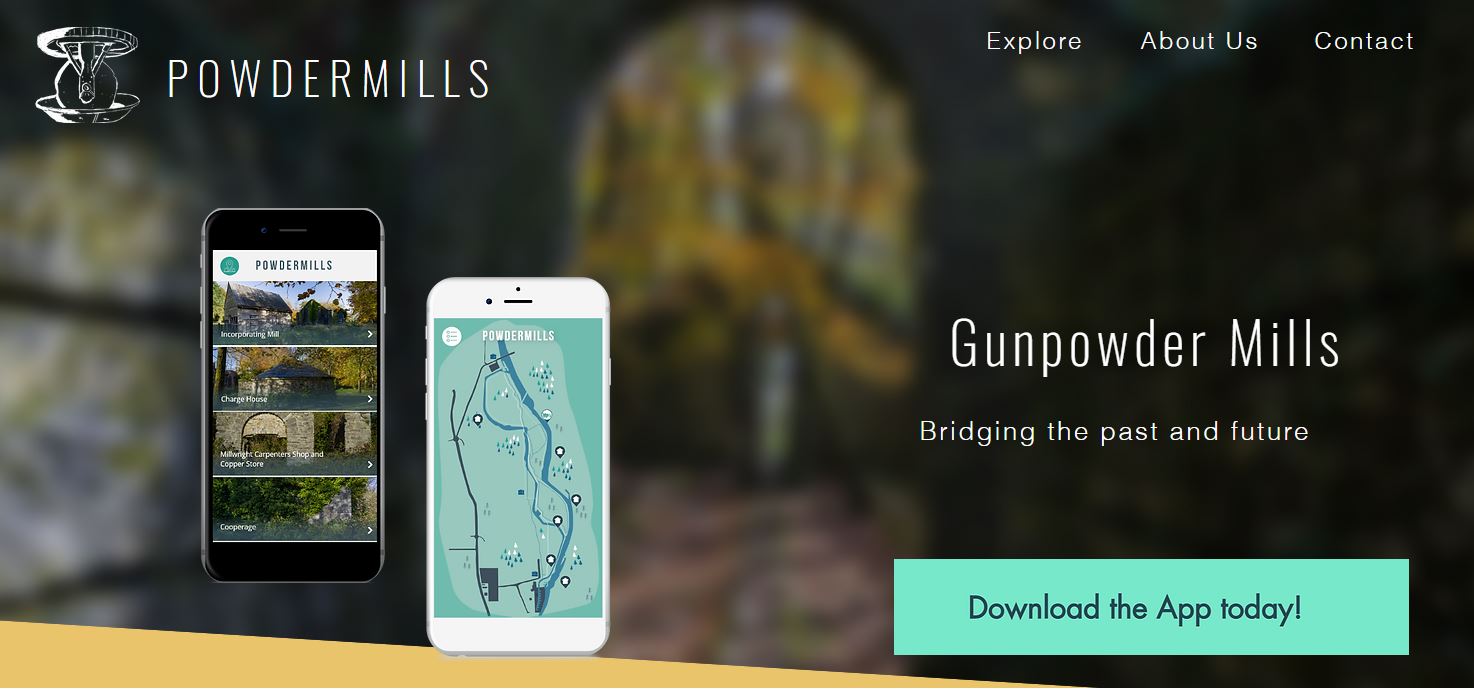 Community Digital €9,000 Winner: Crumlin
Connecting Crumlin's Community
The development and implementation of effective digital strategies has enabled Crumlin Community Cleanup successfully communicate, educate and enable residents of the Crumlin and Kimmage areas to take part and learn about a wide range of environmental activities and issues. Using digital tools, their volunteer numbers have grown to 150+ rapidly and allows them to keep in contact and update residents on their initiatives such as Bloomin' Crumlin, Crumlin Community Cleanup and Creative Crumlin.
Community Digital category is sponsored by Western Development Commission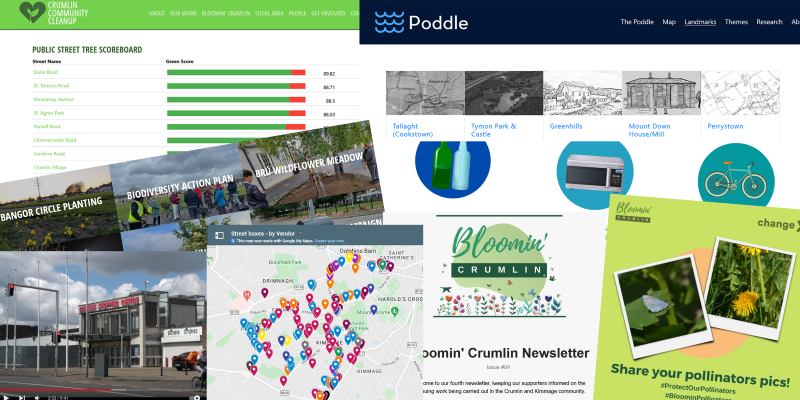 Community Digital €5,000 Runner-up: Limerick
Tiny Little Histories
The GAFF/Creative Communities Midwest (including Clare/Kilfinane/Murroe/Rathkeale/Bruff) brings some of the greatest untold stories and histories in the Mid West to life through their network so that their communities can access cultural and historical experiences that they will link to a digital platform.
These histories will become part of a collection of histories about the Mid West that will be available online as an educational community resource.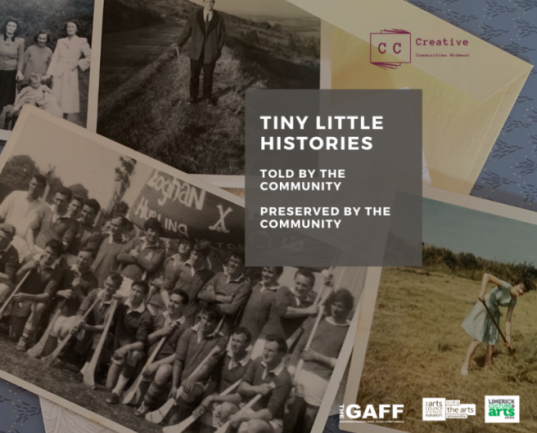 Community Digital €2,000 Commended: East Galway
Galway Wild Geese
The mission for Galway Wild Geese is to realise the full potential of the towns and villages of East Galway. Through its digital project XPLORE LOCAL, local businesses are enabled to promote themselves via web and app features that encourage interaction, participation and insight. This includes initiatives such as virtual tokens which can only be spent on goods and services within the community. As part of its aim to create a 'Climate Smart' community, the Wild Geese work closely with the European Union and have been appointed Climate Change Ambassadors which means they will be supported to digitally promote and educate on climate action in more practical ways within the community.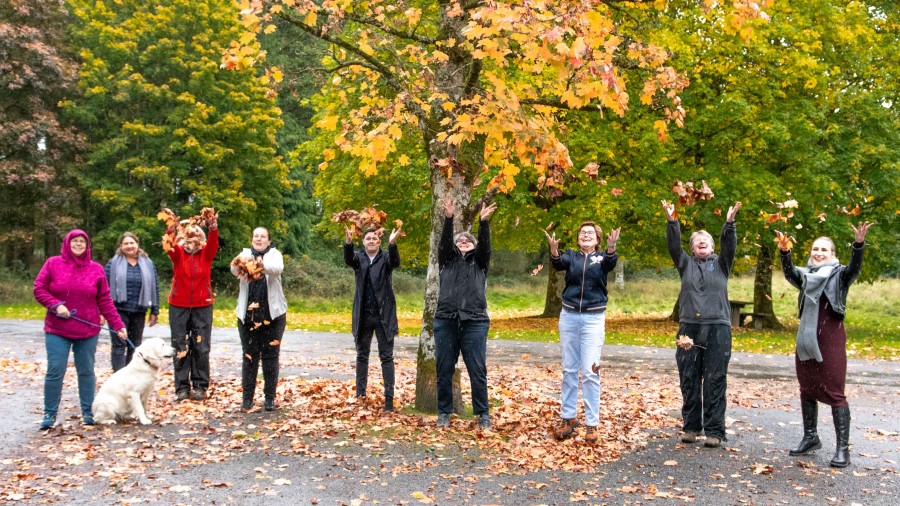 Community Digital €2,000 Commended: Castleisland
Castleisland Market Town: a new digital age
The digital rebranding of Castleisland to "Castleisland Market Town … Pride in all we do" combines the heritage and legacy of their brand. The overall objective was to create a new brand for the town, reimagining Castleisland's digital footprint and commence an extensive social media campaign to promote the strengths and attractions of the town and demonstrate their digital innovation. The project culminated in a launch at the town's Christmas Market entitled 'we've got Christmas covered' which used a newly commissioned video showreel to showcase the town and provided a digital toolkit to local businesses.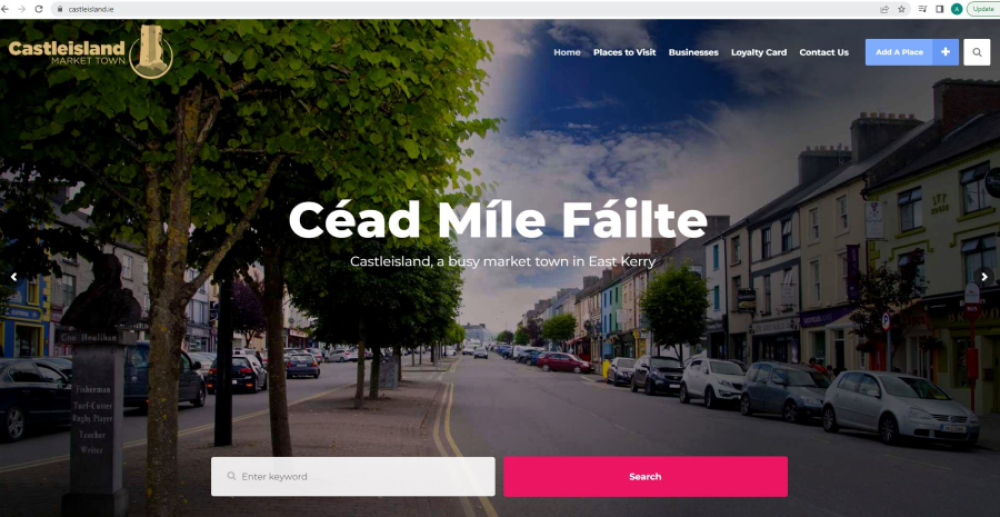 Digital Business €9,000 Winner: Piltown
Taking charge of our Digital Future
In February 2022, Broadband 4 Our Community (B4OC) switched on what they believe is Ireland's first community owned and managed FTTP 'fibre to the premises' network.  The introduction of 'fibre to the premises' network has allowed Piltown to take charge of its digital future by ensuring the network is run in the interest of the community. To date the community has embraced this initiative with landowners granting access to land, volunteers working to lay cables, sharing equipment and providing expertise pro bono. Four members of the community have been trained as fibre optic technicians and a digital hub and community centre now serves 37 groups in the area. The team believe this project could be replicated in other towns and villages and are happy to share their experience knowledge.
Digital Business category is sponsored by Vodafone Business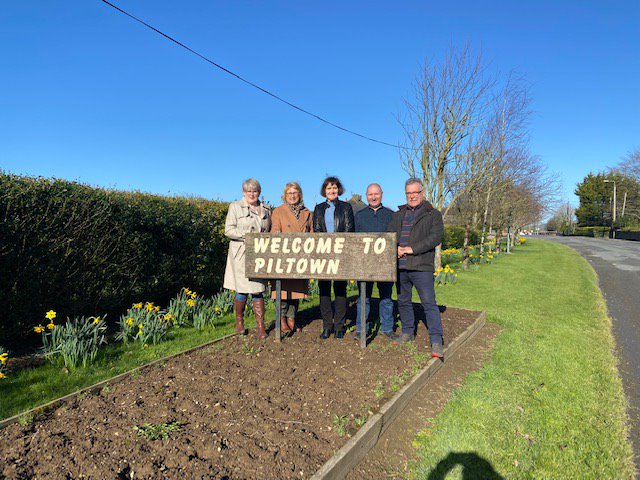 Digital Business €5,000 Runner-up: Westport
Where no Westport business gets left behind
As part of its plan to enhance digital adoption in the town, Westport Chamber has been working closely with HoverIT, a new e-commerce platform with a social media look and feel that has been purposely designed to support local business and connect communities. Businesses traditionally find it hard to rank highly on Google. HoverIT solves this, by offering a space where businesses can create a free store and profile. They are then automatically added to Westport's 'Location Tag'. Locals and tourists click the Westport tag to see everything the town has to offer. Purchases can be made directly through the app and secured by HoverIT's payment partner Stripe.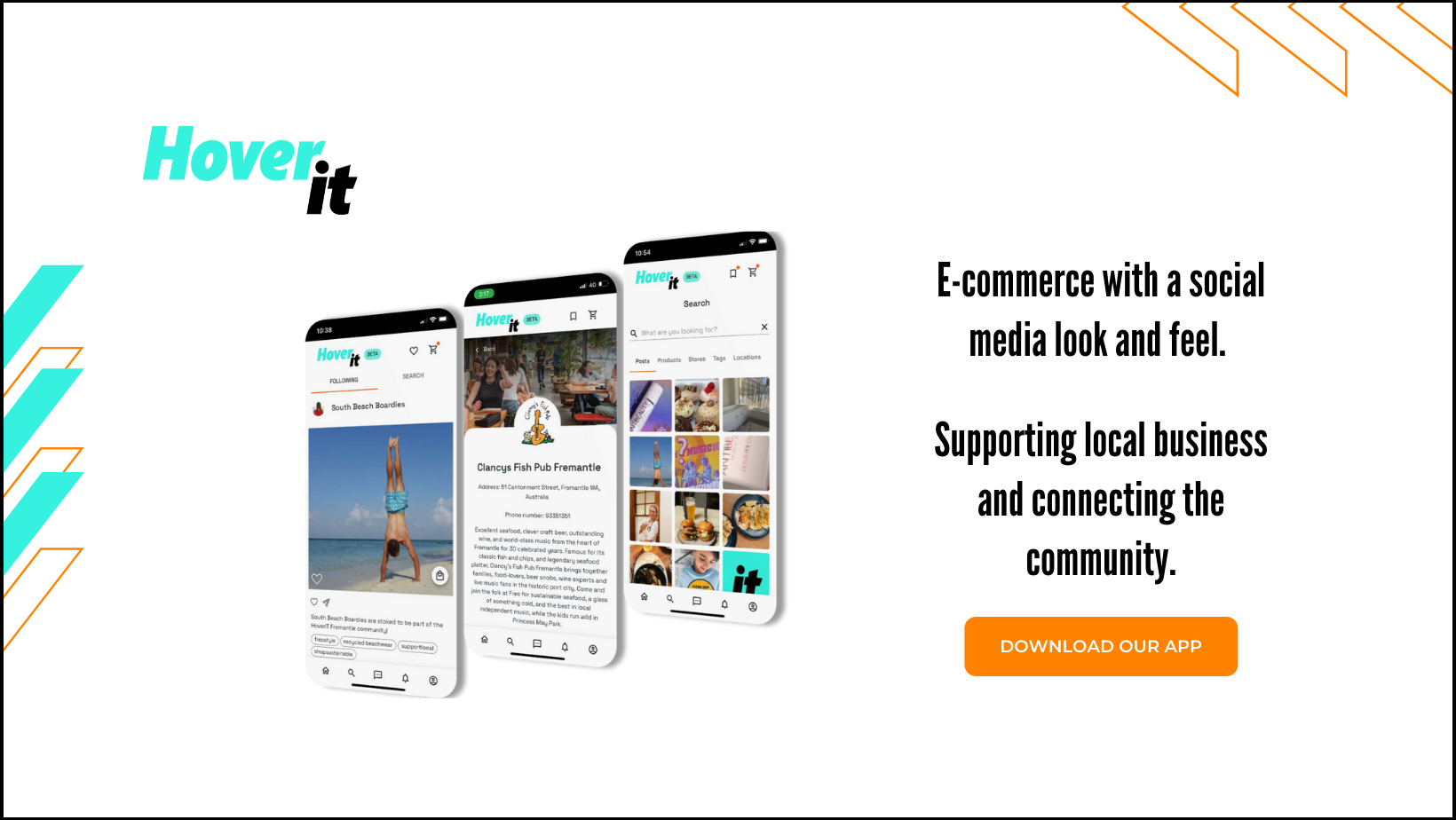 Digital Rising Star €8,500: Cootehill
St Patrick's Day celebration
They used social media and their new website to get the biggest engagement ever for their St Patrick's Day Parade this year. Vivid online activity attracted national media coverage when Dermot and Dave featured Cootehill in several shows and sent their editor to participate in the parade. In a year where a lot of parades were cancelled Cootehill went bigger than ever.
They used new online forms on their new community website for people to enter the parade and the new online community calendar to promote the weekend's events.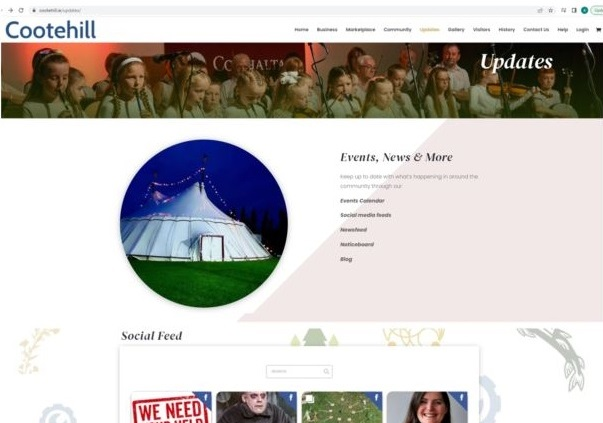 Digital Changemaker €8,500: Roscommon Town
Roscommon Rapid Response
The ambition in County Roscommon is to enable people, who experience an out of hospital cardiac event, to achieve the highest survival rate in Ireland. The team has  implemented digital technologies to enable faster communication and instant data transfer to increase response times and save lives. The EmCall App provides direct access to 112 or 999, provides location coordinates and Eircodes  and emergency  CPR trained responders are deployed immediately. The target time for response and intervention is 4-5 minutes, significantly lower than an ambulance target time of 20 minutes.
Digital Changemaker category is sponsored by Connected Hubs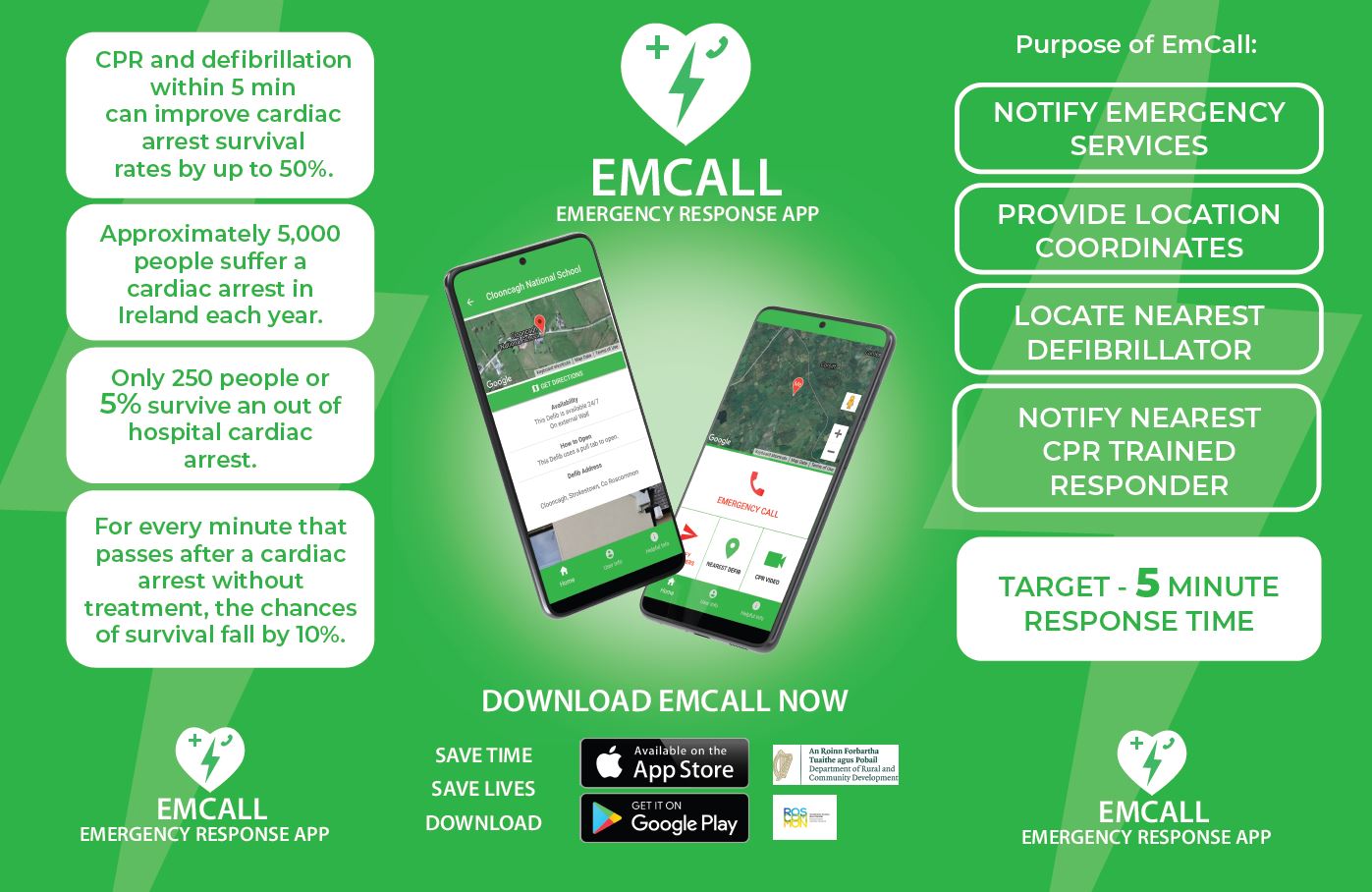 Digital Local Hero €3,000: Eoin Costello - Dún Laoghaire
The work of Eoin, and everyone at DigitalHQ, exemplifies the great potential of digital when combined with a can-do attitude, real world skills, drive and enthusiasm in tackling the challenges faced by town centres and the small businesses that keep them vibrant and positive places to work, live and visit.
Eoin is passionate about the benefits that digitalisation can bring to all stakeholders in towns and works tirelessly to communicate these benefits in an accessible, action orientated way that motivates others to take action on the digital agenda both within Dún Laoghaire and beyond. He leads by example and is out in all weathers taking photos of local small business owners and encouraging them to go online. Equally at the strategic level there is no one better than him at seeing the future benefits of digitalisation.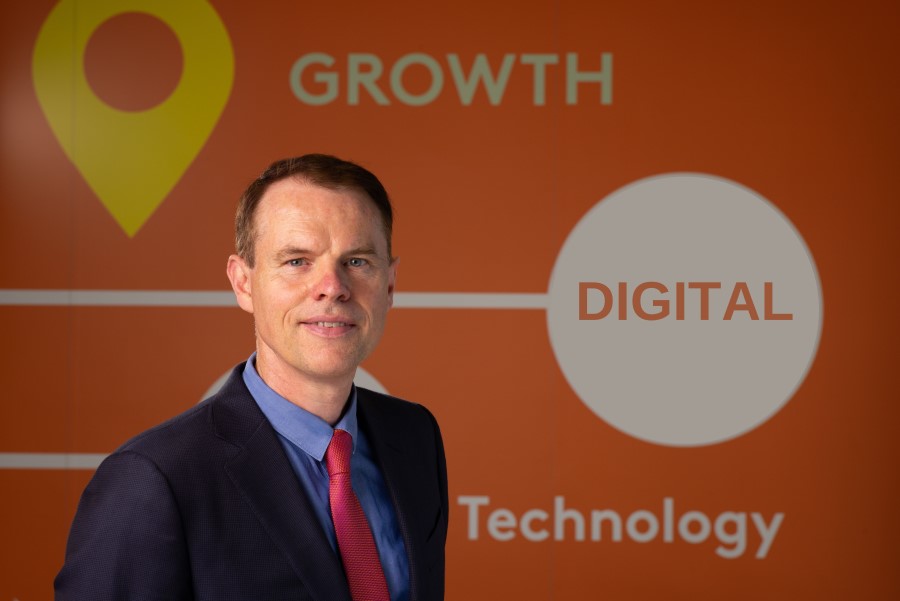 Awards 2022 - Watch Back
Our 2022 virtual awards ceremony took place live from the Killashee Hotel with Jess Kelly, Technology Correspondent, Newstalk as MC.
We were delighted to have Minister Damien English, Minister of State for Business, Employment and Retail at the Department of Enterprise, Trade and Employment in attendance to deliver the keynote speech.
Our CEO, David Curtin addressed the virtual audience and National Director .IE Digital Town Programme, Oonagh McCutcheon announced the category winners and runners-up.
The 2021 virtual awards ceremony is also available to view here
Awards 2022- Behind the scenes
Here's a peek behind the scenes of our virtual broadcast. Find out the initiatives behind the  .IE Digital Town Awards here.
Winners 2021
You can check out all the finalists from 2021 here.