Our purpose
Our purpose is to enable and empower people, communities and businesses across Ireland to thrive online.
The internet offers a world of opportunity to connect, communicate, learn, educate, entertain and trade online. At .IE we provide the pathway for people, communities and businesses to access and unlock this world of potential and opportunity. We manage the infrastructure that allows this to happen.
Our vision is that the .ie namespace becomes the trusted global standard bearer in terms of online safety, standards and resilience and continues its vital role in Ireland's internet ecosystem. Across the globe we see that domain registries are introducing "contact validation" policies similar to our Connection to Ireland prerequisite to registration. Elsewhere, we are amongst Europe's leaders in proactively tackling online technical abuse and illegality that uses the DNS.
As technical and policy-based guardians of our national critical infrastructure, we are enabling a better Ireland online.
What we do
We are the registry for .ie internet domain names and we operate and maintain the .ie database. We have been managing the .ie country code Top Level Domain (ccTLD) namespace since July 2000. Our work includes protecting, supporting and promoting the online presence of all .ie domain names.
We provide registry and related services to the Irish local and international internet communities. In cooperation with our Registrars, partners and stakeholders we help shape the development of the internet landscape and ecosystem.
Who we are
Originating in UCD in January 1988, we became a private company in July 2000. We have no shareholders and are owned by our members; the directors. Being limited by guarantee is a very common structure for domain registries around the world. Surpluses are not distributed, they are added to opening reserves. Directors, as per our constitution, do not have a beneficial interest in the reserves of the company.
We administer and manage the .ie namespace on a commercial profit-for-good basis.  We liaise as required with government departments, governing bodies, trade associations and abide by internet best practice principles while still operating as an independent private company.
Values
Equality – we believe in treating all equally and that everyone should be able to access and enjoy the benefits and potential of the internet.
Excellence – we believe in delivering best in class standards, striving to set the benchmark for others to follow.
Endeavour – we believe in continuous improvement, always looking to do things better.
Strategic priorities
To protect the integrity, confidentiality, availability and reliability of the registry's mission critical systems and processes.
To grow the registration base, by generating new registration growth greater than our competitors and maximise .ie renewal rates. We will incentivise, grow and develop our channel partners and we will create demand for .ie with indirect marketing and content marketing through our programmes and publications. Through our initiatives, we will ensure that the brand equity always flows back to .IE.
To create a centre of excellence in three areas; providing data metrics and data visualisation; providing online self-assessment security tools; and supporting undergraduate applied research on internet-related topics.
To develop a people-centered culture in a digital age – an inclusive working environment, where our people are fully engaged and where continuous personal and professional development is a strategic priority for all. Specifically, to develop, by 2024, new internal skill sets with an innovative mindset.
Guaranteed Irish
We are proud to carry the Guaranteed Irish symbol which is awarded to companies which provide quality jobs, support local communities and are committed to Irish provenance.

The KeepWell Mark
We are delighted to have earned the The KeepWell Mark, an Ibec initiative. This is an evidence-based accreditation that recognises and celebrates companies that put the wellbeing of their team at the forefront of company policy.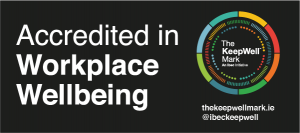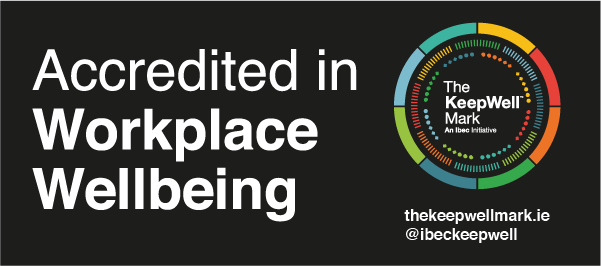 Get your .ie online address
Looking for a great domain name? See if it's available.