How to boost conversion for your business in a pandemic
There has been a huge upsurge in online shopping in Ireland due to Covid-19 and many businesses are reporting bumper online sales.
I talked to Sophie Pigott, e-commerce manager at Home Focus at Hickeys who reports that their business has been busier than ever since Covid-19 restrictions have been in place. Like other businesses, she says that their customers are spending more online than in-store. I asked Sophie for some background to the company and why they decided to develop an e-commerce presence.
History
People will be familiar with Hickey's Fabrics which operates two brands in Ireland – Hickey's Fabrics and Home Focus.  The business was started in the 1940s by Edmund Donnelly.  It is still a family business and the current MD Ian Donnelly, is the grandson of the founder.  It started out offering haberdashery, dressmaking and bridal fabrics in shops based in town centres.  The company now has 16 stores, 3 Hickey's Fabric shops and 13 Home Focus stores across the country, often located in retail parks offering a range of ready-made and custom curtains, blinds, bedding and crafting.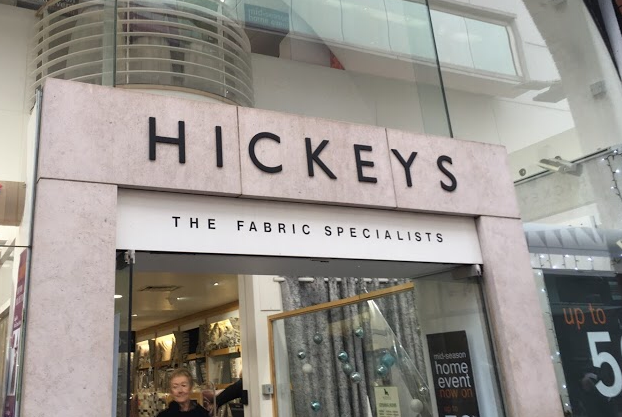 Bringing the in-store experience online
In 2015, the company recognised that there was a need to develop an e-commerce website to bring the in-store experience online. The first website was just a brochure site, but the company had the vision to invest and created a digital team of two people as well as a full e-commerce website.  In that time, the website has gone from strength to strength, with growth of 150% year on year.
The Covid-19 lockdowns have been good for Hickeys as the products they offer are very much in demand as people spent time sprucing up their homes so ready-made curtains and duvet sets were in hot demand. Wool, craft essentials and fabrics for masks resulted in a surge in demand online also. Sophie adds that there was big growth in hobbies such as sewing, knitting and embroidery, so much that sewing machines are sold out and it's very difficult to get resupplied.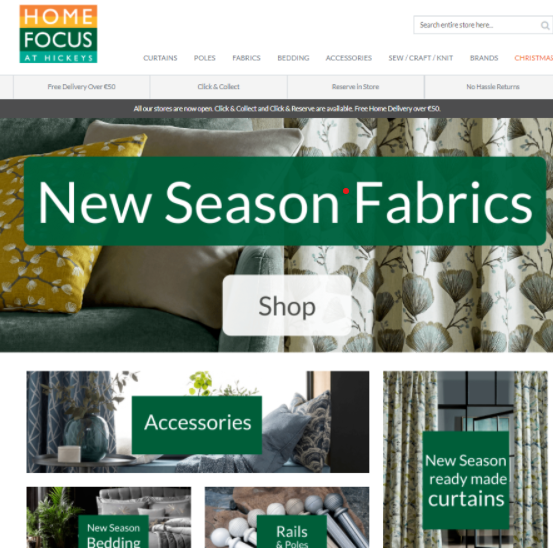 The e-commerce website is considered a stand-alone unit within the Hickey's shop network.  As soft furnishings are quite tactile, customers will select their preferred curtains online and avail of the 'click and reserve' feature where a store will confirm to the customer that the item is in-store and reserve the item for 24 hours. The customer can come in, feel the fabric, get their item quickly, pay and leave.  Customers were nervous, especially in the Summer months so the website was vital in helping customers identify what they wanted before going in-store.  For other items such as bedding, customers used the click and collect or home delivery options.
How e-commerce operates at Hickey's
Sophie shared some of her experience and insights on exactly how their e-commerce works.  The website is built on Magento 1, but now needs to be updated, so this will be an investment in 2021. She works closely with their web company, Studio49, who have great experience in online retail. She places a huge emphasis on user experience as this is critical to ensure conversions.  They do regular customer surveys to identify what can be improved, for example, a more streamlined checkout and improvements to product and category pages.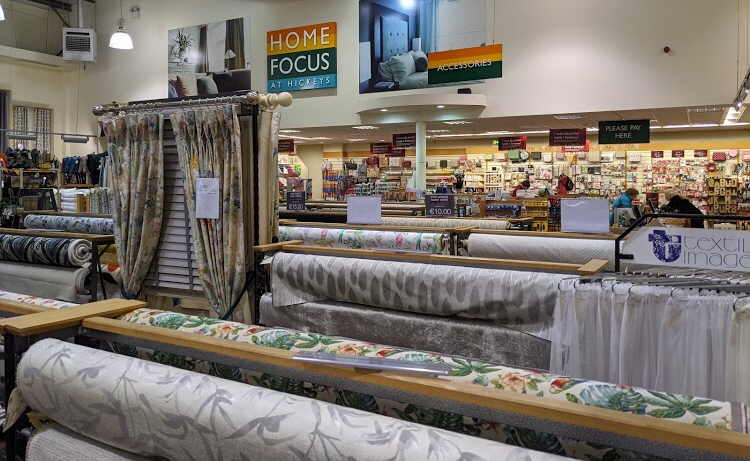 Staff expertise
Hickey's is a service-driven company with staff who have years of experience to share with customers and they want to replicate this online.  Staff share their expertise in blog posts, for example, how to measure curtains or how to make a Halloween cape with handy downloadable templates. Sophie's next plan is to create video content.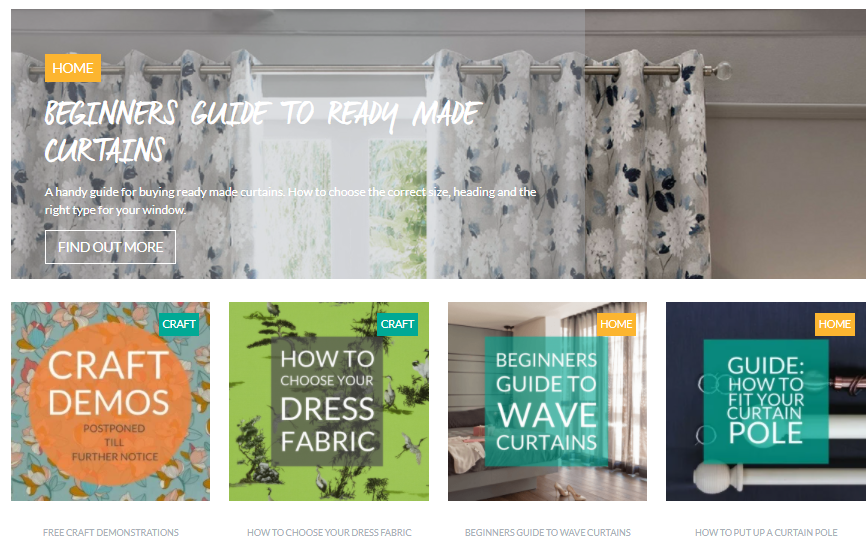 Measuring performance
In terms of measuring the website's performance and contribution to the overall business, Sophie keeps a close eye on Google Analytics.   Online sales are analysed daily to check where traffic came from and what the conversion rate is.  She looks at best selling items to identify surges in traffic in one category over another. This kind of analysis ensures that all the channels they use are maximised.  Conversion rate is critical.
Hickey's conversion rate before Covid-19 was 1% but this has shot up to 2.5% in recent months, which is a huge increase.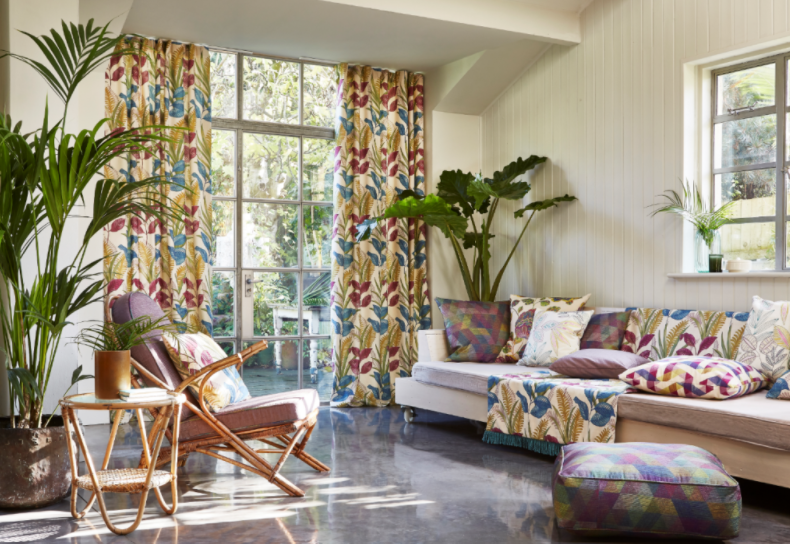 Continuing to improve the conversion rate requires lots of small tweaks to improve the user experience and ensure purchases are completed successfully.  The e-commerce website is the second best performer of all the branches, and what's remarkable is that the website was in 13th position at the end of last year. This really proves how vital a good online offering is.
Many business owners report that customers do their research online before going into the store and Sophie confirmed this is the case for Hickeys too.  She says the website is a good vehicle to educate visitors so customers have a better idea of what they want before they arrive in the shop. To promote the website, she uses a mixture of organic and paid ads, social and email marketing.
By investing in e-commerce over the last 5 years, Hickeys was very well positioned to benefit from increased online sales due to Covid-19 and e-commerce will be a core part of the business model going forward.  The stores and the website are aligned so they operate seamlessly.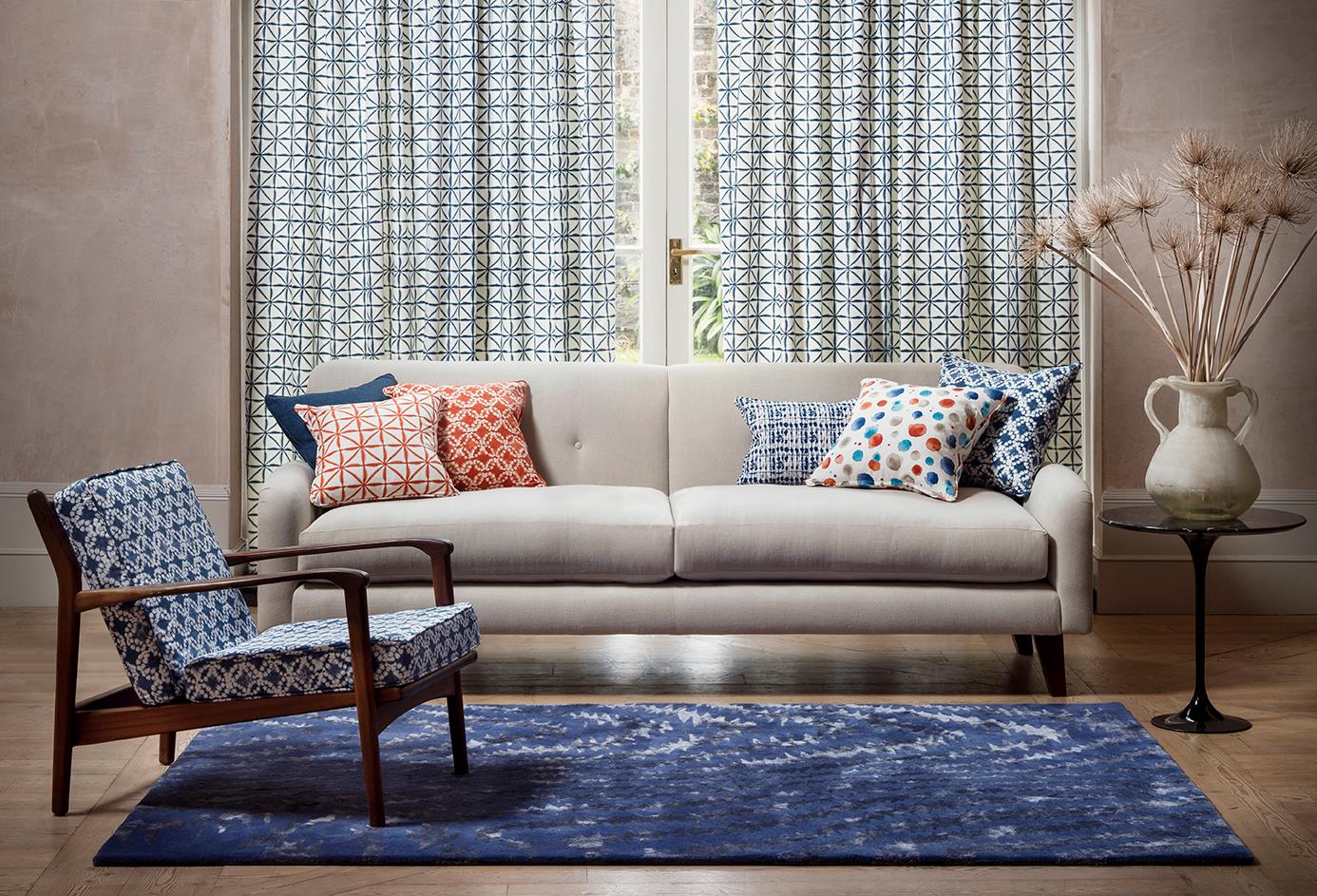 Why .ie?
As an Irish family-owned business, Sophie says that .ie shows customers instantly that the products are available in the Irish market.  It offers comfort and a sign of security that it's an established business.
Now more than ever, customers are committed to supporting Irish businesses to support local, buy Irish. 'Anyone with a .ie will benefit from these campaigns' she says.
Read more SME online success stories
Additional Resources: SME Start and  SME Evolve, practical insights and business supports that enable you to thrive online.
Oonagh McCutcheon is our Corporate Communications Manager and National Director of our .IE Digital Town Programme.